We spent a thoroughly enjoyable few days in Puebla last year. Only a couple of hours by bus from Mexico City, UNESCO World Heritage Site of Puebla is a vibrant and engaging city. Many people visit the city on a day trip from Mexico City, but it is worthy of at least a couple of days. In fact, there's so much to keep you occupied in and around this charming city that a week would be preferable. The historical centre brims with beautiful colonial architecture along with markets, restaurants antique stores and churches galore. There are, in fact, an impressive seventy-nine churches in the Centro Historico alone. The city is also known for its culinary heritage and was the birthplace of mole, a national dish of Mexico. Here we take a look at twenty things you can do to get the most out of your visit to the beautiful city of Puebla:
1) Immerse Yourself in Culture at Museo Amparo
---
Located in the heart of the historic centre, Museo Amparo combines exhibits from Mexico's colonial past with cutting-edge work by global artists. The museum is housed in two colonial buildings, but the interior of both have been renovated into impressive modern exhibit spaces. An elegant rooftop café looks out over the domed buildings of the city's skyline.
2) Hop on the Hop On – Hop Off Bus
---
In the past, we have found that buses of the 'Hop On – Hop Off' variety can be a rip-off. However, we were most impressed with Puebla's version. Not only was it cheap, but it covered lots of ground and we were able to see parts of the city that we would not otherwise have experienced. We initially hopped on at the zocalo, paid just a few dollars, and were treated to a lengthy and enjoyable tour of the city.
3) Have Breakfast at Casa Mimi's
---
Casa Mimi's is a delightful café close to the zocalo, where the staff are welcoming and the food delicious. In fact, we had breakfast there every morning. Our server was Kiki, who was friendly and hospitable – she even set us up with a card game while we waited for our food to arrive (not that it took that long!) The food itself was beautifully presented, as well as tasty, and there were plenty of veggie options. The décor is warm and stylish. Indeed, Casa Mimi's is an all-round winner.
4) Shop for Antiques
---
Puebla is awash with antique stores which are fascinating to peruse. We happened to be there on a weekend and stumbled upon an excellent market. We consequently spent an hour or so checking out the merchandise, which was a mishmash of the old and new and we even got involved in some haggling. The best street for antique shopping is Callejon de los Sapos and a weekend market is held at Plazuela de los Sapos.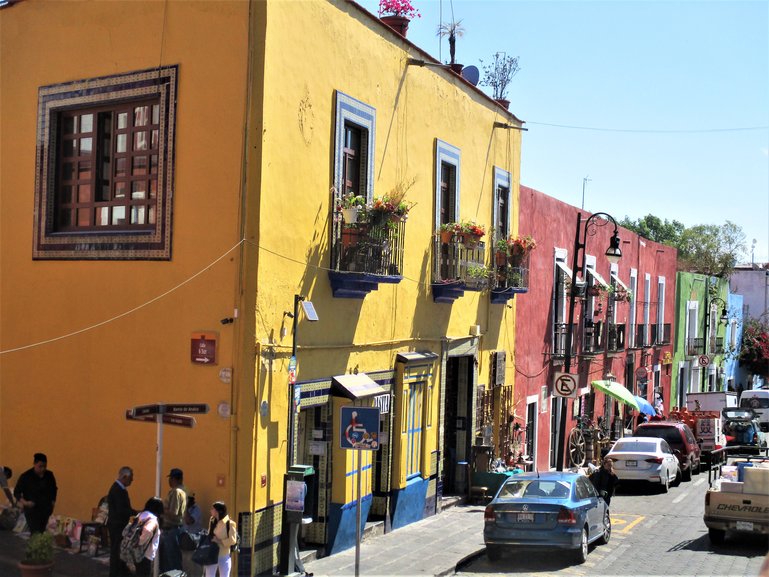 Los Sapos
5) Take a Day Trip to Cholula
---
We had a great day out in nearby Cholula, which is located about eight miles away from Puebla. We took a taxi there (confession – we couldn't find the bus stop!) but returned by local bus. Cholula is home to the largest manmade pyramid in the world. Covered in vegetation, pre-Hispanic pyramid has tunnels running beneath it which can be visited with a guide. From the top of the hill, there are sweeping views of the city below and the mountains, including the puffing Popocatepetl Volcano.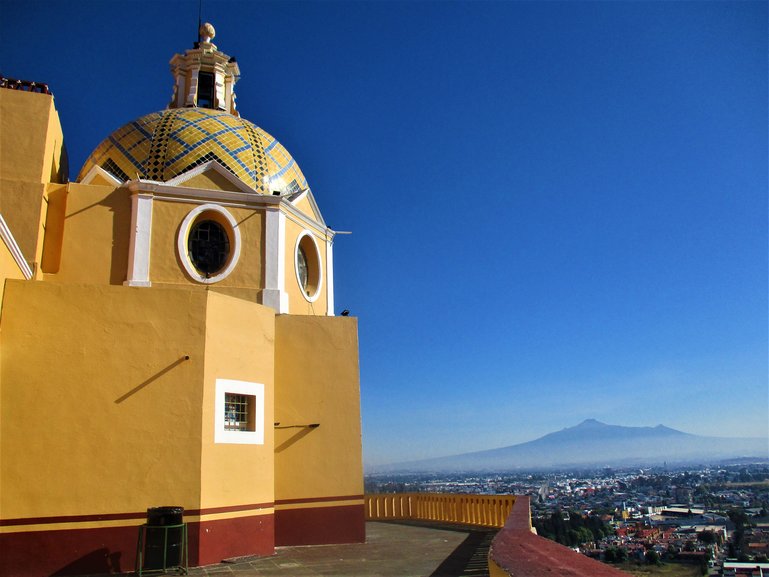 View of Popocatepetl Volcano
6) Check out the Street Art
---
Although there is a smattering of street art in the historic centre, the most interesting area for urban art is Xanenetla. Many of the houses are entirely covered in colourful murals and there is a surprise around every corner. The best way to enjoy the art is by taking a stroll around the neighbourhood and discovering the murals yourself. Although the area was previously considered dangerous, it is now safe during daylight hours.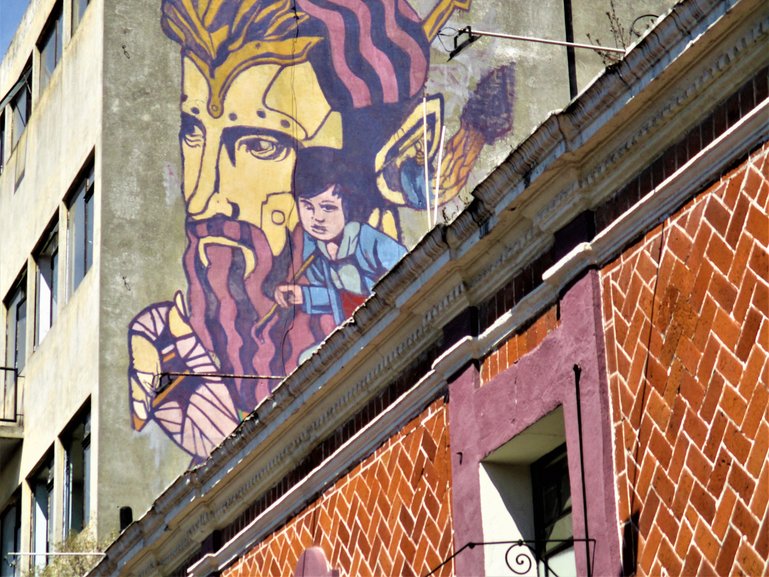 Street Art of Centro Historico
7) Learn about the Revolution at Museo de la Revolucion Mexicana
---
Riddled with bullets, this building was where the 1910 revolution kicked off. Restored after the 2017 earthquake, it was owned by three brothers who initiated the revolution. When the government chased them down, the first battle of the revolution ensued. The museum does a good job conveying what life was like back in the day, with the original furnishings in place. There is some signage in English.
8) Calle de los Dulces
---
If you have a sweet tooth, don't miss Calle de los Dulces. Otherwise known as Candy Street, Calle de los Dulces is lined with tempting shops on both sides selling sweets of all varieties. Candies, cookies, nut brittle, lollipops, jellies and more, the window displays are spectacular! Inside the shops, sweet treats are piled high. Calle de los Dulces can be found on Av.6 Oriente.
9) Stroll Along Frog Alley - Callejon de los Sapos
---
This colourful street is particularly lively at weekends when visitors from both Mexico and beyond browse in the artisan stores and market stalls. Mexican knick-knacks art, furniture and art abound. In fact, it is an ideal place to pick up a souvenir of Puebla. The brightly painted buildings are adorned with potted flowers and decorative doorways.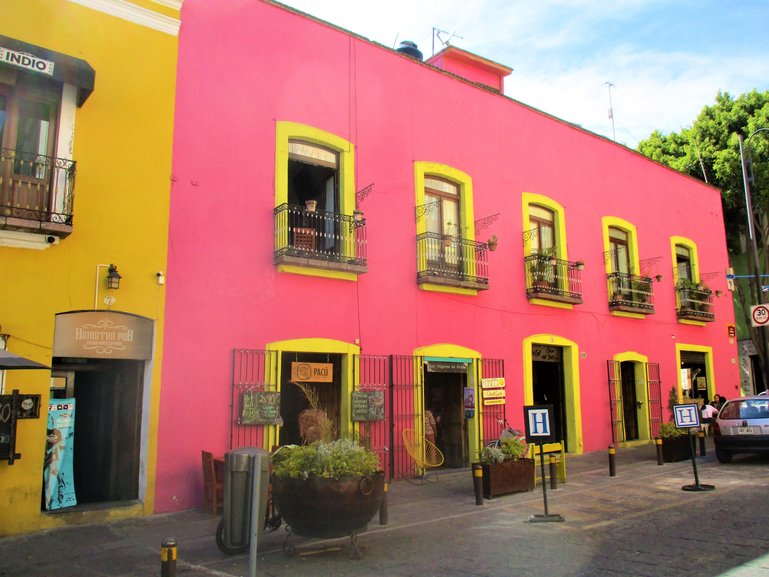 Colourful Buildings of Puebla
10) Take a Trip to Atlixco
---
This magic town is located about half an hour from downtown Puebla and is easy to reach by bus from the CAPU Bus Station. Buses run every 15-20 minutes. Like Puebla, Atlixco brims with colourful colonial buildings. The many ornate churches, most of which are folk Baroque in style, are abundant. The town is home to an attractive zocalo - a perfect place to sit and watch the world go by. Additionally, the steep cobbled streets are picturesque and fascinating to explore. It is also worth climbing the hill of Cerro de San Miguel for sweeping views of the town from the small chapel.
11) Take a look at the Oldest Library in the Americas
---
Not only was Biblioteca Palafoxiana the first library to be established in Mexico, but the whole of the Americas. Dating back to 1646, over 45,000 books and manuscripts are housed in the Baroque bookcases of the library, which now doubles as museum. Small, well maintained, the carved woodwork is beautiful and it's worth a stop for anyone who is interested in history.
12) Check out the Architecture
---
Puebla was declared a World Heritage Site in 1987. Indeed, the historic centre is something of an open-air museum. One of the joys of visiting Puebla is exploring the streets and discovering its magnificent architecture which date back to the 16th century. The colourful facades have incredible detail and the city is known for the intricate tilework which adorns many of the buildings.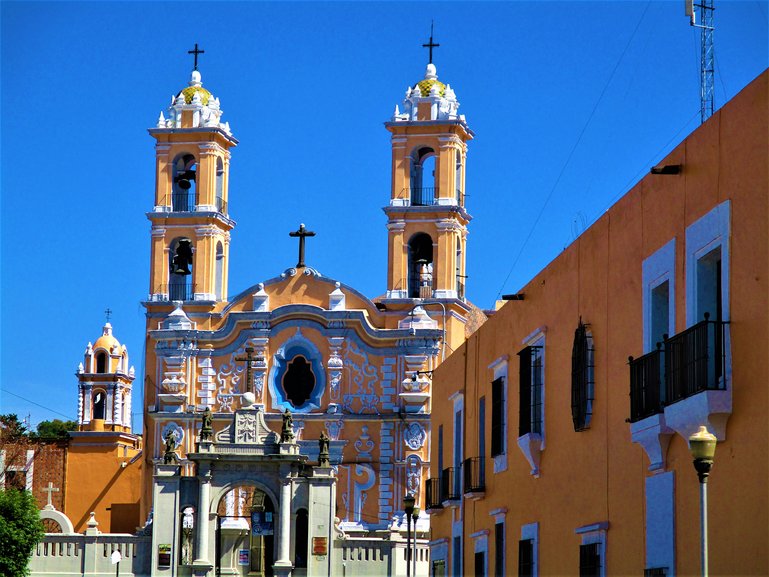 One of the many Churches in Puebla
13) People Watch in the Zocalo
---
As with all Mexican towns and cities, the Zocalo (plaza) is at the heart of Puebla. It is at its most lively during the evenings and weekends. Overlooked by the imposing cathedral, the zocalo is surrounded by restaurants, bars and cafes. It's a perfect place to take a break, sit on a bench, and watch the world go by. We were there on a Sunday afternoon when crowds gathered to watch traditional dancing.
14) Down a Shot at La Pasita
---
La Pasita is located on a street corner in the neighbourhood of Los Sapos in Cento Historico, Puebla's most iconic bar. As its name suggests, its signature tipple is pasita. Invented by the bar's original owner, it's a sweet liquor made from raisins, served in a tequila glass, and embellished with a cube of goat's cheese and a raisin. Many claim that Pasita has an array of health benefits. Indeed, when we were in Puebla, there was a long line of people waiting for their turn to sample Puebla's famous alcoholic beverage.
15) Museo Internacional del Barroco
---
This contemporary and sleek museum is dedicated to 17th and 18th century Baroque. Designed by Japanese architect, Toyo Ito, and opened in 2016, it is worth a visit for the architecture alone. If you also appreciate the art of the Baroque era, you will find much to enjoy. Divided into sections focusing on sculptures, music, paintings etc, it is well presented and has interactive exhibits which explain the about the history of Baroque.
16) Take a Ride on the Teleferico
---
A great way to gain a perspective of the Puebla, is to take a ride on the Teleferico, a cable car which offers panoramic views of the third largest city in Mexico. At around 600 metres long, it takes around five minutes from the Expositor Centre to Zaragoza Road. Sunset is the best time of day to take a ride.
17) Pick up a Bargain at Parian Market
---
This market is located in Centro Historico. It consists of two rows of stalls facing each other. Locals sell colourful handicrafts such as pottery, jewellery and textiles, most of which are reasonably priced. The vibe is friendly, with no pressure from the store holders and we consequently were able to enjoy perusing the wares. Look out for quirky paintings on the pedestrianised street.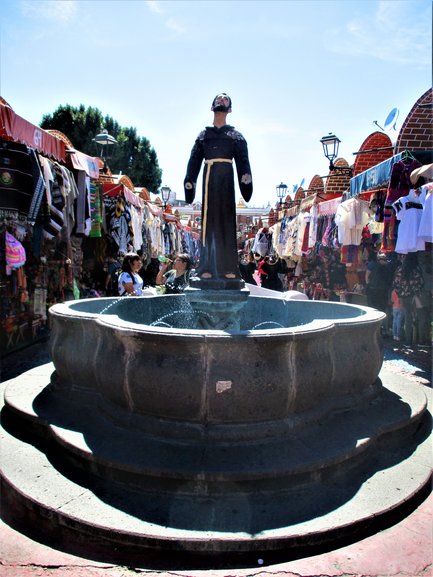 El Parion
18) Visit Puebla Cathedral
---
This Roman Catholic cathedral, completed in 1575, is one of the largest in Mexico and took nearly a hundred years to build. Renaissance and Baroque in style, it has fourteen side chapels and an octagonal altar made of onyx. The altar is supported by Corinthian columns and has a dome similar to St Peters Basilica in Rome.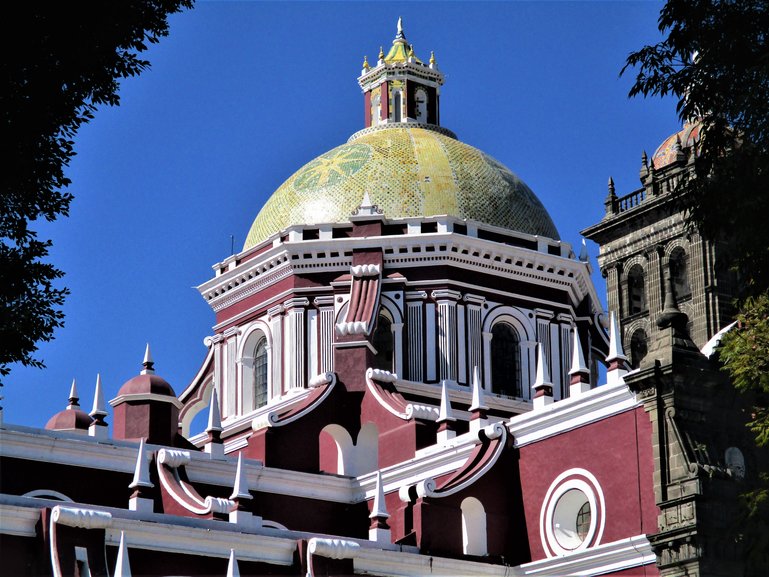 Puebla Cathedral
19) Go Underground
---
The tunnels that exist under the city streets between the Zocalo and Xanetla, were only discovered in 2016. It had previously been thought that the existence of the tunnels was a myth. The secret underground passages are believed to be around five-hundred years old, extend for more than 10km, and connect a series of forts to Centro Historico.
20) Sample the Local Cuisine
---
Puebla is renowned for its culinary scene. It's most famous dish is Mole Poblano, a chocolate sauce made with multiple ingredients including and abundance of chilli and spices. Two of the best places to sample Mole Poblano dishes are El Mural De Los Poblanos or the quirky El Viejo Rosario. The local tacos, many of which use spices and ingredients introduced by Lebanese immigrants, can be found on every street corner. Cemitas are big sandwiches made with Oaxacan cheese and various meat fillings along with guacamole, chilli, veggies and onions. Another favourite is Chiles en Nogada, a chilli pepper containing stewed fruits in a creamy walnut sauce. Last but not least, warm and crispy churros coated in cinnamon sugar are a delicious treat.
How to get to Puebla: If you are coming from Mexico City, you can take a bus from either TAPO Bus Station or the Airport. Buses run regularly and arrive at Puebla CAPU Bus Station. Puebla has an international airport, Hermanos Serdan.