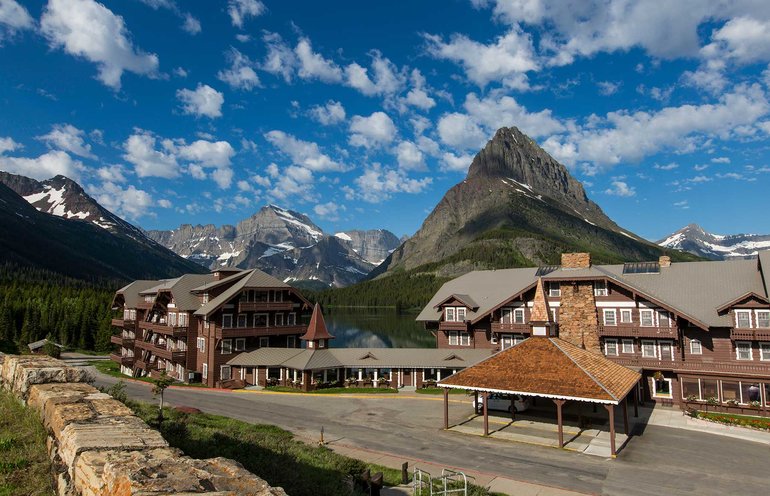 Many Glacier Lodge
An internet booking site lists 157 accommodations in Whitefish, Mt, the center of Glacier National Park tourism. Whitefish is at the west end of the Going to the Sun Highway. Babb, MT, is at the east end of the Going to the Sun Highway. There is one place to stay at Babb, although there are 3 others in the near vicinity. Many Glacier Hotel, a classic early 20th C national park lodge has the most spectacular setting of any lodging in the extended vicinity. The only access to the Many Glacier Hotel is the Many Glacier Road, accessible only from the east side of Glacier National Park.
US Rt #2 crosses the base of the mountains or Glacier, connecting Whitefish to Babb and the Blackfeet Indian Reservation. The Going to the Sun Highway crosses Glacier's spine. There are 2 or 3 dead end roads into Glacier from the east side that do not cross the park. Having crossed Going to the Sun Highway (it is not a highway, in spite of its name. It is a steep, twisting, narrow road), we are partial to the east side for the best scenery, especially the Many Glacier area, where we saw Big Horn mountain sheep close to the road.
The east side of Glacier National Park borders the 2,500 sq mile Blackfeet Indian Reservation. Elaborate bead works are a traditional Blackfeet craft.
Airport Gateways:
Kalispell, MT (west of Whitefish)
Bozeman, MT (south west)
Billings, MT (south east)