Adventures in healthcare gave way to a trip to Oregon. Two weeks ago, the thought of josh getting on a plane was unthinkable. An ER visit followed by a spinal injection had him feeling spry one week to departure. My teeter totter ride went from an attempted, yet failed cancellation to anticipation of actually biking the Cascades. It's a thrilling and bumpy ride just as I recall as a kid. The bang of my butt on wood against the ground to launching up skyward, holding on and shrieking. The ebbs and flows of, in sickness and in health. Our companions, Kim and Steve were no doubt anxious, hoping Josh could survive a dose of adventure activities with a bulging disk.
Rivers and rushing water, especially the cliffside variety were a highlight on this trip. A late arrival Friday, gave way to the Columbia River Gorge and the beginning of many scenic waterfalls. 600 inches of winter snow continued to leave its mark in mid July, providing an icy reprieve for air temps in the 90s. Mt. Bachelor and Mt. Hood dominated the views to the west of Bend, its snowcaps glinting in the summer sun. We hiked to Multnomah Falls, Tumalo Falls and the Deschutes Dillon Falls during our week from Portland to Bend.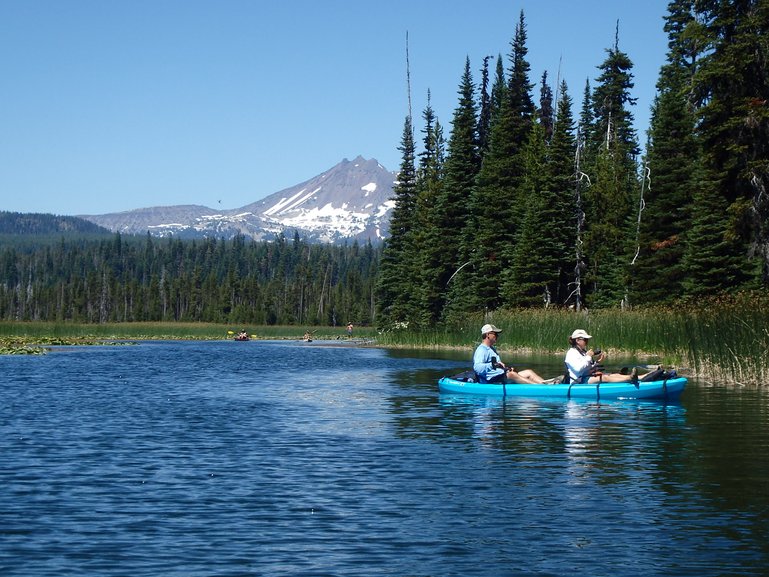 Hosmer Lake kayak with views of Mt. Bachelor
We found some Washington cherries to snack on then rolled into old town Bend, conveniently passing an urgent care on the exit ramp. I noted its location just in case. The rental house was located on a busy street, blocks from downtown, directly across the street from Strictly Organic Coffee. Bonus, there were several breweries within walking distance. Bend is loaded with beans (coffee) and beer. Also close, the Bend whitewater park was our local beach where we watched surfers and lazy river floaters alike. We developed a daily habit of dunking in the Deschutes River to ice sore muscles.
Josh's back held up well, he just lacked stamina as most biking excursions featured a long, bitch-attack inducing climb. He survived and we all cashed in on the reward of long and flowy downhills. Our full-suspension rental bikes (squishy bikes, so named by Sondra) were a cloud-like dream to pedal over hard packed trails. The rocky sections had me hike-a-biking per the usual while Steve, Kim and Josh bombed down hills at alarming rates of speed. My intention was to stay on my bike this trip!
A bike and beer theme prevailed and we took advantage of our local tour guide Bryant. We kicked things off with a hike to Tumalo Falls. We walked quickly past the guardrailed tourist vista and hiked four miles to higher ground following a trail that featured falls in the gorge every half mile. While Josh and Bryant chatted nature prevailed, lanky pines coalesced with volcanic rock. Add in rushing snowmelt = Oregon. I watched Bryant refill his water bottle directly from the river. We gave our legs and feet a good beating notching eight miles. Liquid rewards awaited each night along the Bend Ale Trail. We started with two of ten breweries, first at Crux Fermentation followed by Ten Barrel Brewing.
Our research continued, hiking turned to biking on fancy, squishy Treks. Josh rode his dream demo, a Pivot Mach 429 Trail, 27½. The extra cushion was perfect for his recently traumatized spine. Phil's Trail Complex trails were rideable, dusty and scenic with a perfect long downhill, depositing my crew in good spirits right next to the pump track. Sun River Brewing hosted four sweaty bikers for ales and Hefe's. I ordered the Northwest Rippin' Ale in honor of the terrain. The next day at lunch, after hike-a-biking along the DRT (Deschutes River Trail) we found our favorite local brew at Cascade Lakes Brewing, the Salted Caramel Porter. Later, Steve and Kim procured a growler of SCP for dinner at the house with Bryant. Over steaks, we plotted our Wednesday evening ride, Bryant explained the staging at Wynoga to an all-downhill on Tiddliwinks. Everyone but me seemed supremely excited to skip the climb.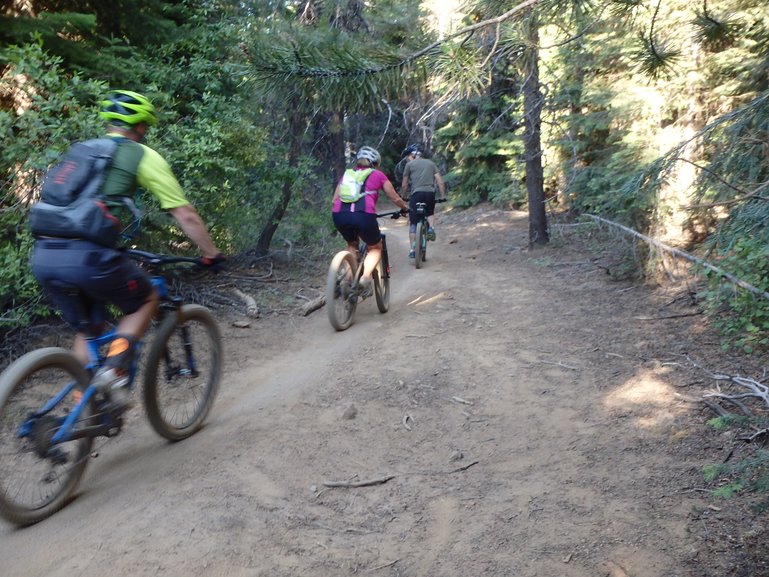 Mountain biking Wynoga Trail in Bend, Oregon
I continued to battle some anxiety since my wipe-out in April, but rather than abstain, I remained in the saddle albeit taking less risks. Bryant led us on adventurous downhill, packed with riders all wearing knee, elbow and shin pads. Of course, we had no padding. Only the initial section was a maze of jagged rocks until the trail led into the woods. In a poof of silver volcanic dust, we spaced out and leaned into the burms, rolling on down and down. My squishy bike handled the terrain while I gained speed keeping Steve's backside in sight.
Legs tiring, we agreed on an afternoon of paddling, which turned out to be equally as dangerous as biking. After filling out paperwork and signing a waiver at Gear Peddler, Kim and I stood next to the stacked kayaks. Steve stood nearby with our map while Josh pulled the Nissan crewcab near the racks for loading. A breeze started that quickly turned to wind, peppering Kim and I with sand and debris. We turned our backs to shield our eyes as the wind kicked up even more. I looked up in time to see all of the kayaks sliding off the top racks. I managed a warning yell to Kim. It was raining kayaks! Two of the four came down on me, one I deflected with my arm and the other bounced off pavement and smacked my right thigh. Kim moved away in time and in the fray Steve's map lifted into the air and kept going up. Craning our necks, we watched our recently purchased map lift into the wind stream, its panels opening as it went higher. I wondered if the wind would know how to fold a map back to its original size. Map gone, we huddled and confirmed we had been attacked by an Oregon dust devil!
Crisis averted, I iced my thigh over tacos and we finally hit the road to Hosmer Lake near Mt. Bachelor. Our legs thanked us as we dipped paddles in the water with views of the Bachelor ahead while a throng of trophy rainbow trout swam below us. We marveled at the transparent water, the huge fish, and the snowy mountain tops. We put our feet up on the edge of the kayaks, leaned back in no hurry to get anywhere. We celebrated survival with dinner at Deschutes Public House. A giant in the craft brewing industry, we ordered pints of known staples: Black Butte Porter and Hop Slice Ale. Flying kayaks were all but forgotten as the evening slipped into late.
On Friday, Sondra and Karl (more locals) joined our bike gang. We chose the out/ back Mrazek trail that went up a rocky ridge to a pine forest through a burn area full of blackened ghost trees. It was the last day. I did not stay on my bike! I added a severe contusion to my left shin after losing my front wheel to soft pine needles around a sharp downhill bend. Those damn wide handlebars again. Sondra complimented my graceful fall, likening it to stretching out for a dive on beach sand. Beach volleyball skills and falling gracefully may have saved me again from a worse fate. The Tumalo Creek was perfectly placed at Shevlin Park for us to cool off while I iced my bruise. Over beverages at Good Life Brewing, we recounted a week where all of us had taken a least one air-departure from the seat of our bikes. Thankfully, none required any urgent care visits.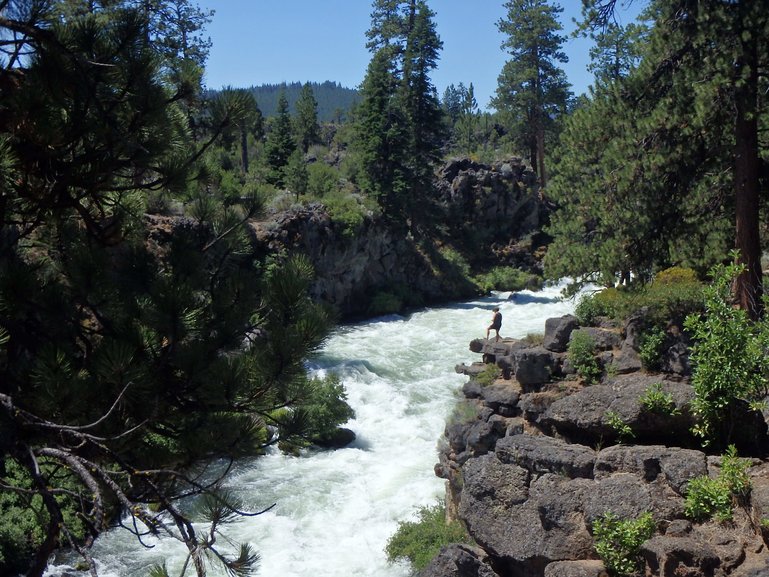 HIking and biking near the Deschutes River