I am a woman.
I am a mountain biker.
I am in a significant minority.
I want to inspire more women to ride.
I want the sport to grow.
I want people to get outside, to be mentally and physically healthy and connect with nature.
The Outdoor Industry Association shows a 2:1 men to women ratio across mountain biking disciplines in the U.S. Source: OIA
Currently, less than 20% of IMBA's (International Mountain Biking Association) members are female. Source: IMBA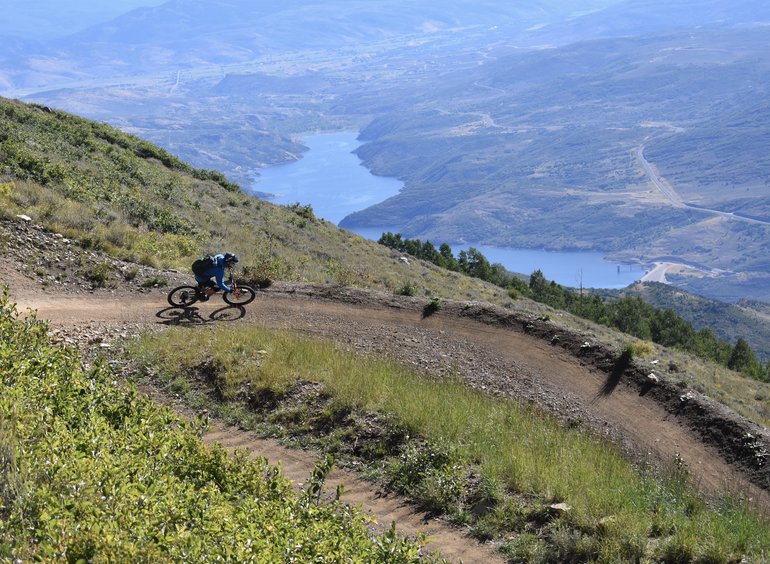 Holy Roller Trail at Deer Valley Resort in Park City, Utah.
No matter the stat source, the gender disparity remains a concern. Other sports like skiing, snowboarding, and kayaking have made strides in closing the gap and so too can mountain biking. Let's shift gears to the good news and the positive changes that I have personally witnessed. My last two mountain bike specific vacations, we've tipped the gender meter to good. In Duluth, Minnesota, my group of four (couples weekend) included two women and two guys. On a recent trip to Park City, Utah in mid-September, my group included four women and one man, flip-flopping the mountain bike gender meter on its head. For that one speck-of-a-moment on the universal imprint, women mountain bikers had a brief majority. To be clear, I am not anti-dude. My dude and I ride together. I want to understand why the culture is so skewed and work to improve the ratio. I really hope both genders and all levels of mountain bikers to support each other's efforts and ride together. The trails belong to everyone and we all could use less screen time and more time with Mother Nature.
What I discovered about Park City, Utah… it is equally adept at providing a spectacular place to rip down a rocky trail as well as providing white-tablecloth restaurants to enjoy creatively-crafted fine cuisine. No matter your gender, explore your inner-extreme jock by day then as dusk (and the dust) settles place the napkin in your lap while you savor bites of a locally-sourced tri-tip elk filet or bites of flaky brown trout seared to perfection. Don't miss an opportunity to have a meal at the Twisted Fern, Silver Star Cafe or Riverhorse on Main. The menus feature so much more than a burger and fries.
IMBA Gold Ride Center
Park City has mountain biking cred with over four decades of experience and a gold-level IMBA designation to boot. The Wasatch Mountain range provides the elevation to create intense and challenging single-track riding as well as approachable flow trails for novices. World-class ski resorts in winter, trade in the double planks and poles for two wheels in the summer. There is bike chairlift-access at Park City Mountain and Deer Valley Resort, the perfect way to cheat a few climbs. For an intermediate rider like me, I felt both challenged and comfortable. It was a thrill to ride down Holy Roller at Deer Valley a four-mile plus flow trail of connected rollers, high-banked turns, and s-curves. I dare you to try not to smile on the descent.
I had only been to Park City in winter so visiting and biking this fall felt wholly new and unexplored. The oaks, maples, and aspens were teasing new colors of vibrant yellows, oranges, and brisk reds. Of course, the elevation had me gasping at times, both for air and at the ridgeline views of neighboring peaks like Desolation Peak, Scott's Hill and Bald Mountain. For a flatlander like me, it was difficult to focus on the trail ahead when every bend opened to panoramic vistas of the Jordanelle Reservoir set against the valley below.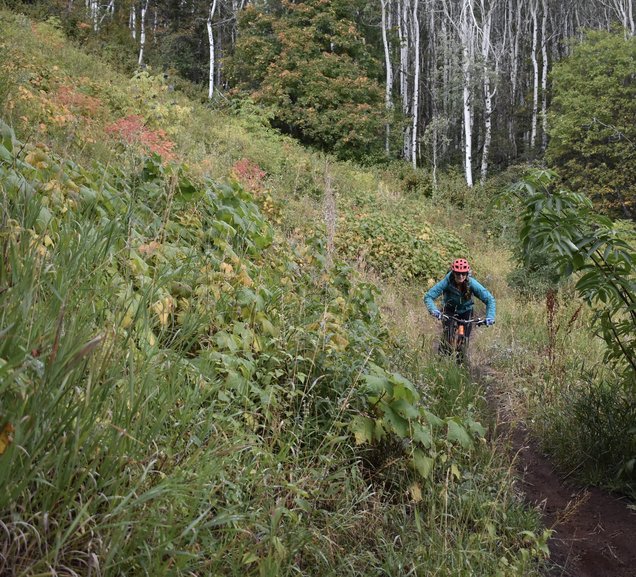 Riding Park City Mountain with White Pine Touring
I would give Park City a high-rating on my mountain bike destination chart, but with any place, it's the people who make a place great. Hiring and talking to the locals is always a good idea, especially in the bike scene. Both Scott and Cindi at White Pine Touring were ever patient and thoughtful with our group that ranged from pure beginners to experienced riders. Park City has over 450 miles of trails and lots of connection points, so I was thankful to follow Cindi's or Scott's backside around the labyrinth of options. From our starting point at The Chateaux Deer Valley, we could jump on Mid-Mountain Trail and ride down to breakfast on Main Street. Be sure to stop at Atticus Coffee & Books and Riverhorse Provisions to fuel the caffeine addiction alongside some breakfast treats.
We explored both Park City Mountain and Deer Valley Resort and I would be hard-pressed to pick a favorite of the two areas. Plus, we were lucky enough to meet and ride with local pro Eric Porter who calls Park City home. This slopeside champ now turned adventure rider, and local ambassador joined our guides to show off his home track. His personality and charm made me want to ride my bike further and faster. And he was kind enough to remove an obstacle from my path: I rounded a bend on Jenni's Trail in time to see Eric flick his back wheel against a small boulder shooting it like a hockey puck into the grass. "Thanks man!" I called while grinning over his skill on a bike.
Evidenced by the locals I met, there is Park City pride and a passion for outdoor living and doing business in the mountains. To Rob, at Alpine Distilling, I've never seen anyone get so excited to help me become a gin lover. To Will, thanks for not laughing at my weak attempts to set the hook fly fishing on the Provo River. To Eric, who spends more time in the air than with wheels on the ground, where do you hide your wings? To Cindi and Abby, you've inspired me to pedal faster, to get better and push limits – to ride like a girl!