Yes, let us talk about my favorite topic. Food in Korea is very very reasonable! Recently I have spent about $5 per dinner if I am being conservative. There are many places that serve western food, brunch, or pasta that can get into the $15 range but all of my favorite foods can be found for $10 0r much much less. Here the first photo is the Korean snack food with two dishes for less than $5 together. Next is the Korean traditional market where we got three dishes of HUGE portions for less than $10. My favorite Don katsu (pork cutlet) restaurant is always below $10, and I have found many places that serve this dish and there are many varieties from $5 to $10. Sweet potato pizza is another fun food I occasionally get. It is so much more amazing than it seems. Sweet potato is very common here and it makes a savory-sweet taste in many dishes! The pizza split by three people was $6 each. For a variety of foods, you can just pay $6-$7. FINALLY, I found this small Italian restaurant that is run by one guy who takes your order, cleans the table, and cooks it all when there are 5 or more tables. The owner/chef is extremely talented and his truffle mushroom burger is one of the most divine dishes I have ever had for $12. This is a bit of a variety of what I can have on a weekly basis. All of the restaurants are in the vicinity of Seongbuk-gu and Korea University. Foods that are not Korean tend to be a bit more expensive because of ingredient availability so remember to try many Korean dishes to save money!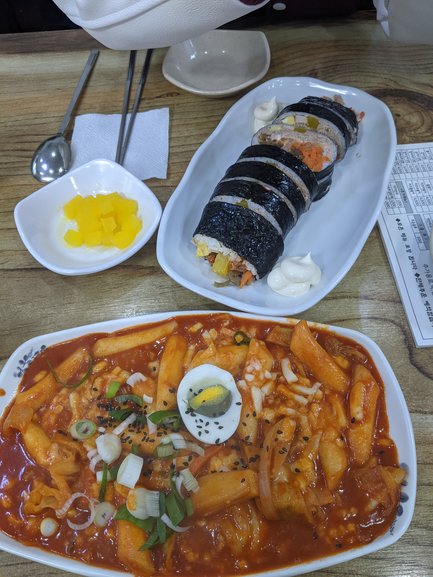 Korean snack shop
I have found my stomach to be fine with the very different palate that Korean food offers. One thing that was different was I had not expected the spice level of Korean food. Most dishes that I have eaten and slowly been accustomed to have been mild to eye-watering spicy, but it could be much stronger. I have had a couple of dishes bring me to tears over the spice (the first photo red sauce is not tomato its red pepper paste). Garlic is also in almost every food here. I believe that the type of garlic is actually less powerful than in the states, but I eat whole cloves during Kbbq and in various sauces. Koreans love garlic and onions and it is almost always a side dish with a meal. I have tried many new things like kalguksu, an eggnoodle soybean soup, crab wasabi kimbab, hotteok (best snack ever), and I have discovered a love for indian curry and naan, and all things relating to Kbbq. I am so surprised by how much my food tastes have changed!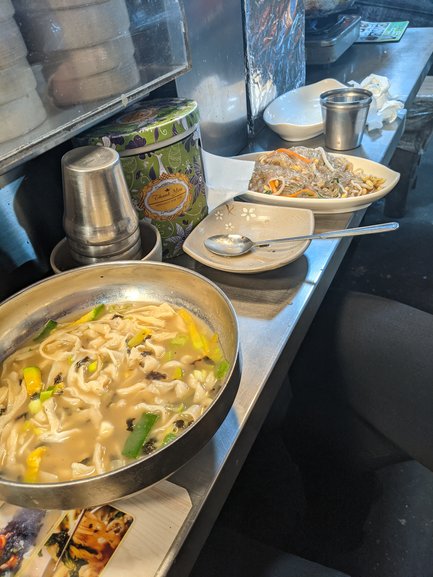 Korean traditional market
Korean Barbecue is an absolutely new level. I have tried it twice in America and in Korea, it does not compare at all. The meat cuts in Korea are much more fatty and marbled and being an American who cuts the fat off of her steak, I was a bit disturbed at first, but have got along well. The main cut of meat used for samgyeopsal is pork belly so it is just very thick bacon. The cuts are about an inch thick and then varying lengths that you cut yourself during grilling to bite-size. You get many side dishes with your dinner like grilled onions, garlic, steamed egg, and kimchi. The best way to enjoy the meat is to nestle it in a small lettuce wrap with onion, garlic, and spicy sauce then MUNCH. One bite with huge flavor! Our favorite Kbbq place is $16 for 500grams of meat and many side dishes. This is enough for two people for sure, three people if you aren't that hungry. We have also tried grilling beef ribs and the taste is out of this world, beef is always a lot more expensive for about $17 per person. The meats are almost never seasoned but have various dipping sauces and dry rubs to dip in when the meat is cooked. You can never go wrong at a KBBQ because there is something that satisfies all.
Another thing about Korea is that most portion sizes are big and meals come with many sides! Even when I order just a donkatsu (fried pork cutlet) it comes with rice, soup, and a cabbage salad! For a very reasonable price, you can definitely be full in Korea. If you like Korean snack foods and traditional foods it is super easy and cheap. Cooking myself has proven to be a bit difficult, the things I have craved are eggs and cheese in Korea. When I go to the small mart near campus to buy quick meal items like pasta I keep staring at the eggs because I have craved scrambled eggs for 3 months. Guess how much a carton of eggs cost...... It's nearly $4-6 for just 12 eggs, I cant seem to justify the price if I don't eat all the eggs within a week. I think eventually I will crack (hahaa) and buy the eggs but I have not yet. I usually buy bread for $2, peanut butter $6 (for a small container), strawberry jelly $3, and pasta noodles and sauce for $5. These limited grocery options have been a bit difficult for me especially when I have no seasonings or cheese (also very very expensive and cannot find shredded cheese anywhere in Korea).
I have worked out what I enjoy eating in Korea and what is in my price range while also trying many new foods. Sticking in your comfort zone may be expensive. Everything from fried chicken, pasta, and sandwiches are available everywhere but treat yourself to that only once or twice a week. There are many restaurants from other cultures as well so every other day you can go to a Korean, Japanese, Chinese, or Indian food place! I am so proud of how open I became to food, for some strange reason I even now enjoy lettuce and onions and tofu so much! I think since I do not have much choice in my diet I have adapted and luckily Korean food is very enjoyable! I'm not sure that I can go back to America and leave all of the tasty new foods I have discovered behind!!