Welcome back to my 2nd Triptipedia post! In this post, I'll explain how I find the cheapest flights out there to go travelling so much, and also – who doesn't love cheap flights?!
Top Tips:
Google Flights. If you've never used Google Flights before, you should start right now! It's a flight aggregator (basically gathers flights from different sources) and search tool. There are lots of ways to find flights with Google Flights, such as the option to search within a specific price range, add multiple airports, search direct flights only and explore the map. Below, I have included a screenshot of flights from Birmingham BHX to Europe in January, and as you can see, there are lots of cheap flights, with Warsaw being the most affordable at £16 for a round trip (be careful with add ons such as luggage though)! I mainly book most of my flights this way now and don't regret it.
Skyscanner is another excellent tool that searches flights from the airline directly and travel agents advertising the flight. However, it's important to note that some travel agents that advertise these cheap flights can be a bit dodgy, so it is essential just to do a TrustPilot search on the agency before booking to make sure they're a trustworthy site. I wish I did that as I'm still waiting on my £80 refund from March from a particular travel agency Skyscanner linked a flight to. Don't rush your purchase.
Jack's Flight Club is a newsletter club that finds the cheapest deals on the internet. I am a member but haven't yet had the chance to use them as I'm not very flexible at the moment. Though I have looked at the flights, they have found, and they are all good and reliable. This option would be best if you're flexible with your dates and can be impulsive as you have to book the flight fast. Below, I have attached what the email's you will get look like. They get sent usually weekly, and they don't spam!
Expedia is another reliable search tool I use. With Expedia, you can search package deals as well as flights and accommodation separately. I usually find it cheaper to buy the accommodation and flight as a package deal. One good personal anecdote is when I went to Girona, Catalonia, Spain. The price was £74 per person for return flights and a decent hotel. Make sure you check the reviews if choosing accommodation as sometimes I come across some that seem 'too good to be true'. I also recommend checking the policies for the accommodation as often you're required to give a deposit.
VPN's are another excellent way to find the cheapest flights. How does this make flights cheaper? Well, airlines and agencies use cookies that track your IP address, and they will then usually change the price of the flight if they see that you're interested in a specific flight in order to make more money. With a VPN, your IP address is hidden, meaning that they can't change your prices. You can also change countries so the currency could be cheaper with conversion rates
Incognito Mode is another great option if you don't want them to track you and change the prices. To get Incognito Mode, press CTRL + SHIFT + N, and a new incognito browser will open if you're using a desktop. If you're on your phone, then if you click 'Add Tab', you should be able to see an option for Incognito Mode.
My final tip is don't be afraid to travel further than you want to. I live in the midlands, so my closest airports are Birmingham, Bristol and Cardiff. This means that often I can't get the cheapest flight unless I travel to London or Manchester, which is hard as I hate driving on the motorway. Luckily, driving isn't the only option! The National Express goes to hundreds of locations every day, including major airports such as London Heathrow. What's even better is that it is so cheap! I live about 2.5 hours away from Heathrow, and a ticket is only £10 – which is less than my train ticket to uni! Therefore, it's something to consider if you want the lowest prices, just make sure to do the transport calculations!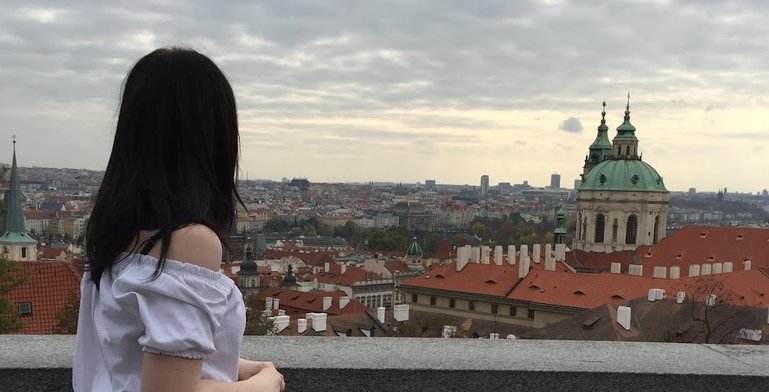 Me in Prague - the flight cost £60 inc return, following the tips mentioned.