The island of Korčula in Croatia is cool by design. Its old town was designed by the Venetians. The ocean breezes weave through the carefully laid out streets designed by the Venetians to optimize the natural cooling properties of the wind.

The island of Korčula
You can reach Korčula via the catamaran ferry. Riding the catamaran to the islands of Croatia is like riding a Hop On Hop Off ferry. The line runs from Dubrovnik to Split everyday with stops at Mijet, Korčula, Hvar, Brac and Split. You can buy your tickets at the Jadrolinija office in the port of Dubrovnik. The tickets are very affordable and easy to purchase. The ferry is air-conditioned, has food and beverages and plenty of indoor seating. There are shelves at the entrance on which you can store your luggage. The ride from Dubrovnik to Korčula takes about an hour and forty-five minutes.
Everything about Korčula is refreshing, the breeze, the water, the food, the wine and the people. There are no hordes of tourists or laser pulsing discos like some of the more popular destinations in Croatia. There is only quiet and tranquility. The best thing to do in Korčula is to wander aimlessly through the pedestrian only back streets of the old town. You can climb to the top of the Revelin Tower to see the view from above the port. The tower contains a museum dedicated to the Moreška dance. This dance is a traditional sword dance which is performed in the courtyard of the Revelin every Thursday night. The dance centers around two battling kings and a veiled princess. Marco Polo is also said to have been born on this island. You can visit the Marco Polo Shop in the old town too.
Enjoy lunch at Cafe Cupedo or any of the other cafes with their outdoor tables lined up against the old town's wall. Unlike the walls of Dubrovnik, the walls of Korčula have been lowered to half their original height in order to capitalize on the cooling breezes that flow through the town. Korčula also has many fine wines that are made from grapes from the island. The local wine shop, Tociona Vina, offers tastes of Popić Grk, a wonderfully light white wine, and Dingač, Croatia's version of Zinfandel.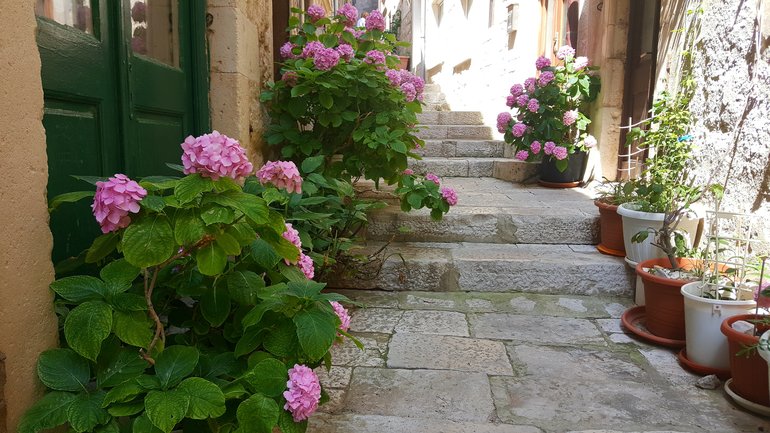 Korčula's cool walkways