Lokrum is a cursed island just off the coast of Croatia near Dubrovnik. Lorkum rises above the sea with a sheer wall of tan colored rocks topped by a layer of green trees. The island is surrounded by rocks fitted with ladders that descend to the clear, cool Adriatic sea.
The Benedict Monks had a monastery on the island. One day, Archduke Maximilian Ferdinand of Habsburg came to the island and fell in love with it. The spoiled Archduke ordered the monks to leave. On the last night, the monks walked around the island three times with their candles held upside down so that the wax dropped on the ground. They cursed the island so that anyone who acquired the island for their own personal pleasure would meet personal and financial doom. After Maximilian moved his family onto the island, he was assassinated in Mexico, his wife driven insane and his son bankrupt. Now the people believe that anyone who spends more than three nights on the island will suffer a similar fate.
Today, if you visit Lokrum, you can hear strange cries emerge from the interior of the island that sound like dinosaurs from Jurassic Park. These cries are the calls of the peacocks. The island is covered with these beautiful, majestic birds. On the grass under the trees near the ruins of the monastery, bunnies munch on plants. It is a surreal scene to watch bunnies and peacocks decorate the quiet lawn in the serene olive tree grove. However, only the bunnies and the peacocks spend the night as all of the tourists are ushered off the island by the authorities at nightfall.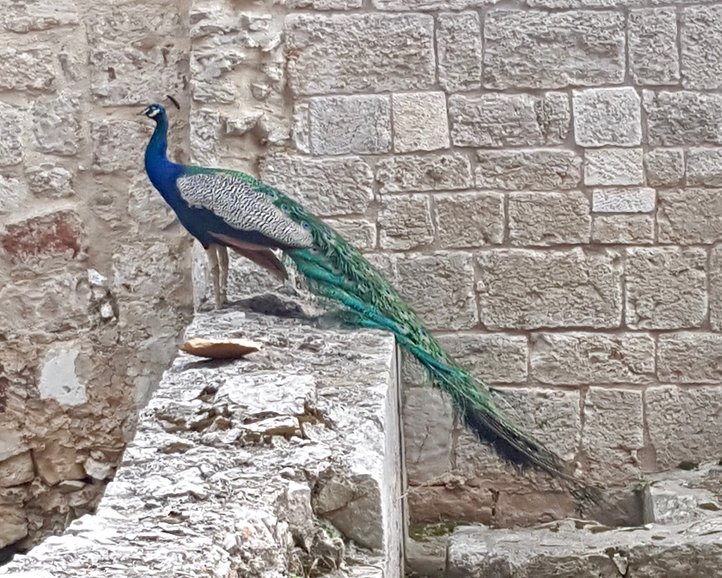 A peacock of Lokrum