If you have more than a few days in the lovely city of Riga, Latvia, it's a great idea to get out of town to explore Kemeri National Park [Latvian: Ķemeru nacionālais parks] – About an hour away from the city, you will find this area of unique and abundant nature. The beach town of Jurmala is also an option and it's en route to Kemeri. Surely, the beach would be amazing in summer but we were there in the beginning of autumn and the winds were chilly. We visited Kemeri for a hike in the Great Bog of Kemeri.
This day trip from Riga to Kemeri National Park needs a detailed post as it's not straightforward as to how to get to Kemeri or what exactly to do once you're there. Let's start with how we got there:
Getting to Kemeri National Park
---
We took the train from Riga Central Station, which is walking distance from the Old Town. Google maps directions suggested the next train going towards Kemeri at about 11AM. This train stops at a place called Sloka, from where google suggested taking a Bolt ride to Kemeri. Bolt, as you might know, is the Uber around here and is quite affordable. This is, however, a tricky option because the Bolt rides outside the city were few and the waiting times may be long. If you have a car at your disposal, you can simply drive to Kemeri from Riga, which takes less than an hour.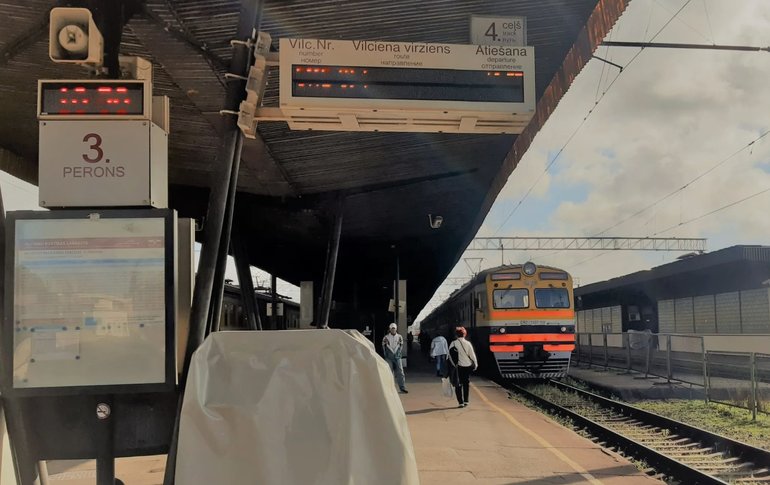 We bought tickets to Sloka from the ticket counter at the station (roundtrip ticket cost 4€ per person). The trains are pretty old fashioned and everything felt very vintage. I would definitely recommend the train, which takes just about an hour, the journey was comfortable and scenic. There's also trains going to the Kemeri station. This is the best option if you're taking public transport. But the trains don't go so frequently, once an hour or so. One tip I would like to give you – leave early enough, no later than 8 or 9AM.
It was a sunny but cool 16°C on that day with slight rain forecast. Carry a light windproof jacket with you if you visit during autumn.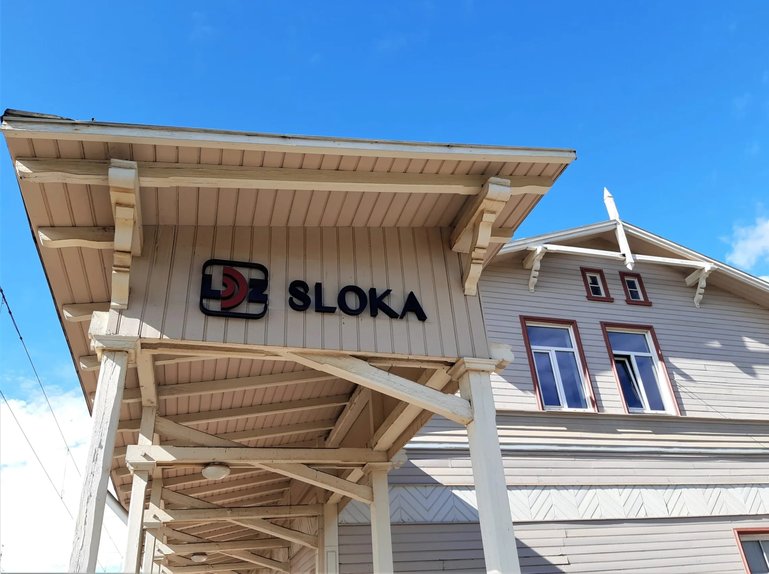 When we arrived at the last stop – Sloka station, there were few people around and just a pigeon to greet us. Trains continuing to Kemeri station go a few more stops from here. A guy at the kiosk by the station gave us some info as I asked how to get to Kemeri National Park. There's a Bus no. 6 going from Sloka to Kemeri from the stop right near the station. Oh by the way, you can find some snacks at this kiosk which would be very handy for the trip! There were basically no shops, restaurants or cafes in the national park area. We had a few oat bars, nut mix, chips and water with us.
We actually found a Bolt ride to pick us from the station and set the drop-off location to Kemeri National Park (the place marked as 'Kemeri National Park' on Google Maps) on the Bolt App. We didn't know where else to start. After the 10 minute drive (cost about 6€) we were dropped off at the 'centre' of the national park area. Here we see a signboard – it was the start of the 'Green Dune' hiking trail. A tip for anyone planning to go here – take the car up to the 'The Great Kemeri Bog' start of the boardwalks, there is a parking lot. It will save you from walking a few extra miles.
What to Do in Kemeri National Park
---
An area of unique biodiversity including the wetlands and the Great Kemeri Bog – largest of it's kind in Latvia – Kemeri National park is, in general, a large area. It's not possible to cover it all on foot in a day. There are two general areas of the park and you may choose which to cover. The Great Kemeri Bog is the main attraction and a must visit, in my opinion! On the other side there are marshlands, reed trails and bird watching towers along with the seaside Lake Kaņieris - I'm sure this is a beautiful area as well, we just didn't have enough time in the day to see it. If you're adventurous, rent a mountain bike and cover the park faster!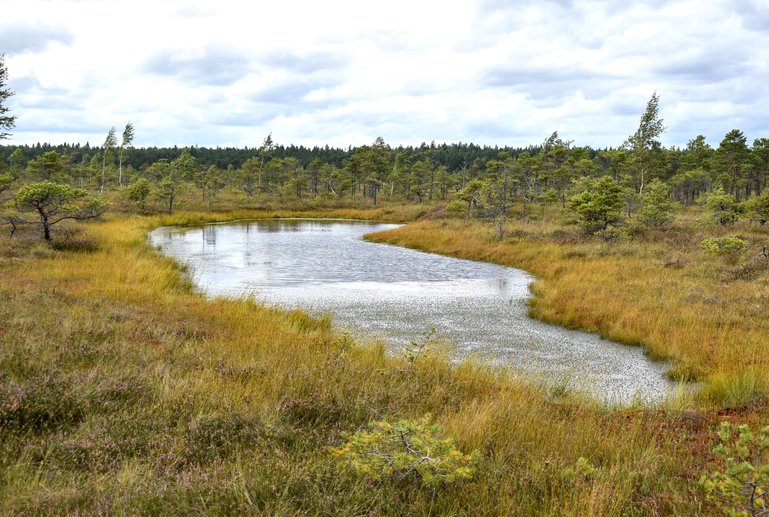 The Great Kemeri Bog
The Great Kemeri Bog Boardwalk
---
Once you're at beginning of the bog trail, you can start the hike on the duckboards. The trail goes in a loop, with a small and bigger loop at the outer end of approximately 3.5 km. An observation tower is located at the other end. Signboards around have information on how the developed - the formation of this bog began approximately 10000 years ago!
Now begins a different world, a moorland. It's covered in spaghnum mosses, heather and stunted tree growth. We did come across many tiny creatures – hairy caterpillars, bright green grasshoppers, dragonflies, lizards and even carnivorous plants! There didn't seem to be any birds around, surprisingly. It was a calm, peaceful path with a light breeze over the soft land.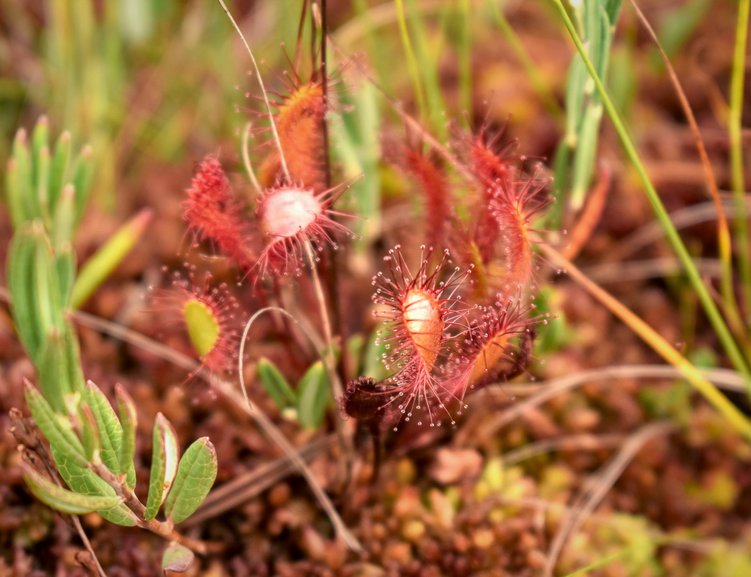 Sundews - a tiny carnivorous plant
The Sundew are perhaps the most interesting flora you will see - they trap insects with their sticky stuff and then dissolve and digest them. You need to have a sharp eye to spot these as they are pretty tiny yet bright red in colour and found close to side of the footboards. What's also unique here is that the bog is interspersed with small 'bog lakes' or ponds as well as sulphur springs hidden in the depths.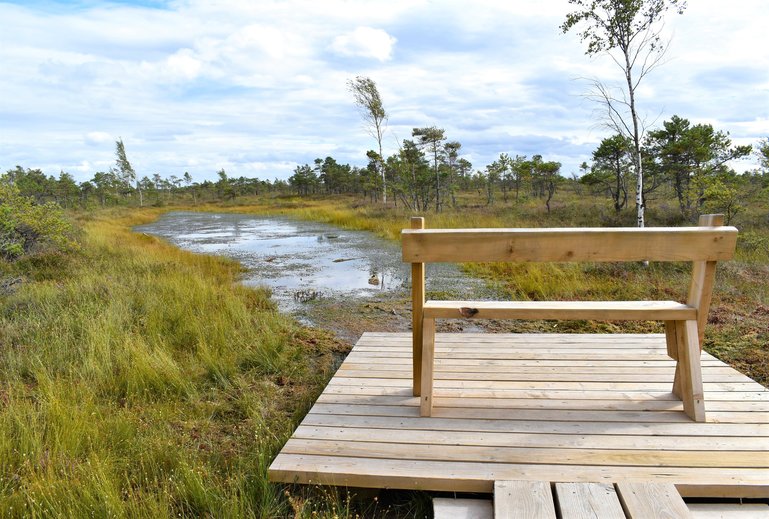 We have to walk carefully, because even though the wood boards were sturdy, one slip and you may be swallowed by the swamp. Ok, maybe at a few dangerous spots.. Apparently some tanks from World War II have sunk here. Another great thing, there are benches installed on wooden platforms along the way where you can relax and enjoy the scenery.
Observation Tower
---
A two storied wooden tower is at the edge of this boardwalk and from here we can observe a larger area of the Great Bog and it's pools. We see how far we've come and the vast lands that surrounded us. The breeze was strong so we stayed only a few minutes and continued the trail. Then, we followed the loop back, it was quiet and peaceful.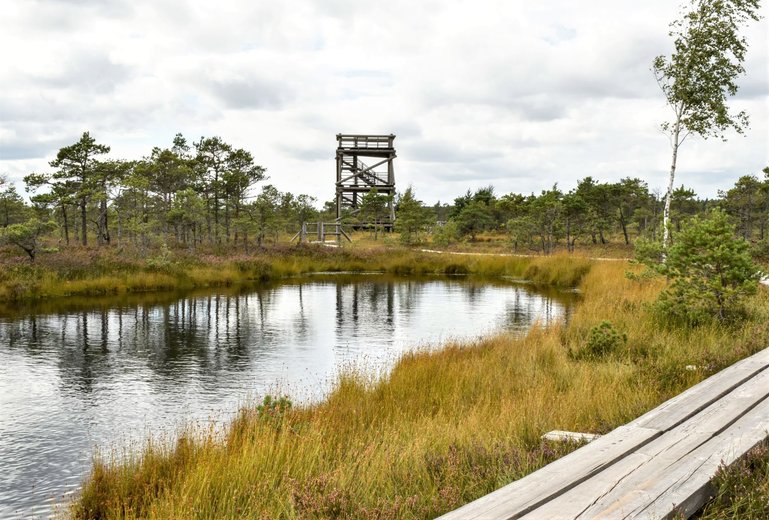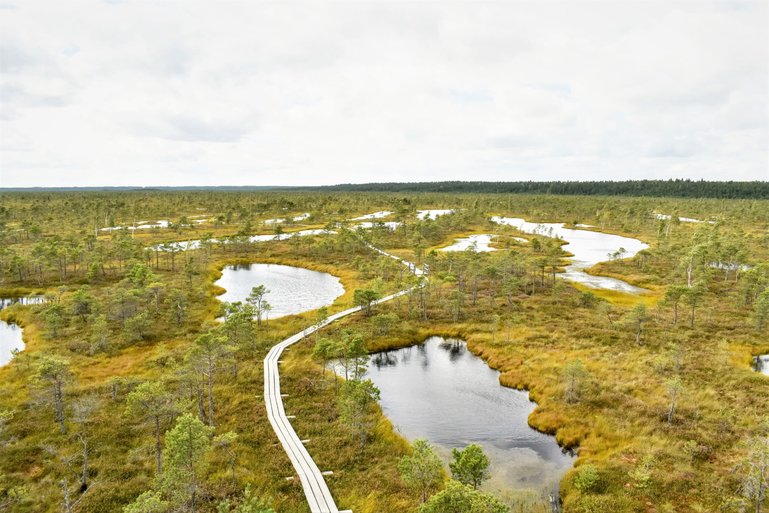 View of the Great Kemeri Bog
Getting Back
---
We spent a good hour or more on this trail. At the end, there's a small walk through the forest to the parking area. If you arrived by car then it's easy to get back from here. We were stuck with no means of transport, no Bolt rides available, phones low on charge, hungry and tired after walking miles. It was around 5PM by then and we just wanted to get back to Riga and find some good food. With no other option, we started to walk back towards the highway. There is a bus stop at the Kemeri cemetery but the last bus of the day had left according to the timetable. So we walked further to Kemeri station and boarded the next train back to Riga.
I hope this information helps you plan your journey to Kemeri better! A trip to the Kemeri National Park is something we highly recommend, especially for nature lovers and hikers. The Great Kemeri Moor was magical.