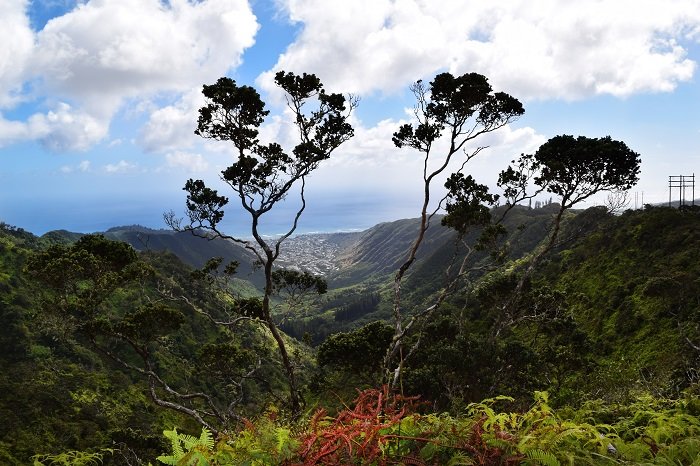 Wiliwilinui Ridge Trail, Oahu, Hawaii
5 Beautiful Yet Moderate Challenging Hikes to Explore While In Hawaii
Does the excitement of exploring a new place thrill you as much as it does me? Just the thought of seeing new landscapes and unfamiliar nature trails can get those butterflies buzzing around in my stomach! Then if you add the adventures and activities planning; whoa, the excitement plunges through the roof! The place that brings an abundance of excitement to me is visiting Hawaii.
Hawaii is such a magical place and presents a vibe that is like no other. While many people think of Hawaii as a place for charming resorts, sparkling swimming pools, and relaxing patios. Hawaii to me is full of nature, beautiful landscapes and adventure. There are so many hiking trails to explore in Hawaii, that we have yet to scrape the top 10 of them yet. So if you are someone who wants to get more out of your visit to Hawaii and create unique extraordinary memories, then you must explore these wonderful yet moderate challenging hiking trails.
1. Wiliwilinui Ridge Trail: 4.5 mile roundtrip. Elevation 1597 feet
---
Directions
If you are hungry for a scenic yet challenging and adventurous hike while on your visit to Hawaii, then this one will surely put a smile on your face. We started off the day with a little sun and clouds hoping that the rain might stay away for this particular hike. I don't know about you, but the word Ridge places just a tiny bit of fear in me being this is the first time we've hiked this trail. Ignoring the on-slot of a bit of fear I seemed to develop, we proceeded to gather our drinking water, hats, sunscreen and sunglasses and piled in the car and drove towards East Honolulu area. Actually, the journey to get to the trailhead was quite spectacular by itself as we cruised to higher altitudes through what seemed to be an upscale neighborhood of homes and hills. I noticed as we reached the trail head there was no guard or official person around at this time, so we proceeded to park in the appropriate designated spots. Usually you do need a permit to park in the designated areas to hike this trail.
2. Aiea Loop Hiking Trail: 4.8 mile Roundtrip. Elevation 900
---
Directions
The Aiea Loop trail is located in Aiea – Pearl City area of Honolulu and is an interesting path as you begin at the trailhead located within a park. There are a few scattered picnic tables and the park is quite large in size. The trees are massive and the lemon eucalyptus trees offer a scent of sweet citrus as you ponder further into the trail. There are a few trail road blocks of large tree trunks, and you'll climb a few steep switchbacks along the loop.
3. Waimano Falls and Pools Trail: 3 Mile Roundtrip. Waterfall Hike
---
Directions
This hiking trail was both challenging and rewarding. The trailhead is located near or in the neighborhood of Pacific Palisades. Parking is limited, so you may wish to start this trail early. The trail begins with a smooth wide pathway of red dirt and rocks with plants lining the path. As you continue further on the trail, it can become muddy and slippery depending if you hike this one on a misty or rainy day. You'll have to keep an eye out where you walk and step because there are large tree roots everywhere and the elevation can create a slightly dangerous trail.
Going downhill may be easy and you can use the tree roots for stepping, but coming back up can get you huffing and puffing. This part of the trail is known as 'Cardiac Hill'.
Again, this trail is really not that difficult, but it becomes slightly dangerous if it's a rainy or misty day and especially when you are descending down towards the beautiful pools and waterfall, it can be very slippery.
4. Manoa Falls Hike: 1.6 mile Roundrip. Waterfalls (150 feet falls)
---
Directions
If you are looking for an easy yet very rewarding and full of nature and very large trees, then this is the hike for you. At times, this hike can also be slippery and muddy depending on rain. The trees are wide, tall, and giants on this very interesting yet enjoyable trail. On the day we hiked this trail, the falls didn't seem as large as I expected, but it is still a beautiful scene of maze and wonder. If you are someone who wants to get away from large crowds and noise, and have a desire to explore and surround yourself with nature, then you'll have to check this one out. This hike is considered an easy rated trail.
5. Koko Head Stairs Trail: 1.8 mile Roundtrip. Elevation 990
---
Directions
The spectacular views will not be the only thing that gets your heart racing during this extraordinary hike up the Koko Head stairs. This climb of approximately 1,050 stairs (or railroad tithes) is a challenge for any exercise enthusiast and will definitely offer a cardio workout like no other. This is rated as difficult.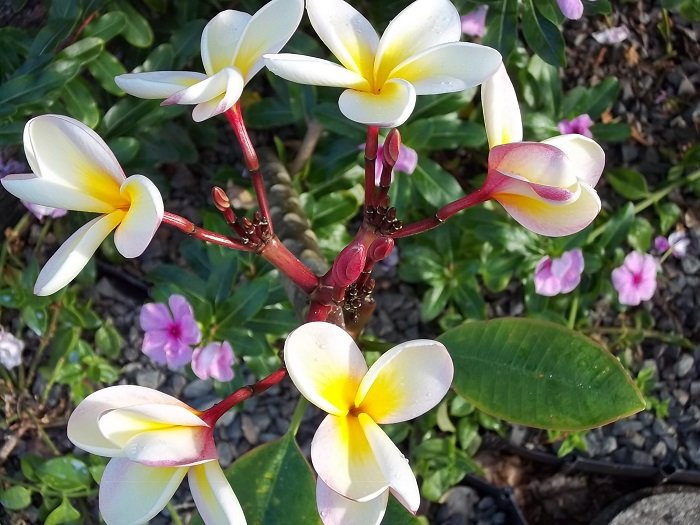 Plumeria flowers, Hawaii