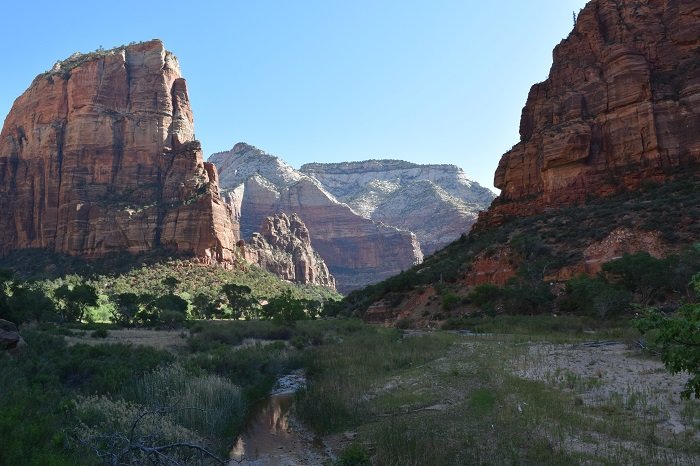 Zion National Park
From the moment you approach the area of
Zion National Park
you will SAY "WOW!" You are surrounded by a magnificent maze of wonder everywhere you turn. And if you are folks like us, we have to plan our adventure trips around work, hence; sometimes taking our trips on holidays or holiday weekends. I was a little intimidated after reading and hearing about the nightmare crowds that have been swarming the national parks in recent years, especially around the holidays. Just a handful of years ago, Zion was getting 2.5 million plus visitors per year, today it is up to 4.5 million visitors per year, according to the Zion Human History Museum information video. (This museum is located at shuttle bus stop 2 in the park.) Anyway, we had the best time while exploring this park, and even met a few friends along the way. I have recapped a few lessons learned after our visit to Zion National Park over the Memorial Day weekend holiday.
Things To Remember for The Next Visit.
1. Early Bird: We awoke at 3:15AM and on the road by 4AM (from St. George, Utah at Comfort Suites Hotel). However, we did not need to awaken so early. We can sleep at least another hour if staying in St. George. It does make your experience better if you do arrive early especially if its your first time visiting.
1. Parking: We learned that if you arrive early enough, you can drive further back into the park and there are parking spots at the shuttle stop areas. To avoid some of the crowds using the shuttles.
1. As we departed the park in the later part of the afternoon around 4:30 p.m., we saw numerous parked cars along the main street (Zion Park Blvd) all the way until the end of town as we left. Knowing that we saw several various parking spots open within the park at designated parking areas at each shuttle bus top. If arriving at the park early in the morning, it's a good idea to go ahead and drive in within the park and go further, even as far as Angels Landing trail to check for open spots. And if no luck, then find a spot on the street (free) outside of the park and catch the shuttle bus, which is no charge. That should be early enough to go in and come out if no parking spots are open before the busy hours begin.
1. Entrance Fees: If you arrive very early as well, the visitor center is not open until 8 a.m., and the park entrance cashier may not be there until then as well.
1. Fitness: Another idea on how to prepare for some of the hikes in Zion requiring climbing is to exercise and strengthen your arm and leg muscles. My arms and quads were sore because we used the chains attached to the rocks to pull ourselves up or to lift the legs and step up onto steeper areas of the hike. It was a very good workout and it gets your heart pumping.
1. Cameras and Cell Phones: Be careful while holding your phone cameras near waterfalls or rushing water. We saw a young lady drop her cell phone in the pool of water / waterfalls near the Temple of Sinawava stop near the Narrows trail head. It appears she did not find it again.
1. Lodging: The small town of Springdale also has options for lodging, but we found the prices to be quite high, so we elected to stay in nearby St. George (about 45 minutes from Zion); and enjoyed our comfortable stay in a newly built Comfort Suites.
Things To Bring For Zion Hiking: Seasons: Springtime
1. Light layers of clothing: Cool mornings can warm up in later parts of the day.
1. Hat or visor-(it can get windy at the summits, so hang on to your hat)
1. Sunglasses
1. Sunscreen
1. Flashlight
1. Snacks, food, water or vitamin drink with electrolytes
1. Cameras; make sure they are secure.
1. Hiking Shoes: A good pair of hiking shoes to provide a better grip while climbing.