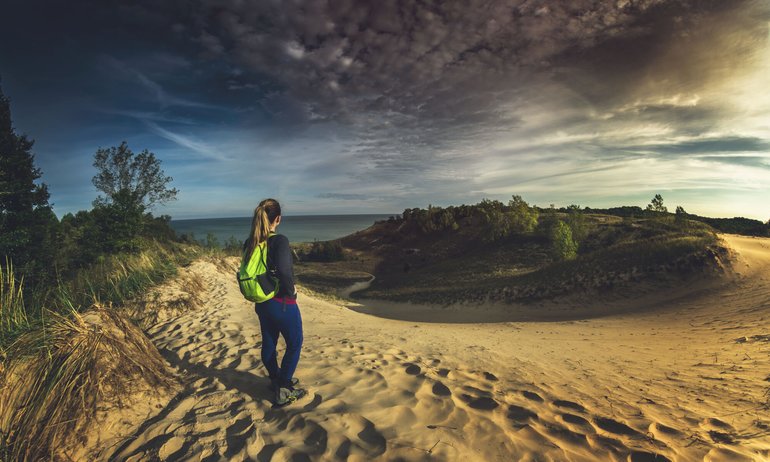 The view from atop Beach House Blowout at Indiana Dunes.
If you're visiting Indiana Dunes, you probably already know about the 3-Dune Challenge, but did you also know that the less-trekked Trail 9 was named best hiking trail in Indiana by USA Today?
Our curated hiking route (link at the bottom of this page) combines both experiences as well as the gorgeous shoreline with an easily-customized map for those wanting to hike shorter or longer distances.
Starting out
---
Begin by entering Indiana Dunes State Park via North 25 East and driving to the far north parking lot. Trail 10 begins at the old pavilion and beach house. We're starting you here because other routes don't include the incredible beach, which is one of the most amazing features of this area.
Heading east on the beach, you will soon see Trail 8. This begins your ascent to Mount Tom for the 3-Dune Challenge, which we're going to do "in reverse."
Backwards 3-Dune Challenge
---
At the top of Mount Tom, signs for the 3-Dune Challenge point west down the long staircase, but this is not the direction you want to go. That's actually for if you are doing only the 3-Dune Challenge in a counter-clockwise manner starting from the Nature Center.
Instead, head east towards Trail 8 to Mount Holden, and then south to Mount Jackson. Hiking up the three tallest sand dunes in the park is strenuous, but definitely doable. Depending on how much energy you have left, the rest of the route can be lengthened or shortened accordingly.
Continue on Trail 8 until you see signs for the Nature Center. Here, you'll go in the opposite direction toward Trail 10. Trail 10 is not marked, but you will hike east for about 1/10th of a mile to the Trail 9/Trail 10 split.
From here you'll take Trail 9, which will split again before Beach House Blowout. Even if you plan to shorten your hike, we highly recommend the view from Beach House Blowout.
Add distance or shorten the route
---
From here, the trail seems to grow more beautiful with every step. At the Furnesville Blowout, we originally planned to make the return loop on Trail 9, but we felt we had enough energy still in our tanks to include the Trail 10 loop.
Be aware that this will add roughly 2.25 miles to your total hike. What it also includes is the beautiful scenery of Paradise Valley, The Pinery and Great Marsh.
If you'd like to add even more mileage, Trail 2 is accessible from Trail 10. Unfortunately the trail was closed for maintenance during our visit, but we were getting tired and likely wouldn't have done it anyway.
Capping off an awesome hike
---
Trail 10 takes you back to the Nature Center, and from there you will cut through the campground area before picking up the Beach Trail behind the bathrooms at the northwest corner of the grounds.
The lovely boardwalk Beach Trail adds yet another scenic element to this hike before delivering you back to your starting point.
Tips
---
You will not regret wearing gaiters at Indiana Dunes. These inexpensive and lightweight boot covers work nicely to prevent sand getting in your shoes. I initially started the trail without them, but it didn't take long for little sand dunes to form inside my boots. Andrew wore them from the beginning of our hike and had no issues.
After dumping out my shoes and putting on the gaiters, I didn't have any more trouble either. For the price, these are well worth having.