Sofia is the vibrant capital city of Bulgaria, with lots of history, striking landmarks, wide open parks and a great selection of bars and restaurants. We wanted to visit Sofia and the more popular Black Sea coastal cities during our visit to Bulgaria, so that we could experience the different sides of the country. As a result, we decided to use Bulgaria trains to travel from from Sofia to Burgas, the second largest coastal city in Bulgaria, and here was our experience.
How To Book Tickets
---
Tickets for the Bulgaria trains services can be bought at the train station or online via the Bulgarian train website. We bought our tickets through the Bulgarian train website as it was more convenient, as we could easily see all the options for departure times and train journey duration times, we could also easily see the price of tickets. The website is quite straightforward so it is worth booking through, or at least looking at prior to going to the station to buy tickets, so that you can get a good idea of what train is the most suitable.
There are a number of different seat options available and even sleeper cabin options, if you take an overnight sleeper train. Seating options include the following:
- Second class seat costing BGN19.20-30.30 ($11.50-$18.50) depending on train type
- First class seat costing BGN24-37.80 ($14.50-$23) depending on train type
- A seat reservation costs BGN0.50 ($0.30)
- A sleeper coach bed in 2nd class costs BGN10.15 ($6.20) – this is in addition to a 2nd class seat charge for the train
- A sleeper coach bed in 1st class costs BGN12.20 ($7.50) – this is in addition to a 1st class seat charge for the train
- A sleeper coach in business class costs BGN18.30 ($11.15) – this in addition to a 1st class seat charge for the train
Only overnight trains tend to have the sleeper coach options, but you can see what is available on each train on the Bulgarian train website. The sleeper coaches in all classes have 3 beds and are all the same quality, however the amount of beds that are available differ in each class. In 2nd class, all three beds can be booked but men and women cannot travel together if they are not booking together. If you are in a couple and would prefer to have a cabin to yourself then you would need to book 1st class, but if you are a lone traveller and would like your own cabin then you will need to book business class.
There is also little difference between 1st and 2nd class seating, only the number of seats to a compartment. In 1st class there are 6 seats to a compartment and in 2nd class there are 8. Essentially meaning that you will get a slightly bigger seat in 1st class and a little more space. For the slight increase in price, we think it's worth it for 1st class.
We booked a train that would take 6hrs 50min from Sofia to Burgas and depart at 12.55, as this worked out the best option for us.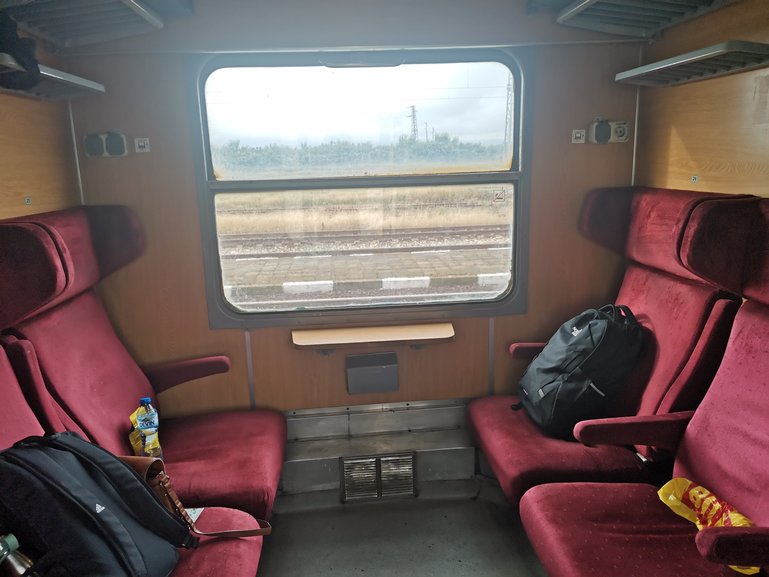 1st class seating compartment on the Sofia to Burgas train
What To Bring
---
Trains in every country across the world differ in the level of facilities and service offered. Unfortunately, Bulgaria trains offer very little in this department and we advise bringing the following for your train journey:
- Food and drinks: Bulgarian trains do not have food/buffet carriages or a food trolley service so you must bring any food or drinks you will want and need on board with you.
- Toilet/Loo roll: There is no toilet roll available on the trains so bring some with you!
- Things to keep you entertained: There is no free entertainment on Bulgarian trains and also no tables, so be sure to bring your own entertainment.
Sofia Train Station
---
The train station in Sofia leaves much to be desired. It's in one of the more run down areas of the city and outlying buildings, including the bus station nearby, can be a little sketchy. The train station itself is clean and spacious, and has a small selection of places serving mainly pizza slices and drinks. There are also toilets available, ticket desks and seating. Train platforms are on the lower ground floor, below the main seating and cafes area.
There is a large board with trains and platforms in the main station area directing passengers to the correct location for their train. When boarding your train, be sure to ask a local, or a member of train staff, if it is the correct train and where your reserved carriage is. There was another train parked up on the same platform as our train which caused lots of confusion, but a friendly local was able to direct us to the correct train.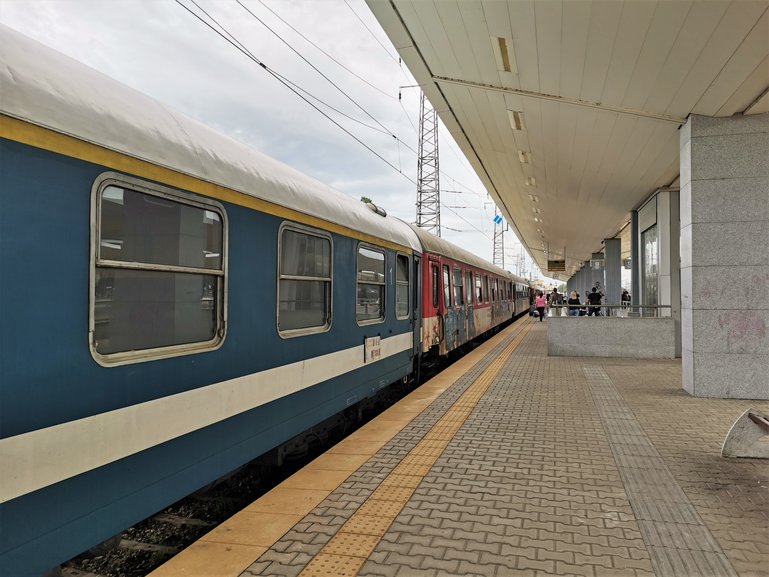 Train waiting at the platform in Sofia train station
The Train Experience
---
Once you board the train, you will need to find your reserved seat and compartment and get settled in for the journey ahead. There are no dedicated luggage areas, just large luggage shelves above the seating in every compartment, so be wary that you will need to be able to lift your luggage up to put it on the shelf! There is also a small shelf table for the two seats next to the large window but no tables for any other seats, so if you're planning to do some work or use a laptop then you'll be doing it on your lap.
Our train left on time, but without any announcements of what train it was and where it was going, so be sure to check you're definitely on the correct train before you leave! It was quite busy and our compartment was full. The scenery from Sofia to Burgas is very beautiful with lots of greenery, trees and rolling hills and mountains. Our tickets were checked during the journey by the friendly ticket inspector and she also told us when we were due to arrive into Burgas. Most of the train operators and staff spoke very little English so knowing hello, thank you etc in Bulgarian is useful.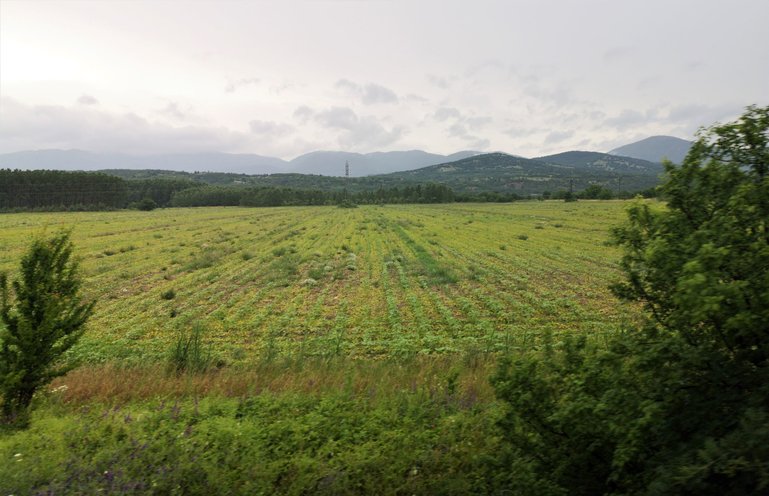 The scenery on the train from Sofia to Burgas
Arriving Into Burgas
---
We arrived into Burgas on time in the early evening. There are two train stations in Burgas, a west station and a south station. The south is the most widely used as it is right in the city centre and nearer to the coast. There is also good access to the bus station and taxis from the south station, so it is generally the best to arrive into unless your accommodation is closer to the west.
We enjoyed our Bulgarian train experience. They may not be the newest, smartest or quickest trains but they certainly are inexpensive and offer an alternative and comfortable way to get across the country that doesn't involve flying or coaches. The train also gives passengers the chance to see some of the vast open greenery and mountain ranges of the country while travelling through its rural landscape.