Buses are much more preferred than trains for domestic travel in Bulgaria. The prices are very similar, but buses are two times (or even more) quicker, usually modern and air-conditioned. However, in case of a long-distance trip, for example from Sofia to Varna, an overnight train with sleeping cabins can be a better choice.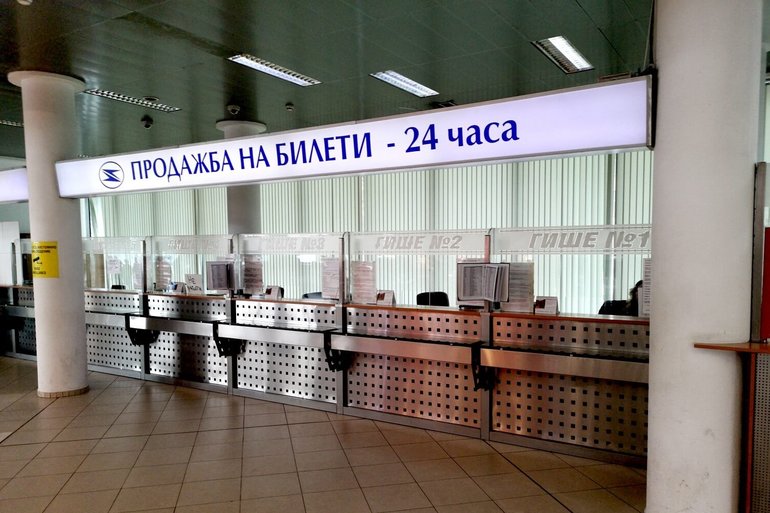 Sofia Central Bus Station ticket office
Buses
---
Domestic buses are operated by many private companies in Bulgaria. These have separate timetables and ticket prices. At major stations like Sofia Central Station, each company has its own ticket office with the schedules shown in front. Tickets can be bought at stations, online and often from the bus driver as well. In general it is recommended to buy your tickets the day before your travel. Smaller stations have a single ticket office that sells the tickets of all the operators. Bigger cities will have individual offices for each company. You might need to walk around and check all timetables to decide which operator to choose.
TIP: If you are traveling to/from a location that has buses less frequently, we strongly recommend pre-purchasing your tickets at the local bus station the day before your travel. This will ensure you allocated seats on your chosen bus. Although tickets can usually be bought on the buses themselves, popping up just before your departure directly at the bus is not a good idea.
Trains
---
All major cities have railway connection, smaller towns and villages are often connected to the main lines through non-electrified branch lines. There are no lines along the Black Sea coast, not even Burgas and Varna are directly connected. Given that, Sunny Beach has no railway connection either. Tickets can be bought at the local stations or online on BDZ's website. You need to register first in order to see times and prices. The online ticketing system is quite messy, and often doesn't show all available trains. We don't recommend pre-purchasing your ticket online as there is no need to do so in most cases.
TIP: Showing up at the local station around 45 minutes before the departure should be enough. You'll have sufficient time to buy a ticket and catch the train. However, in peak summer periods, trains to Burgas and Varna can sell out quickly. Pre-purchasing the day before, especially for sleeper cabins, is advised in the summer.