One of the hidden gems of the Caribbean, Cuba is an island with a lot to offer. The country features colorful and historic architecture, extremely friendly locals, beautiful beaches and natural attractions, affordable rates and an incredible dancing and nightlife scene, perfect for a getaway.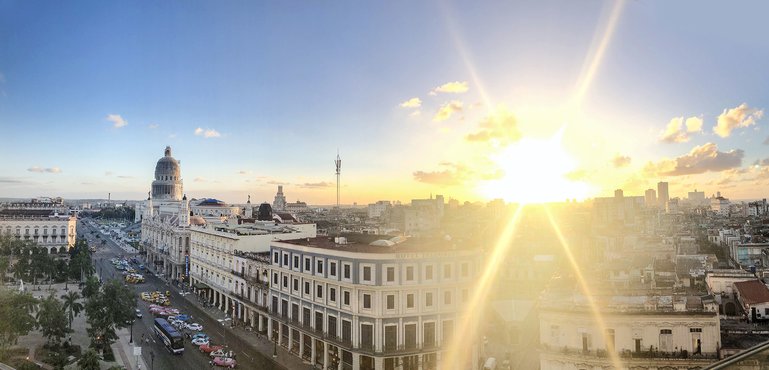 Havana, Cuba
Colonial Vibe
---
Cuba is unfortunately known for its tumultuous history of communism. There hasn't been many technological advances or significant undergone changes since the 1960, and It feels like time had stopped in here.
This contributes to the colonial and vintage vibe that you can feel throughout the island, with architecture influences from Spanish Baroque, French Neoclassical, Art Deco and Art Nouveau style, seen in its colonial and colorful buildings, as well as the living museum of old perfectly maintained American classic cars; that will transport you back in time.
Beautiful Beaches
---
Cuba is a beautiful island, filled with 300 white sand and turquoise waters beaches that has nothing to envy to any other destination in the Caribbean. The island also features great reefs off the beaches, making it a great destination for snorkeling.
Natural Wonders
---
Yes, Cuba has beautiful beaches, but there is more to that. 19% of Cuba's land is protected, home to 2 UNESCO World Heritage natural sites, The country features hidden caves, waterfalls, mountain ranges and forests. Dramatic scenery can be found all over the biggest Caribbean island.
Locals
---
Cubans are among the friendliest people you will meet in your life. They are always laughing and joking, and are known for being extremely hospitable.
Nightlife, Salsa & Live Music
---
Cubans are happy people, and they love the music, to dance and to party. They have a vibrant nightlife scene, offering a wide array of bars and clubs (or street music) where you can dance until 6 am in the morning!
To watch them dance (and join them, of course) is something else. The majority of places will offer high quality live music, with genres like salsa, rumba, son, jazz mambo and chachacha, (in between others) hard to see somewhere else. It is one of the most musically diverse countries in the world.
Disconnection
---
Due to its political isolation, Cuba is pretty much disconnected from the outer world. WI-FI is hard to find, only available in certain places and charged by hour, and unless you pay for Roaming, you won't have a way to communicate with anybody. It is a great opportunity to disconnect yourself from work and from the routine.
Food & Drink
---
Cuban cuisine is DELICIOUS. Of course, not every place is going to be good, but I was impressed by the food overall. Everything is so tasty regardless of its price range. I will recommend Castropol, a fine dining restaurant located on the Malecon in Havana.
Although it is not the cheapest in Cuba, it is normal price for western standards, and the food was absolutely out of this world. The drinks are also something we must highlight, as Cuba offers great quality rum, with delicious drinks like "Cuba Libre" and "Mojito", the country is also the birthplace of the Daiquiri: El Floridita.
Safety
---
Cuba is a very safe place, probably safer than what I expected. They have low crime rates and high presence of law enforcement everywhere. However, please remember their poverty rate is high and be cautions to avoid pickpockets, scams and some other types of petty crime.
Affordable
---
I consider Cuba to be very affordable. I spent no more than $400 for a weekend getaway, including airfare, accommodation, three meals a day, bars, nightlife and souvenirs (it could have been less but I wasn't trying to save).
I stayed in a very cute Airbnb, and tried to get a taste of the local cuisine, eating at every place from fine dining to casual corner local restaurant. Of course, if you decide to go to luxury hotels like el Nacional, to dine in there and to use tourist exclusive services, it will cost you the same it will as if you where anywhere else.
Weather
---
Cuba offers great weather all year round, with a tropical climate, characterized by its warm temperatures and sunny days almost every day. However, be aware of the high levels of humidity and hurricane season.
Small recommendations
---
Bring a lot of cash. Only tourist places will accept your card and at a very high exchange rate, so it is recommended to exchange your currency with locals or at the airport. They have 2 currencies: CUC and Cuban peso. Cuban peso is basically worth nothing, so try to exchange in CUC.
Try to avoid the Communism topic: This is a sensitive topic in the island, and talking about it could get you in uncomfortable situations you want to avoid.
Learn some basic words in Spanish: little Spanish will go a long way in here, and they will really appreciate the effort. Although some Cubans speaks English, not all of them do.
Bring your supplies: basic stores and supplies can be hard to find, something as basic as toothpaste, toilet paper or even deodorant. Be prepared.
Book and research in advance: as we discussed above, internet is a luxury in Cuba. Try to book you accommodation and plan your trip before hand, to avoid unnecessary problems and costs.