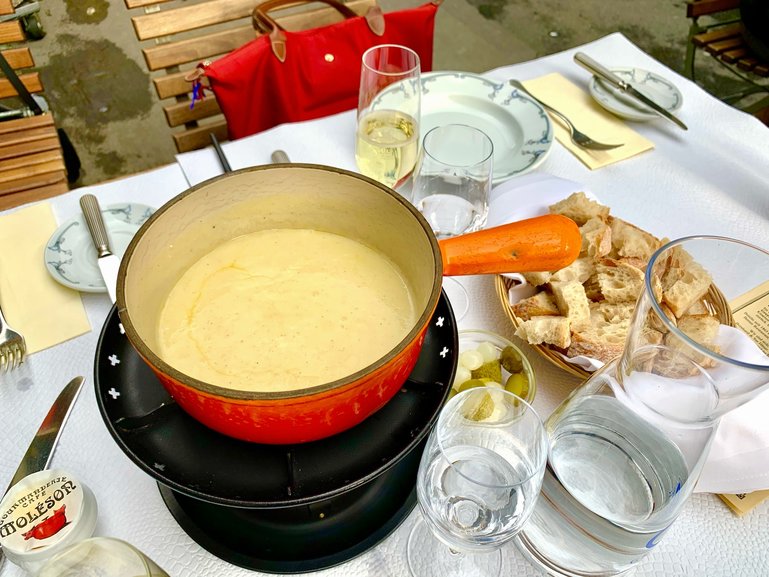 Fondue in Bern
It was a lovely summer evening with clear skies with a bit of sunshine. Tables arranged out on the street at the Italian restaurant Rialto Pizzeria was busy with diners. Ever since we planned to visit Switzerland, having Fondue or Raclette was at the top of our list. If you don't already know, Fondue is one of the specialities of Switzerland. We met one of our friends in Bern and decided to try it, and it was great that she could tell us more about the area, Fondue and the weirdness of having this dish in the summer month, as it's predominantly enjoyed in the winters.
We chose a table outside just like many others to enjoy our early dinner in the beautiful street of Aarbergergasse, where shops and many eateries lined up under the extended roof. The restaurant staff presented drinks, food and a fondue menu. The historical sites of Bern are incredible but don't forget to try this delicacy in Bern or anywhere in Switzerland.
In the cooing of baby Aanick, we got distracted from our talks often. However, when the server arrived with the setup of Fondue, my heart jumped with excitement. The server brought the little stand, lit the spirit lamp at the base, placed the pot with hot melted cheese, set a basketful french bread and long forks on the side, poured us our chosen chardonnay, said enjoy and left. We could barely keep our hands off of it.
Aaruni can eat the hottest food right out of the pan but for me waiting for a hot melted cheese to come down to edible temperature got unbearable. Finally, after 5 mins of the dish served, I picked up the fork like a kid in a candy store, poke the bread on it and dipped it into the pan. Gathering some strength to bear the heat of it on my tongue and Yummmm!
As we were enjoying our Fondue, clouds surrounded Bern by dusk and it started raining. We were swiftly moved to a table indoors before anyone else could as we were with baby Aanick. The restaurant looked limited from outside, I thought about how they are going to accommodate the others. But if you walk into the kitchen door, you will actually find a vast hidden restaurant inside. Maybe it was built like that, but at least I felt it.
Probably during winters they must be having huge crowds coming to accommodate them in the inner restaurant. The restaurant crew were friendly with Aanick and also played with him for a bit.
Ah! Coming back to Fondue, our friend told us we could even add some white wine into it and get drunk while eating. Sounds fun isn't it. But the cheese dips are already made with some beer. Mostly bread is a popular dipper for cheese fondue, but locals also use some veggies like broccoli, potatoes, breadsticks, croutons and many more options as a dipper.
Best way to have Fondue
---
There are many types of fondues available at various restaurants in Switzerland, try all if you can. Fondue is best paired with an excellent dry white wine. Our friends from Geneva also mentioned taking white wine with Fondue. It makes cheese easy on the stomach to digest. Secondly, it's better to have Fondue when it is warm, making it easy to stir with bread and eat.
After having a stomach full with Fondue, we still ordered my friend a pizza, salad for Aaruni and a portion of fish for me. But let me alert you. If you are not the one who eats a lot then preferring more food after Fondue could be a waste.
Fondue for Souvenir
---
Yes, that's right! Fondue as a souvenir is a good idea. I suggest you buy one or two fondue packs for back home. It is a nice souvenir to yourself as well as your friends and family. Either you can have a fondue party with them or make a date night for yourself. Remember what I mentioned earlier! Getting drunk with Fondue.
Aaruni and I had a romantic evening and set a fondue dinner for ourselves after we were back. We re-lived the moments and talked about that evening in Bern and enjoyed Fondue with a crisp Chardonnay.
Bern, Capital of Switzerland
---
Capital of Switzerland, Bern is known for its Bear park very well kept from 14 century and its beautiful historical sites. Visiting Bern is worth it and can be done in half a day.
Bern is a calm and slow-paced city compared to other busy cities in Switzerland like Zurich or Lausanne.
Road Trip from Unterseen to Bern
---
Driving through the scenic roads alongside Swiss alps and blue lakes, we reached Bern in an hour from Unterseen. We went to the old town's centre, put the car in a parking space and walked around the city. The city is easily doable on foot just keep the stroller handy for the baby or your toddler. You will be amazed as you take a tour around.
Free things to do at Bern in half a day
---
Old Town Bern - It is entirely free to explore the old town. You will find cobbled streets and 16th-century fountains at most of the historic sites. Frequent Trams running and eateries set up on the streets full with diners. We met our friend and cherished our old memories over coffee at a Starbucks and later had dinner at Rialto restaurant at Aarbergergasse street.
The Cathedral of Bern - The Cathedral lies in the city centre. Built during the 15th Century, Bern Minster is the tallest Cathedral in Switzerland during that time. It is beautiful from inside. You can even climb the tower paying some small fee and have some great views of the town.
Munster Platform - You will find this place on the backside of Cathedral. The platform is 101 metres high from the ground and provides a breathtaking view of speeding River Aare and bridges of Oldtown. Take a walk to the elevated platform of the Cathedral tower, to get the best views of River Aare and the old city of Bern.
Zytglogge (Bern-kramgasse) - Clock tower -The Medieval clock tower is in the centre of the old town. The building also has a 15th-century astronomical clock, and moving puppets.
Shopping area 'Lauben' - It is 6 kilometres of arcades - the locals refer to them as 'Lauben' - boasts one of the longest weather-sheltered shopping promenades in Europe.
Swiss parliament Building - It looks enormous and attractive from outside. But you can also take a guided tour inside for free. Just that you need to book in advance.
Where We Stayed
Staying in Bern could cost a lot. You should find a place outside Bern and make a day trip here.
Neuhaus Golf Club situated on the Thunersaree River makes it a perfect hotel location. As the hotel falls in the middle of Unterseen and Interlaken, it is easy to check the places around. Staying at Unterseen, it was a quick drive to Bern. We drove from Gstaad to Unterseen to check-in first and then moved out to see Bern.