"Red Rocks and Beyond: A Guide to Moab and Its Incredible Natural Parks" by JoAnn Hill @dcglobejotters is such a good introduction to the Moab area that I see no point in doing another one. However, "Red Rocks and Beyond: A Guide to Moab and Its Incredible Natural Parks" is incomplete, lacking in important details that those of us who live in Utah know from our more detailed explorations of places like Arches National Park. Think of this as an extension of "Red Rocks and Beyond: A Guide to Moab and Its Incredible Natural Parks" that fills in some of those gaps.
1] Just after sunrise or just before sun set is the best time to visit Arches National Park because the low angle of the sun causes the atmosphere to filter out blue light. The result, the red rocks look even redder, and the longer shadows add depth to the sights. For what its worth, we prefer late afternoon visits because we are 'night people'. Getting up for sunrise is obscene.
Bonus: early or late in the day, traffic is less at these hours. With limited parking inside the park, it is not unusual for the entrance to be closed from over crowding, causing considerable waits to enter the park. Taking guided tour may bypass this problem.
2] The Fiery Furnace is a red rock maze so complex that it can only be visited on a tour led by an experienced Park Ranger. Sign up on line or at the visitors' center.
3] It appears that @dcglobejotters never actually made it to Sand Dune Arch when they visited Sand Dune Arch. As you go deeper into the slot canyon where Sand Dune Arch is located on the "Sand Dune Arch", trail from the parking area (there is a least one other trail starting at the parking lot, so get the right one), keep looking to your right and up. You will come to a sort of amphitheater/ rough cave with a big pile of sand on its floor, and and arch in the wall above the "sand dune" on the floor.
4] Chong Wain's bed. When one of our guides on a Yangtze River cruise learned we were from the Wild West, he excitedly told us that he was saving his money so that he could take his first vacation to go to Texas to see where the Hollywood actor Chong Wain made all those cowboy movies. We pointed out to him that most of John Wayne's cowboy movies were made in Utah, maybe none in Texas. Most of John Wayne's Western movies, along with a lot of others, were filmed near Moab or Kanab, UT, and when in Moab, John Wayne stayed in the second floor suite at the Apache Motel. Today, you can sleep in John Wayne, s bed at the Apache Motel in the John Wayne Suite.
5] Upheaval Dome, Island in the Sky, Canyonlands National Park. The signs will explain this very unusual geology.
6] Mesa Arch in Canyonlands National Park is best seen in the afternoon when the sun is behind you.
7] The Bullfrog Radius. Bullfrog, UT, is the scenic center of the universe. There are 8 or 9 National Parks within 100 miles of Bullfrog. Only two of them are near Moab. Expand your horizons.
8] Milt's Quick Stop was a fast food burger joint before fast food existed, and if you hanker for fast food in Moab, Milt's is #1. There are a small number of inside seats. Mostly its a take out. Eat in your car. Better Covid protection. Equally famed for it burgers and "shakes". Note to foreign visitors: a "shake" is a "malt" without malt. A shake-- a contraction of the proper name of the drink, "milk shake"-- has there parts, 1] ice cream, 2] milk, and a sweet syrup added for flavor-- chocolate is a classic. I prefer Strawberry. The classic Shake puts these three things into a large metal cup which is then attached to a prehistoric forerunner of a Cuisinart Food Processor and whipped into a smooth, drinkable blend. All over the world, McDonald's and Burger King sell really bad fake shakes. Get the real thing at Milt's. A "malt", short for malted milk shake, is a shake with malt (the stuff used for making beer) added. It changes the taste for the better.
9] Road Trips. @dcglobejotters notes you really must rent a car (car hire) to visit Moab. While rental car is clearly the best way to go, you can visit by bus (coach) tour. If you take a bus (coach) tour, your itinerary is pretty well fixed, With a car, you get flexibility.
10] What's a park? National Parks (Arches and Canyonlands) are owned and operated by the central USA government's (Washington DC) National Park Service. State Parks (Dead Horse Point) are operated by states. One $30 National Park pass covers both Arches and Canyonlands for 7 days. Dead Horse Point is a State Park, and extra charge. We have a lifetime admissions pass to all National Parks. We once spent the extra money to go to Dead Horse Point, which is right next door to Island in the Sky at Canyonlands. Dead Horse Point is not worth it. Its a just a different angle on the same thing.
11] The Green River. Part of North America's vast Rocky Mtns. , the Green River flows west out of the Wind River Range in WY. The rugged Wind River Range is impassible by road. Its a 150 mile (242 km) drive to parallel to the mountains to get from one end of the Wind River Range to other. Leaving the mountains, the Green River flows across a high desert until it enters Utah in the spectacular Gates of Lahore canyon in Dinosaur nm. In Utah, crossing the Ute Indian Reservation, the Green River created Desolation Canyon, 2/3 the size of the Grand Canyon. The closest paved road to Desolation Canyon ends 32 miles from the Canyon. Leaving Desolation Canyon and the Book Cliffs, the Green River runs through the town of Green River, UT, on USA Rt I-70 and that is the only place in the roughly 370 (580 km) straight line miles the Green River flows though UT where you can see the Green River from the road.
More or less in the middle of Canyonlands National Park, but inaccessible by road and a long hike from the cloesest road, the Green River and the Colorado River merge to create the river than carved most of Canyonlands and Grand Canyon National Parks, Marble Canyon, Glenn Canyon (Lake Powell) and Lake Mead (in NV, near Las Vargas).
If, as @dcglobejotters did, you fly to SLC and rest a car to drive to Moab, you will cross the Green Riven on us route I-70 in the village of Green River.
12] The rest of Canyonlands. Covering nearly 500,000 American acres, or 580 sq km, Canyonlands National Park is big. A visit to Island in the Sky barely scratches the surface. Our favorite overlook for Canyonlands is the Needles Overlook, about an hour drive south of Moab, 25 miles one way off the main road, US Rt 191.
13] UT Rt 211. Rt 211 is the southern entrance to Canyonlands. Unlike the northern entrance (Island in the Sky) Rt 211 drops down over the canyon rim to the first interior layer below the rim level. Instead of being on the rim looking down, your are about 1,000 ft (305m) below the rim looking up.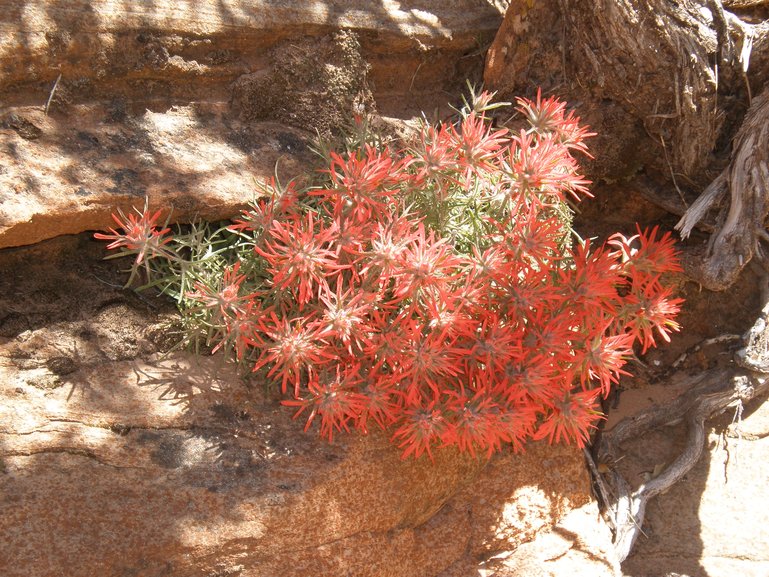 Indian Paint Brush Wildflower in Arches