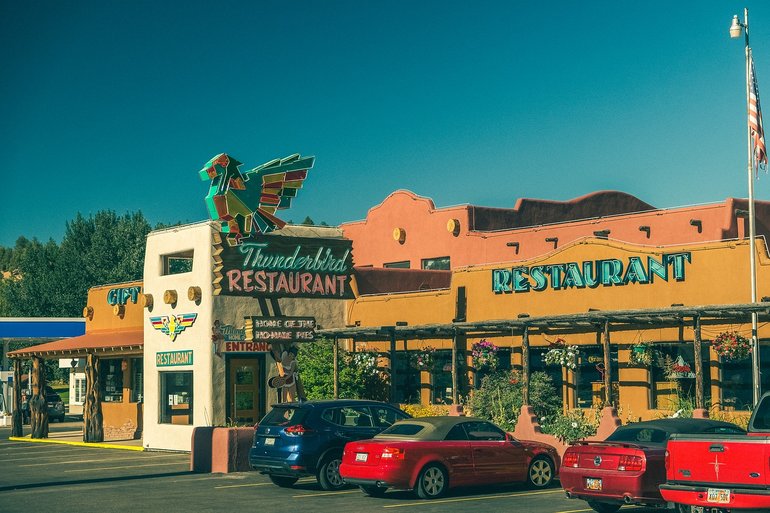 General Impressions
---
American restaurants typically serve gargantuan portions. At age 79, when we order Chinese, its one entree and two plates, or 3-4 appetizers (a Dim Sum meal). The Denny's restaurant chain has almost 1,600 USA locations and a smaller portioned Sr. menu (old people, the elderly, are often called "senior" or "Sr .Citizens" in the USA). Denny's also has a 15% discount for members of some Sr Citizen organizations. Denny's menu features authentic American Hamburgers and what Americans call "comfort food"-- basic home cooking. If you want to experience basic classic American cuisine, Denny's has it.
Utah's restaurants have many cooks, but few chefs. Utah restaurants aren't anything like France. Not only not in the same league, but also not even in the same game.
Prices range from incredible bargains to outrageous over pricing (Park City). Pretentious nonsense dominates so-called fine dinning. A good rule of thumb is that the more words that are used on the menu to describe a dish, the more overpriced it will be.
Utah's incompetent commercial cooks are enamored with overloading dishes with hot chili pepper, If you don't like tongue blistering "heat" in your food, carefully quiz the server before ordering, and note that their idea of "mild" heat is capable of inducing a heart attack (that's a necessary exaggeration. A good 40% of all food served in not fast food restaurants in Utah is inedible for people who are sensitive to "heat" in food). If you don't like "heat" food, stick to fast food chains and Denny's, or be very careful in what you order.
Utah culinary specialties: Scones, a variation of Navajo (an American Indian tribe) Fry Bread; "Shakes"
I'll offer some suggestions for the 5 National Parks, the great ski area Park City, and Salt Lake City based on our many visits to these places s (we live in the middle of all this).
Moab (Arches and Canyonlands National Parks)
---
Milts Stop at Eat describes its self as "Featuring grass-fed hormone-free beef burgers, fresh ground and hand-crafted." Low prices. Excellent hamburgers and milk shakes (try this American dessert, liquidized ice cream with added flavors. A Utah specialty). Milt's is a classic 1950s American Drive In Denny's (on the main road)
Red Wok Kitchen (on the main road). Good Chinese food, especially the egg rolls.
Brew pubs. A Brew pub is a restaurant with a brewery.
Bryce Canyon
---
The Bryce Canyon Lodge, inside the park, has Bison (American buffalo, as in "Buffalo Bill") burgers. Well worth a try. Most people eat at the Ruby's Inn Complex at the park entrance. We don't. So-so food at inflated prices. We go to nearby Panguitch, about a half hour away by a scenic drive. In Panguitch:
Henrie's Hideout , like Moab's Milt's Stop and Eat. Great burgers and shakes at bargain prices.
Cowboy's Smokehouse Cafe A smoke house serves beef, pork, ham, and chicken that is slowly cooked, typical for 12 hours, at low temperatures in a small room filled with hard wood fire smoke. Smoking gives meat a unique and appealing taste.
Capitol Reef National Park
---
All nearby restaurants are in the town of Torrey. Slackers Burger Joint Another version of Milt's Stop and Eat.
Broken Spur Steakhouse OK food in spectacular setting on the top of a hill.
Rim Rock Cafe: Over priced, but good food in an impressive setting overlooking the Capitol Reef (see Tip Utah's Waterpocket Fold, Capitol Reef National Park ). Especially impresive at sun set.
Zion National Park
---
Lunch: there are only two options worth considering, the fast food outlet near Zion Canyon Lodge, and the less expensive Cafe Soleil, located just outside the pedestrian entrance to Zion National Park. We prefer the Cafe Soleil because it has shaded outdoor seating surrounded by the cliffs of Zion Canyon (Zion Canyon is the main scenic feature of Zion National Park, but the canyon extends outside the park. Most of the town of Springdale is in Zion Canyon, as is the view of Zion Canyon from the outside tables an Cafe Soliel. Note: Going by the information on the Zion National Park website, going out of the park for lunch could cancel your shuttle bus access. Do a lot of internet research.
The main dinning room at Zion Canyon Lodge is problematic. Like all inside the park restaurants, its overpriced and food quality varies. If you can get a window table, its worth a shot for more formal dinning.
For dinner in Springdale, The Spotted Dog easily tops the field. Betty's, a small lower priced restaurant is also pretty good.
When we overnight at Zion, we often stay in the nearby town of Hurricane where prices are remarkably lower than in Zion or Springdale and the half hour commute to the park is a very scenic drive. Our favorite restaurant in Hurricane isn't there any more, but there is a lot of variety in what's available, and its hard to imagine that it could be worse than what you get in Springdale for the money.
Salt Lake City-Utah
---
The food court at Crossroads Mall.
Crown Burger (multiple locations), a curious mix of great hamburgers and Greek food.
Dim Sum at Dim Sum House, near downtown on State St, can be reached by infrequent public transportation bus (coach) service.
Park City
---
Park City has no recommendable restaurants except the lunch buffet at Deer Valley and at the Stein Erickson Lodge during ski season. The only two decent Park City restaurants we encountered in living for 25 years just outside Park City are now closed. Your best bet for food in Park City is to go to nearby Heber City (20-30 minutes away). Like Park City, you won't fined great food in Heber City, but you will find something you cannot get in Park City, decent food at reasonable prices.
Heber City has the full range of American fast food joints. The 'best buy' food in Heber is the snack bar in the Holiday Lanes bowling alley. Like Milt's Stop and Eat etc., Holiday Lanes is a throwback to the 1950s.
Milt's Stop and Eat and Holiday Lanes are sort of at the bottom of the food chain. Denny's is the next step up, and Heber City has remarkable Denny's level basic American comfort food offering, Chick's Cafe, another throwback to the 1950s. The food at Chicks is so bad that it is good. You have to try it to believe it.