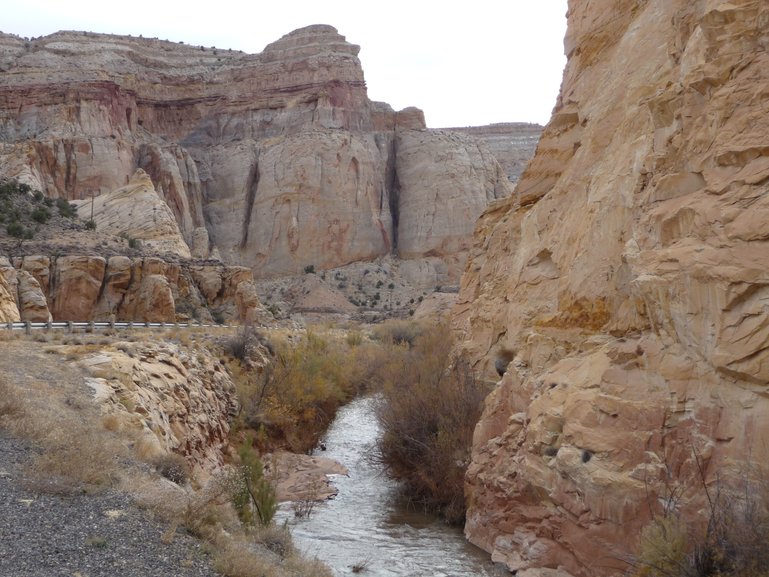 Take a piece of paper that is a small rectangle. Hold the the paper so it is parallel to the ground and bend it to form an S curve. Now, instead of paper, think of this folding into an S curved surface as an eons long geological process bending layers of sandstone in an S fold, and you get what geologists call a monoclonal syncline-- rock folded in an S curve. That's what happened at the Waterpocket Fold.
The difference in the elevation of the two side of the Waterpocket Fold is about 7,000 ft, but most of it is under ground. The 100 mile long Capitol Reef is the part of that vast rock fold that is visible from the surface. There are a number of small eroded basins on the remarkably flat top of the Reef that become temporary water holes for wildlife after rains. These are called water pockets. Hence, the Waterpocket Fold.
Geological formations like the Waterpocket Fold are a rare geological feather called a monoclonal syncline. The Waterpocket fold is the largest monoclonal syncline in the world, and the Capitol Reef is the textbook example of what one looks like at the surface.
The Capitol Reef
And while we are parsing names, here's how it got the name Capitol Reef. You have to be crossing the park on UT Rt 24 going east to west to see this unless you know exactly where to look (ask at the Visitor's Center if traveling west to east). One of the tallest points in the Reef is a white curved rock summit that reminded early settlers of the dome of the US Capitol building (we lived in Washington DC for 27 years. We don't see it, but that's how it happened).
I don't know for sure, but I suspect that some of the major features of Capitol Reef National Park, like the Grand Wash, are a product of both erosion and of the folding process-- when geological forces bend so much solid rock so far, some things are going to break and crack the rock. Erosion then capitalizes on these breaks to enlarge them into wide canyons running through the reef. The near by river canyon on the west edge of the park is clearly a product of erosion and looks very different.