While visiting Zion National Park we stayed at Zion River RV Resort in Virgin River, Utah. This RV resort was wonderful, it had sites that backed up to the Virgin River. The sites were smaller in size, however, the amenities were wonderful. They had a pool, because of Covid there were restrictions on how many could be in the pool at one time. We did take time out of the day to sit at the pool and enjoy just feeling normal during Covid. The one thing I would say about this park, the wifi was very difficult to obtain especially if you were a Verizon customer. Something to be aware of if you are a remote worker. (We received better reception with AT&T than we did with our Verizon phone.)
We ate at a restaurant in La Verkin, Utah – Stage Coach Grille. We were very pleased with the food and service, would eat there again.
While we explored Zion, we put our dogs in Doggie Day Care – On the Spot Play and Stay in Hurricane, UT. We were very pleased with their services also.
While we were exploring the National Park we also explored the Temple of Sinawava and Kolob Reservoir. Both are worth checking out.
Zion National Park was amazing. We took a day just to hike and explore. Out of all the National Parks we visited, this one was my favorite so far. We also took one day just to drive through other parts of the park that were not open for exploring. I do recommend checking ahead with park protocols prior to visiting.
We also took a day or two to drive to St. George, Utah – A much bigger city with a lot of Red Sandstone Cliffs. There was a quaint downtown area with shops and restaurants.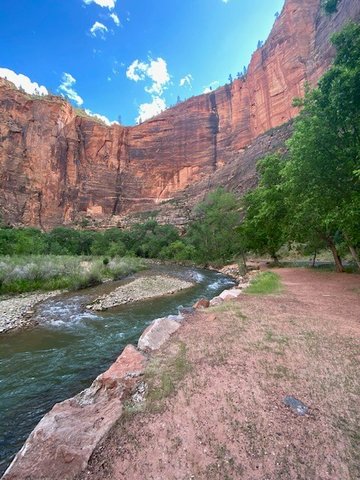 Zion National Park