Ho Chi Minh City in Vietnam is a beautiful city of lights, filled with amazing architecture, loads of history, culture, and nightlife. You'll love wandering around the streets of downtown, eating pho almost daily, and learning more about the history of Vietnam with each new attraction. Ho Chi Minh City is a good mix of history and modernity, and in this article, we'll explore 10 must-see things to do in Ho Chi Min City.
1. Saigon Opera House
---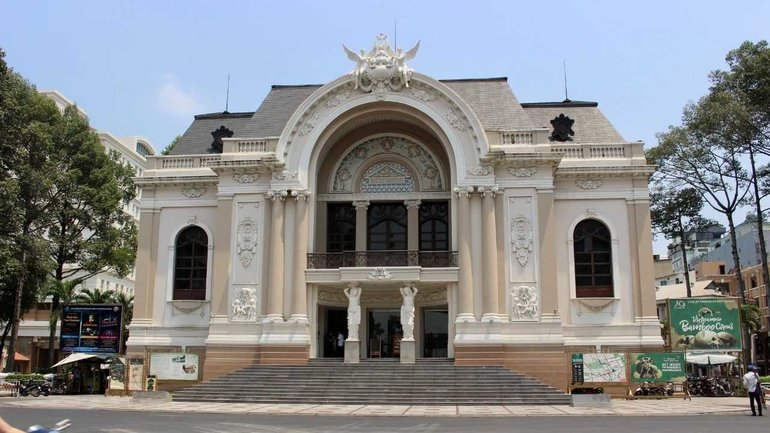 Saigon Opera House
Ho Chi Minh is a good city for walking as many attractions are close together. We gave ourselves a walking tour of the city starting with the Saigon Opera House.
The Saigon Opera House is one of the many examples of French Colonial architecture throughout the city. It was built in the early 1900's and is still used today for performances.
2. Ho Chi Minh City Hall
---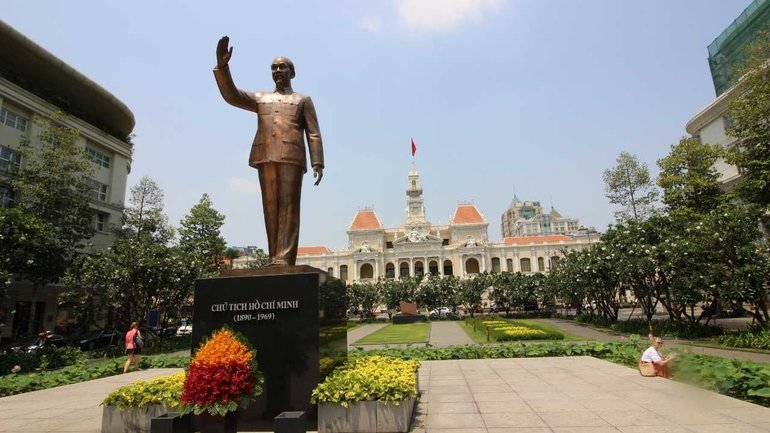 Ho Chi Minh Statue and City Hall
City Hall is another beautiful example of French Colonial architecture. Its beauty is great for a photo op. In front of City Hall, there is a statue commemorating former Prime Minister Ho Chi Minh. The city was renamed after Prime Minister Ho Chi Minh in 1975. Before that, the city was named Saigon.
3. Nguyen Hue Walking Street
---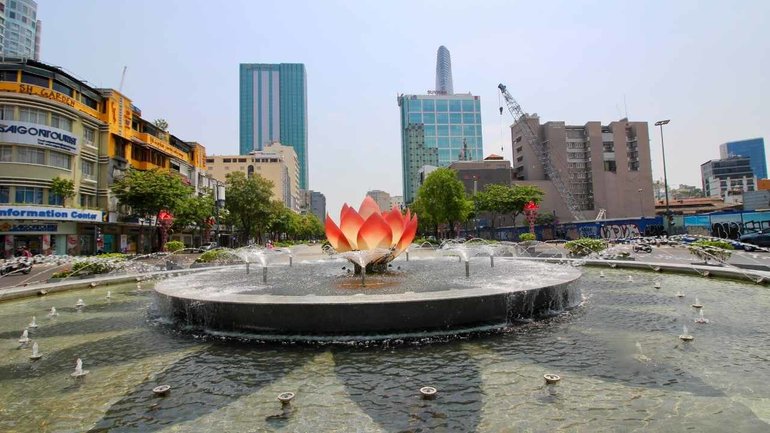 Fountain on Nguyen Hue Walking Street
The whole boulevard in front of city hall is lovely to walk down as there are many pretty buildings, a fountain, and loads of restaurants to explore. If you walk all the way to the end, you will reach the river and can enjoy a nice walk along the riverfront.
Be sure to see this walking street during the day and at night when the locals come out to mingle and socialize. City hall is gorgeous lit up at night so take advantage and go back for another great photo opportunity.
4. Notre Dame Cathedral
---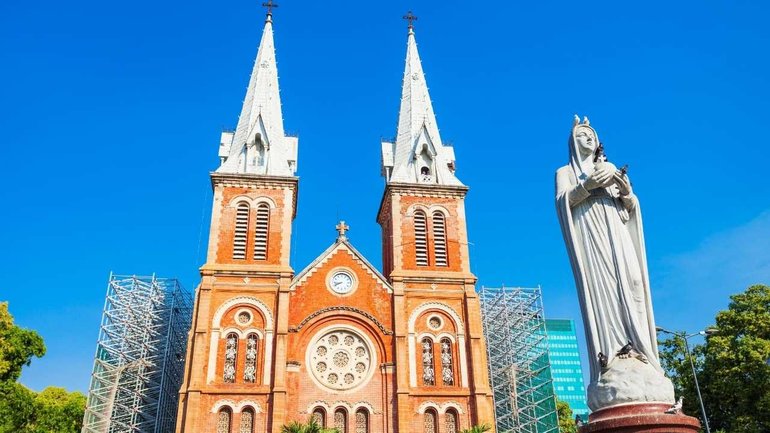 Saigon Notre Dame Cathedral
Not far away from City Hall is Notre Dame Cathedral. This beautiful cathedral was also built during the French Colonial times. You can take a walk around the perimeter to enjoy every angle of the church from the outside, and then go in to see the stained glass windows and beautiful architecture.
5. Central Post Office
---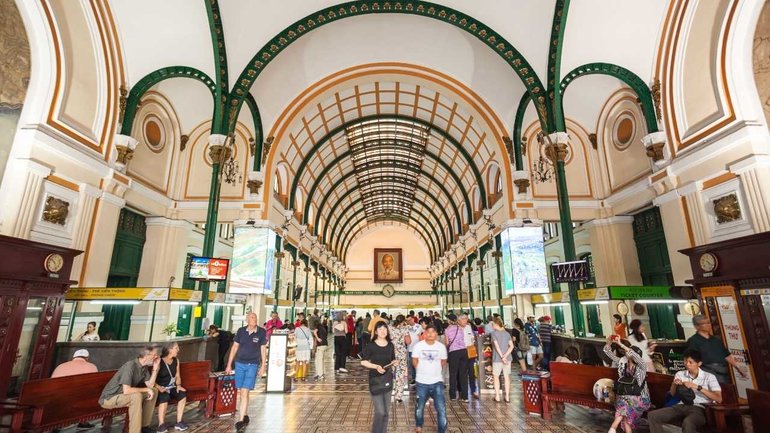 Saigon Central Post Office
Across the street from Notre Dame is The Central Post Office. We really enjoyed the lovely architecture here, so we brought a post card and sat a while to write to family and friends. This is a great way to really enjoy the space and then you can conveniently drop the letters in the mail before you leave.
6. Independence Palace
---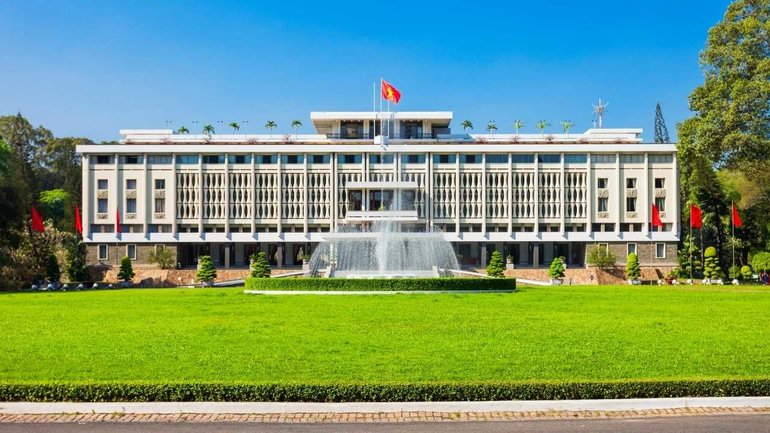 Independence Palace Ho Chi Minh City
Next, we walked to Independence Palace. This palace is the former residence of Vietnamese presidents where they received guests and strategized manures in the American war. You can see the Viet Cong tanks that broke through the gates in 1975 reunifying North and South Vietnam and ending the war. This is why this palace is also known as reunification palace. It's a great place to visit for the history lover.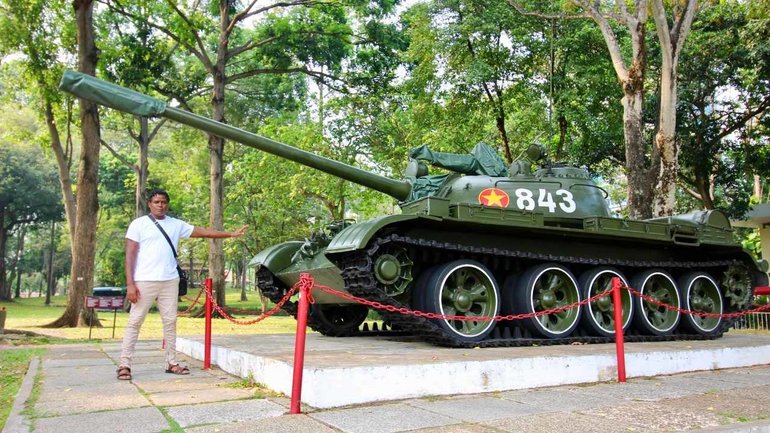 Viet Cong Tank
7. Golden Dragon Water Puppet Show
---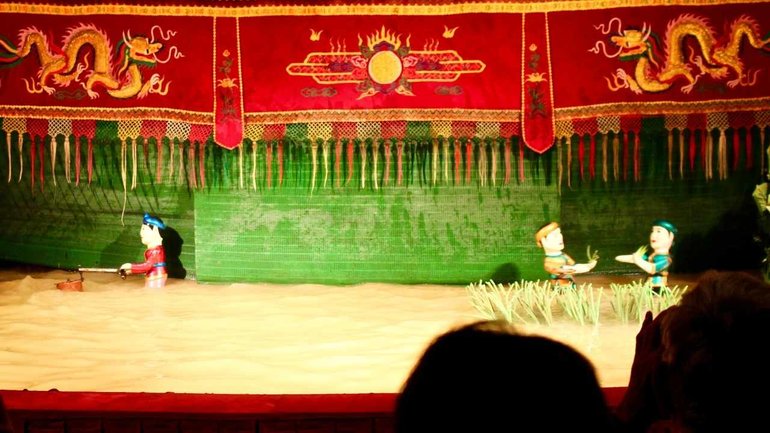 Golden Dragon Water Puppet Show
We really enjoyed the water puppet show at the Golden Dragon Theater. The show is all in Vietnamese, but the story was still clear and easy to follow due to how well the puppeteers act out the scenes with intricate choreography. A fun activity for all ages!
8. Bitexco Skydeck
---
Bitexco Skydeck
The Skydeck Observation Deck was also very nice. This observation deck is on the 50th floor of Bitexco Financial Tower giving you 360 views of the city. We chose to go in the evening to admire the city lights, but I imagine that it would be just as spectacular during the day as well.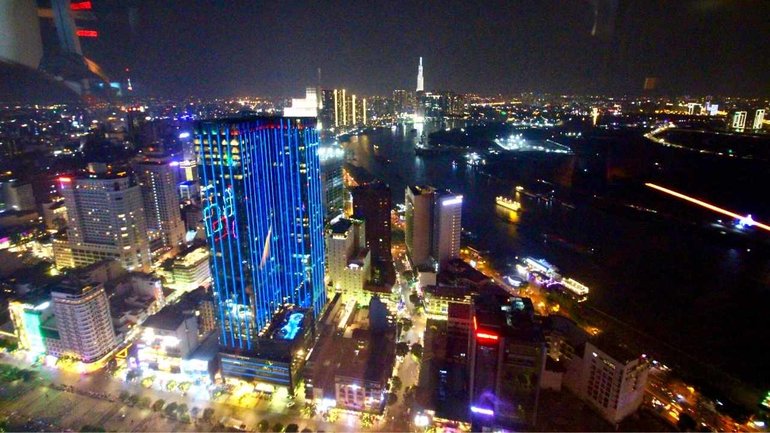 Bitexco Skydeck View at Night
We also went up to the 51st floor to have dinner at Eon 51. Luckily, it was International Women's Day so they even had live music that evening to celebrate. It was truly a memorable evening, with great views, and I daresay worth the steep price tag.
8. Cu Chi Tunnels
---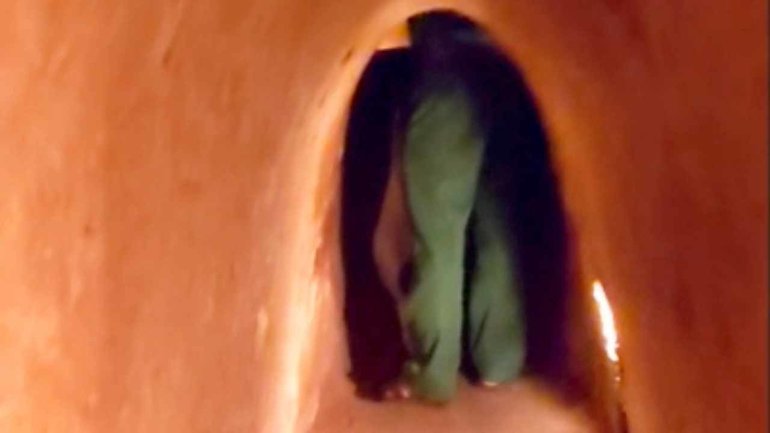 Cu Chi Tunnels
Our favorite part was taking a full day tour from Ho Chi Minh City to the Cu Chi Tunnels and the Mekong Delta. We booked this tour through Trip Advisor and our tour guide showed us how the Viet Cong soldiers used these hand dug tunnels to hide and maneuver around the American soldiers.
We got to try the tunnels for ourselves and they were so tiny. You have to bend at the waist to walk through them. David who is just two inches taller than me had to get on his hands and knees to get through them. He really didn't feel comfortable crawling through so he only did one tunnel.
Crawling through the tunnels is definitely not for everyone, but you can still learn a lot even if you don't physically crawl through the tunnels yourself. We also saw the traps that they used to capture and injure enemy soldiers. The traps were so vicious and so scary! It is a truly bone chilling history.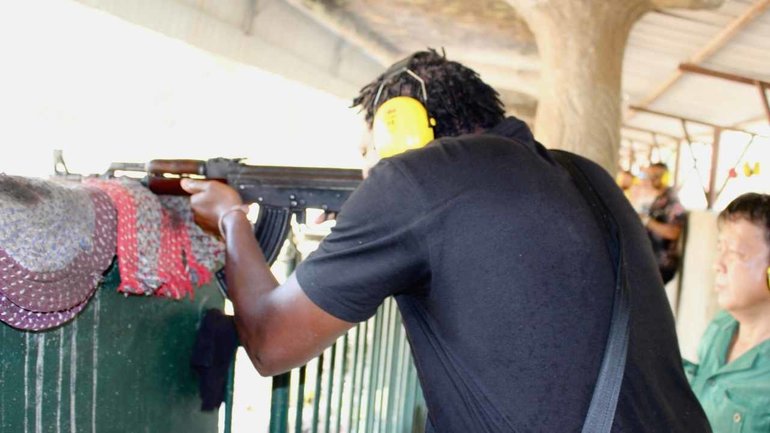 Cu Chi Shoot Range
In addition, we got to shoot an AK-47 at the Cu Chi Tunnels shooting range. We bought 10 bullets. 5 for David and 5 for me, but I hated shooting so much I conceded my bullets to David. I don't think I will be shooting guns ever again. Nevertheless, it was a valuable experience learning about the war while on the location it happened. It really makes the brutality of the battle come to life, and I truly hope none us ever repeat this brutal past again.
9. Mekong Delta Tour
---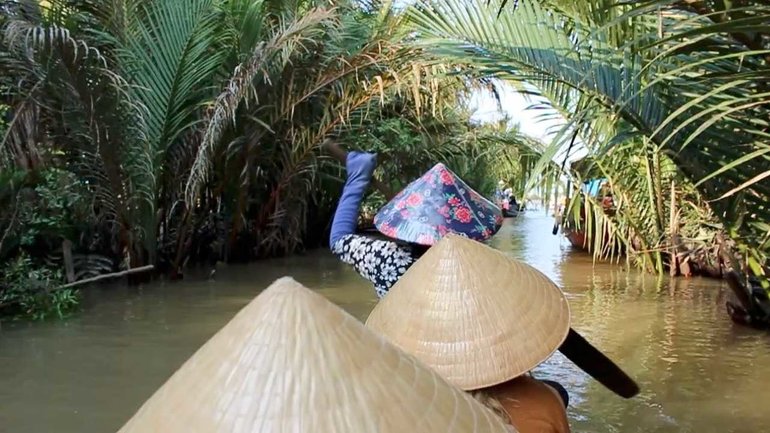 Mekong Delta Tour
After a morning at the tunnels we got to enjoy cruising along the Mekong Delta. We visited different local shops sampling honey, fruit, candies, and teas. It was a nice way to relax, cruise down the river, and enjoy the Vietnamese country side.
Accommodations
---
For accommodations, we stayed at Tan Hoang Long Hotel. This hotel's location was amazing and was within walking distance to most of the attractions we wanted to see. The staff was amazing as well!
Getting Around
---
Our big note of caution when coming to Vietnam is to avoid taking taxis as much as possible! Taxis often charge tourists double and triple the standard rate. We recommend using Grab as much as possible for your taxi service. Grab is the Uber of Vietnam and will give you cheap, honest rides.
You want to especially avoid taxis at the airport and outside of touristy shows. We were ripped off really badly taking a taxi from the water puppet show so travelers beware. Typically rates for a 5 minute ride are 40, 000-50, 000 dong. One of our drivers never turned on the meter and tried to charge us 180, 000 dong!
Taxi scams were a consistent problem that we dealt with in Vietnam, so please beware! Despite this challenge, we still enjoyed our experience in Ho Chi Minh City. We saw a lot and learned a lot, and we were very glad we had a chance to see this lovely city.