The bill slipped inside the machine, the buttons lit up while neon colors and shapes pulsed across the screen. It was literally the first spin of the slot machine that landed on all sevens! Maureen's dollar was instantly transformed into $40, and we high-fived our good fortune. It wasn't mega moolah, but it sure was an excellent start to the weekend.
Maureen, Kris, and I had road tripped from west Michigan to Belterra Casino Resort, perched on the Ohio River, where Indiana flirts shamelessly with Kentucky on the other side. We were excited to spend a ladies' getaway weekend in Florence….
…Indiana.
The goal for our long weekend was to get lucky in the casino and on the Tom Fazio golf course. Golfweek Magazine ranked Belterra's Golf Club in the top 30 casino golf courses in the U.S. Loosely translated, it's a tough course! We knew Fazio had laid out an adventure, laced with water and sand, uneven lies, and plenty of yardage. There's a trade-off I am willing to accept; the more difficult the course means outstanding views and an experience with nature. This proved to be true during our two rounds. We waited to play until late mornings and passed the time sipping coffee from Nosh. From the fourteenth floor of the resort tower, we watched the October sunlight burn off the mysterious foggy veil that obscured the rolling greens and riverbanks.
We earned some calories after our first bout with the undulating fairways. And, we notched 15,000 extra steps on Friday due to a cart-path-only play day because of the wet conditions. The previous two days had deposited three inches of rain to the area and a bonus outstanding lightning show on our drive in. After our more intimate golf-walking tour, we took out our scorecard angst on plates of savory fish and chips and stacked burgers with heaps of salty fries. The Stadium Sports Bar handles hungry golfers all the time. Over an evening nightcap at the bar, I noted far too many 7s on my scorecard. I wouldn't say a seven is lucky (or good) for golf, but it sure is better than an 8!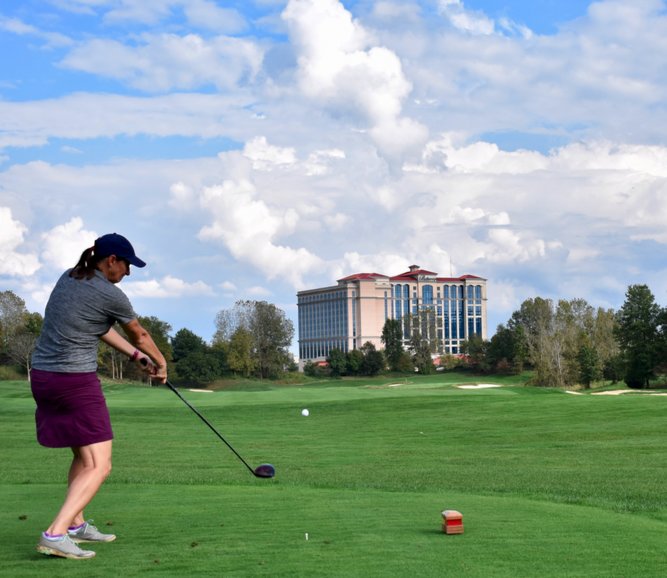 Belterra Golf Club #18
Madison & Clifty Falls State Park
---
For a well-rounded experience, we explored the surrounding area near Madison, about 30 miles west. Clifty Falls State Park has some impressive elevation, many activity options, including waterfall vistas, bat caves, and river canyon hikes. We embraced the mud on the trails and rock-hopped across many streams on our hike. Once again, we demolished our step goal and landed hungry and thirsty in downtown Madison at Mad Paddle Brewstillery. We met some enthusiastic locals who joined us to sip and converse our way through the afternoon. Mad Paddle has an ingenious pour-yourself digital tap wall. Fun, but dangerous. Why order a flight of just four when you can try them all? After confusing my taste buds initially, I landed on the Blood Orange Wheat. For dinner, I'd suggest ambling down the block to historic Shipley's Tavern, serving patrons since 1867.
Belterra Golf Club
---
We tried our luck with golf again on our last day, and the same beautiful and challenging course emerged. The sun shone, the unseasonably warm temperatures continued. We focused on ball striking, not our scores, and agreed we could use a putting lesson. Thankfully, Out of Bounds Bar & Grill sent out loaded food/drink carts that appeared with timely snacks and swing lube. We sipped and celebrated a few pars but mostly bogeys and the omnipresent sevens. On #18, we were awed by the dramatic finishing hole, the resort tower dominating the view as you approach the green. It's a long par five, and I tried to focus on my last swings to finish strong. As we putted in to wrap up our round, I added up my score and started chuckling. With a wry smile, I recorded a double bogey, a 7 to end my round.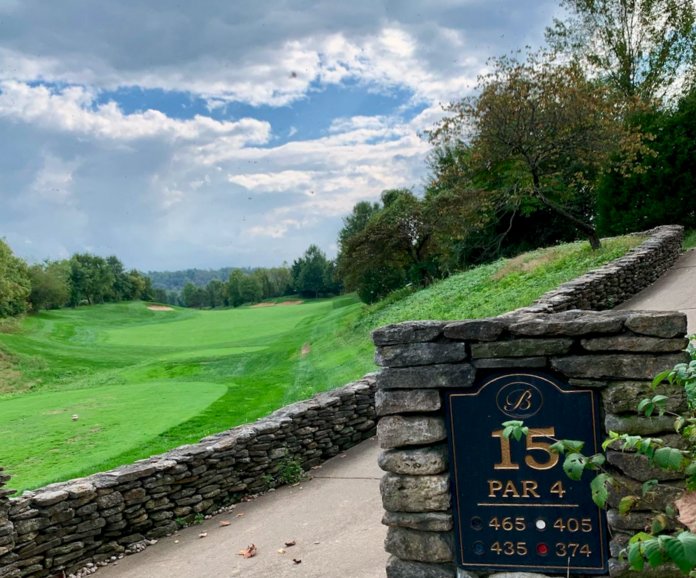 Belterra Golf Club #15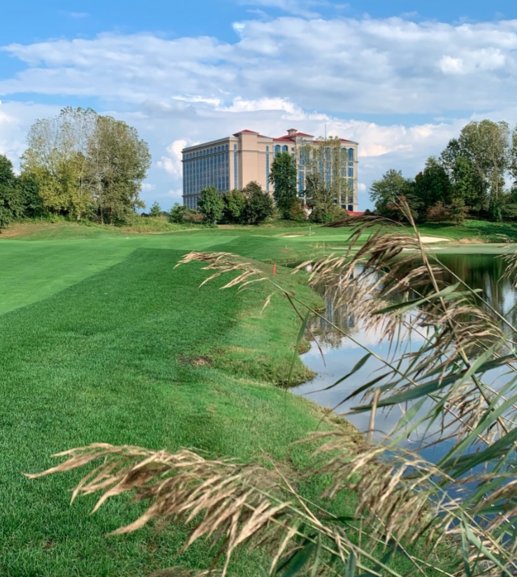 We took our string of sevens back to the Belterra Casino floor, thinking it was our time to cash in on our lucky number. With more than 700 casino games and sports betting, it was difficult to choose. While I pondered slots, roulette, or blackjack, I stood and stared at the giant screens displaying every possible live sports match in progress. Maureen and Kris joined me, and we began our evening seeking more sevens!