Say, "French Lick," and 80% will excitedly respond, Oh yeah, the hometown of Larry Bird! The iconic NBA legend did indeed play basketball at Spring Valley High School in French Lick, Indiana. Recently, I've learned there are even more impressive historical facts about the area, other than #33. There are lots of legends at the Lick….
~ French Lick Resort's West Baden Springs Hotel, the world's largest free-span dome, is modeled after spas in Europe. It has earned an NHL (national historic landmark) designation.
~ The Donald Ross Golf Course was built in 1917 and is home to many pro tournaments and hosted the PGA Championship in 1924.
~ Tomato juice was the culinary invention of Chef Louis Perrin at the Resort in 1917 when the kitchen infamously ran out of orange juice.
~ Healing waters and mineral springs attracted French traders to the area in the early 1800s, and now the French Lick Resort has taken its modern-day place.
~ The destination Pete Dye golf course was added to the Resort in 2009. Cut into the hilltops of the Hoosier National Forest, it's one of Indiana's most challenging and top public courses.
So history and legends coalesce in French Lick and West Baden, Indiana. Add in French Lick Resort, the spa, casino, and world class-golf… a place where history embraces modern luxury. Take the historic trolley tour during your visit – Jeff Lane and his staff will help you discover some legends of your own. Ask him about the "Bisontennial" celebration, the salt licks, raging fires, the circus, and the healing Sprudel and Pluto waters. It's a tale that will add dimension to your own visit.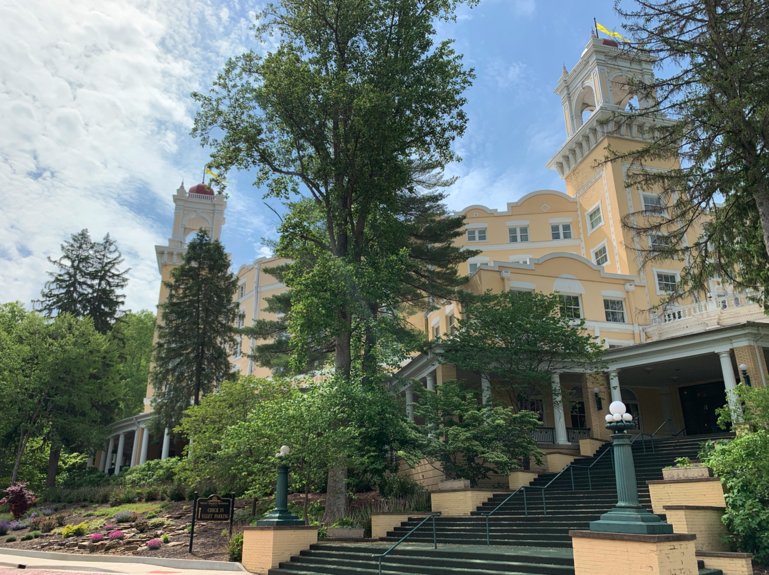 West Baden Hotel at French Lick Resort
A mere six hours from west Michigan, three of my gal pals (Jen, Dani, and Ginger) road-tripped for an extra-long weekend to celebrate friendship and a break from our regular routine. Reflecting on our fantastic trip, I struggled to find a single complaint… perhaps four women sharing a bathroom? Not really, the room at West Baden was spacious, and the bathroom had two showers and a double sink! We had fun jockeying for the hairdryer, vying for our turn on the throne, and waking to the sounds of snoring, strikingly reminiscent of an old-fashioned coffee percolator. Camaraderie and laughs were also at historic levels! We got some relaxation on, got our golf on, got our heels on, and got our drink on, with bourbon cocktails under the striking atrium.
Sticking to the Resort's historic healing roots, we began our experience in the spa by melting into the strong hands of the massage therapists. We'd need to be nimble in preparation for chasing little white balls around the undulating fairways. Certainly, a short meditation or series of yoga breaths won't hurt before you tee off on 500-yard par 5. In our foursome, handicaps ranged from low 20s to 40. Spraying and praying would be an accurate description of our various levels of play.
I became a quick study in hitting from uneven lies and traversing up steep ridges to diabolical multi-layered greens, where it appears that prehistoric dinosaurs are buried beneath the flags. Score aside, we focused on the exquisite views and keeping tabs of our balls that trickled toward the snake-atorium of tall grasses. Our tip, don't waste energy searching for balls in the Ross rough. And, don't lament a four-putt either. It's a regular happenstance here. Focus instead on a post-round cocktail or a meal at Hagen's Clubhouse.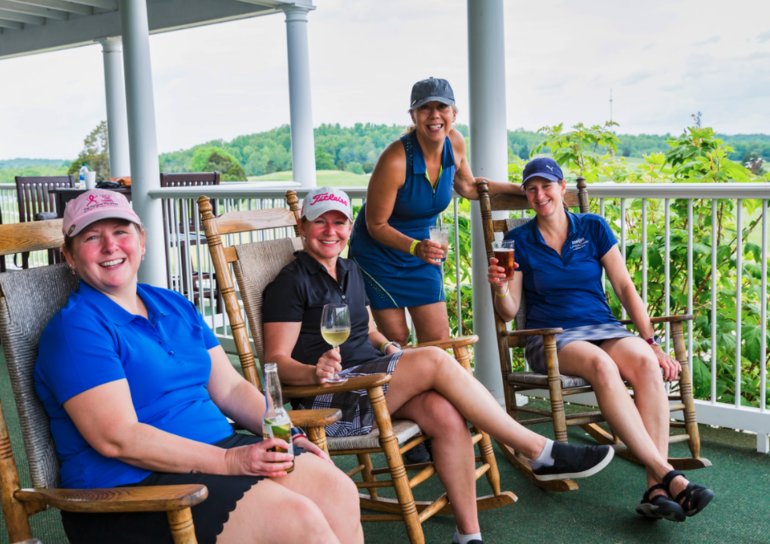 Ladies golf group, Ian McSpadden Photography
The famous course architect Pete Dye said it best, "Golf is not a fair game," this quote is etched on his sculpture at the hilltop clubhouse at French Lick. With equal parts nerves and excitement, we met Brendan, our caddie. My first time playing with a caddie, I settled in under his watchful eye, and we all tried to do as instructed with his tee shot suggestions and putt reads. I can't imagine what my score would have been without him. Brendan earned his tips, hawking our shanks (one ricocheted off a golf cart), enduring our expletives, and keeping us focused. With stunning views for almost 40 miles at points, the Dye course is cut into the elevation of the Hoosier National Forest. Five hours later, we thanked Brendan and the clubhouse staff for their patience. We promptly bought new logo outfits, our version of golfer retail therapy. It helped us adjust to the humbling, beautiful, and not-so-fair game.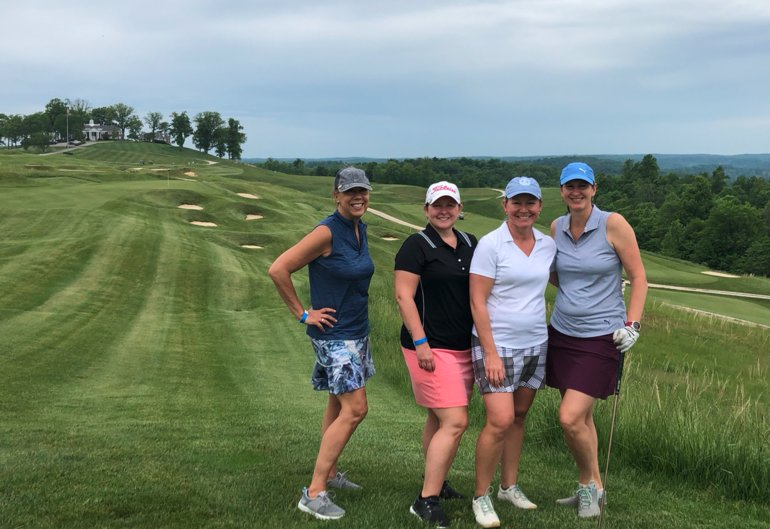 Pete Dye Course at French Lick Resort
We traded golf shoes for heels and took advantage of the resort culinary scene. We were more than excited to be social, talk to strangers and experience a high-end meal at the 1875 Steakhouse. The signature fine-dining establishment is named to commemorate the first Kentucky Derby. To begin the meal, we were treated to the signature tomato juice taster. We sipped this tradition and pored over the wine menu, selecting a bottle of Italian Brunello to go with our meaty delights. The aged beef was tender and tasty – we shared bites of ribeye, filet, and some seared salmon with our roasted potato and brussel sprout sides. We saved just enough room to continue on with the Resort's bourbon tour into the evening.
In the evenings, the heels came off in favor of slip-ons for a stroll through the West Baden gardens, followed by conversations on the porch, back in our favorite rocking chairs. We rocked slowly and let the evenings fade. Water gurgled in the fountain, the manicured hedges surrounded us, and the blooming trees pushed the scent of spring through the night air. I could sense our story turning into a legend, a trip etched into memory and one we would not forget.