The canopy was still showing off in late October; crisp and vibrant reds and oranges melded in with the evergreens for an outstanding Blue Ridge outdoor feature. Our drive from Michigan to western North Carolina and Etowah Valley Golf & Resort was a stunner. I immediately noted the Blue Ridge mountain vibe when we checked in to Etowah Valley Resort: a friendly southern voice, ice cubes tinkling in a sweet tea, and the sounds of Blue Grass while the rolling hills blanketed us in all directions.
Etowah Valley Golf Resort Stay & Play
---
Sipping coffee on our first morning from the second-floor suite patio overlooking the south course's par three, I watched the pond's fountain spew water spouts in the air while the early-bird golfers headed out in carts seeking the day's first pars. I booked a noon tee time for Josh and me to tackle the south and north courses on a sunny and warm Thursday. Etowah Valley Resort is home to 27-holes of classic mountain golf with undulating fairways, playable year-round in the temperate southern climate. Golf Digest also named it a top-50 destination. The resort hosts a local membership base, and its course and restaurants are open to the public. Cozy and spacious on-site lodging is available, tucked in next to finishing fairways and a short walk to the pro shop, the pool, or Zeke's Greenside Tavern. Don't worry about your scorecard; you'll win here with the Blue Ridge views, no matter the season.
Located just 30 minutes south of Asheville and tucked near Hendersonville and Brevard, Etowah is a relaxing and quaint destination minus the bustle and traffic of its neighboring city destinations. For outdoor enthusiasts, it's a perfect home base, just 10 minutes to DuPont State Forest's 12,000 acres, home to multiple waterfalls, and world-class hiking and mountain biking trails. It was a winning week of activities: golf + bike + golf + bike + waterfall hike. A chill round of golf is the perfect partner to the adrenaline-infused single-track bike experience over hilly, rock-laden terrain. Here, you can shred and swing, oh and sip too! It's craft beer country, so post-round refreshments should land you at nearby Mills River Brewing (charming outdoor patio), Oskar Blues, Sierra Nevada, or the Sideways Farm & Brewery is just two miles away. Their Honey Brown ale is a must-try, sweetened with farm-made honey.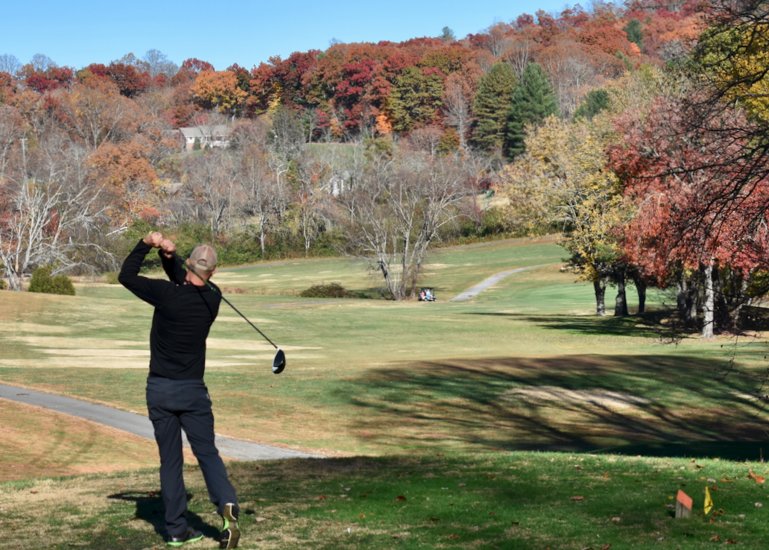 Tee shot, north course Etowah Valley Golf Resort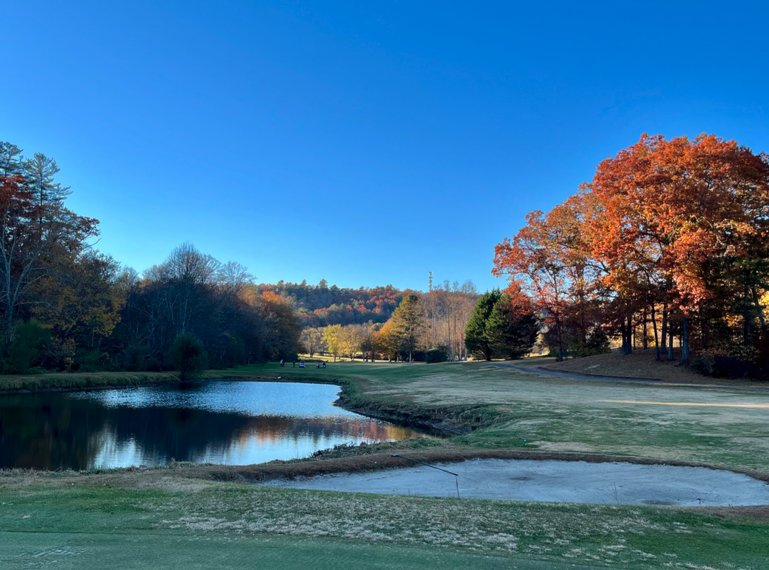 Finishing hole, north nine. Classic Blue Ridge mountain golf at Etowah Valley
Best of DuPont
---
I suggest the "Best of DuPont" loop for an afternoon on two wheels. I parked at Fawn Lake, mounted up for a 20-mile cross-country loop that took me on Turkey Knob, across streams to Guion Farm for lunch, then up Hooker Mountain to roll the newly-resurfaced Ridgeline downhill. My route included Jim Branch Trail and a peek at Triple Falls; then, as my legs began to complain, it was Conservation Road and the Fawn Lake loop back to the car. After 20 miles in the saddle, I was exceptionally thirsty for something other than water. Enter Cedar Mountain Canteen; this locally-owned bier garden oasis serves 20+ local craft taps and has a wood-fired pizza truck on-site. I selected the Noblebrau ESB and sauntered out by the fire for a chat with the locals and a quick wait for my arugula, pepperoni, zucchini, and mushroom pie. It was a delicious day all around.
Swing and Shop
---
The next day, I traded bike shorts for a golf skort and met three local ladies (Retha, Nancy, and Chris) for an entertaining round seeking golf balls among the fallen leaves. The leaf rule was in play and certainly saved us a few strokes. Next, we hung out at Zeke's for a beverage before I headed out to Brevard for some Halloween-themed retail therapy. There were plenty of friendly folks in costume while I made stops at Squatch Bikes & Brews in the Lumberyard district, then it was sweater shopping at Bullwinkel's Outdoor. Eventually, I bellied up at Vescovo Eatery for a gourmet dinner. The beet, arugula, and goat cheese salad with shallot vinaigrette began the taste-bud adventure, and the main was homemade gnocchi topped with tomato and basil cream sauce. I cleared any remnants off my plate with a slice of oven-fresh Italian bread.
Pedal Pisgah
---
The stay-and-play cycle continued. Each morning, Josh shipped off early for his Ninja Mountain Bike coaching skills clinic while I sipped a strong cup of coffee and watched the sun peek over the trees, illuminating Etowah's course and the fall foliage. As members rolled in for the Halloween Classic, I geared up for another bike ride. I nodded at Darth Vader, a classic witch, and a Minion as I loaded my bike and drove toward Pisgah for the classic Lower Black ride. I kept the roll short and sweet, especially with an almost two-mile climb up Thrift Cove for the downhill rip on Lower Black. I spent 30 minutes churning up in prep for a short and fast five minutes, going down the banked and techy flow trail.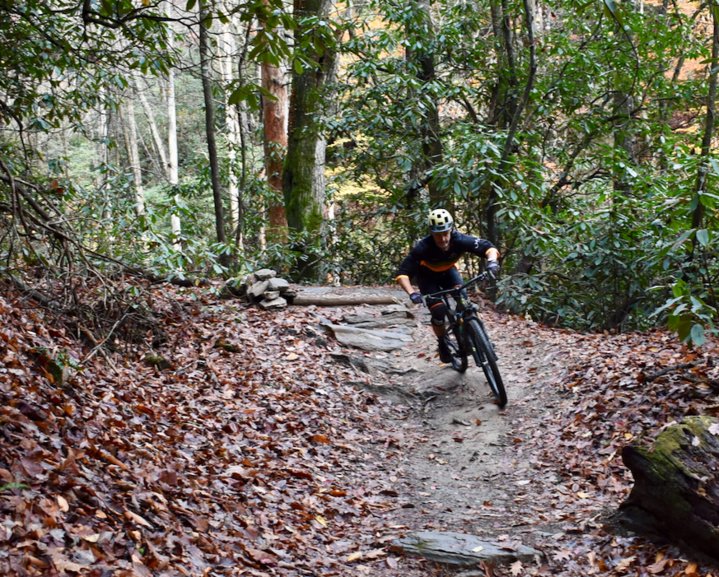 Pedal Pisgah, Lower Black trail
Smiling and muddy, I continued across the road and rolled some easy terrain along the Davidson River before tackling another climb up Sycamore Cove. The rhododendron forest created a natural tunnel while bright leaves lined the trail. Thankfully, a satisfying and safe solo, I relaxed in the resort room for a while, then picked Josh up for a nearby seafood dinner at the Salty Landing.
Wedding Waterfall
---
Our last day was spent gawking at OUR waterfall! On December 29, 2016, Josh and I exchanged vows at the base of the cascading Looking Glass Falls in Pisgah National Forest. It's an idyllic spot, and we plot to return often to this special place. So, all smiles and one final smooch, we vowed to return soon.
Make your own stay-n-play mountain magic with this deal at Etowah Valley Golf Resort. Get your deal here!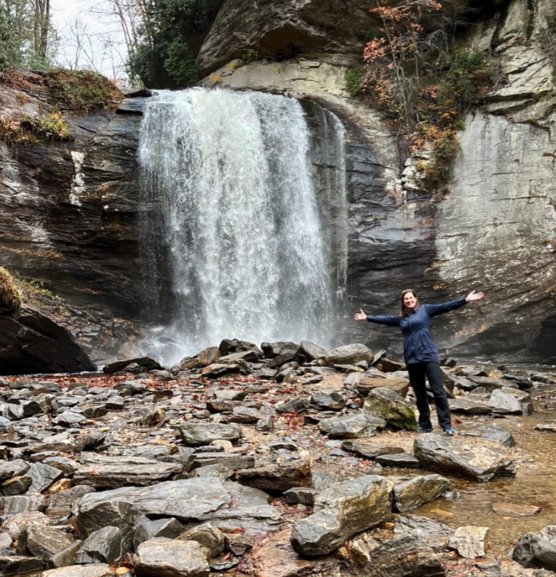 Looking Glass Falls, Pisgah National Forest