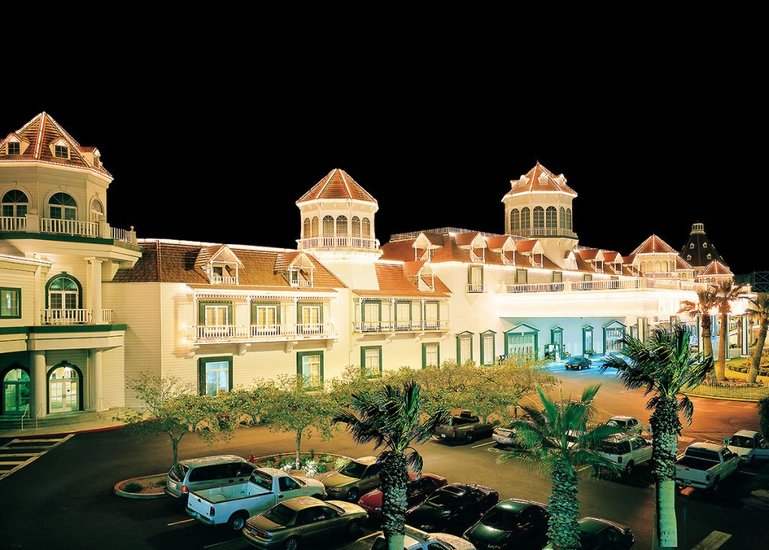 The MGM Grand Casino on the Las Vegas "Strip" has 5,000 rooms. Most hotel rooms in the USA have two double beds, so the MGM Grand many be able to accommodate 20,000 'guests' every night. The giant "strip" casinos occupy a very large piece of ground, because, since most tourist travel in the USA is by car, these casinos also need a gigantic parking garage. I think we timed it one time, and it took 10 minutes to get from our parking place in the multi story Luxor garage to the street. Most of the "Strip" casinos are high rise hotels, not so for the 630 rooms at the sprawling two floor low rise Primm Valley Casino where you can literally park (for free) almost right outside your room.
The Primm Valley Casino is in Jean, NV (see Tip on Jean, NV), 39 miles from the Las Vegas international airport. The well furnished, large, comfortable rooms at the Primm Valley Casino are considerable cheaper than comparable rooms in Las Vegas (three days in the future from this writing, July 6, 2021, room prices were $44-61). We have stayed at the Primm Valley Casino three times on our visits to Las Vegas, and we would and will go back.
Its not clear whether or not the town of Jean, NV, where the Primm Valley Casino is located actually exists. By all appearances, all there is to Jean is 3-4 casinos, monstrous gas stations, an outlet mall, and the houses and business needed to support the working staff of the above. Unlike vast Las Vegas, getting around Jean is a breeze. Jean is right on I-15, and the Primm Valley Casino is just far enough away from the 4 lane I-15 highway that exterior noise is no problem in the rooms at the Primm Valley Casino. Nor has interior noise been a problem.
Highly recommended lodging in an off beat way, and also see my tip on Jean, NV. On the other, the food was not up to Las Vegas standards.