Have you been thinking about taking a trip to Jamaica? Are you still on the fence about it? Well I hope these 5 facts will convince you that the trip is worth it!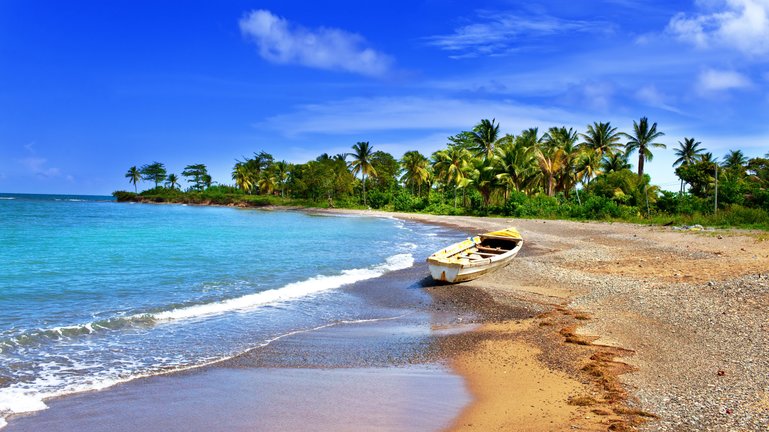 Jamaican Beach - photo courtesy of the US State Department
1. Jamaica has 50 Public Beaches
---
Yes, you read that right! There are FIFTY public beaches for visitors to enjoy. While I can't say thst I've been to more than 10, wouldn't it be an adventure to try and visit them all?
2. The weather is warm and sunny for most of the year
---
Jamaica is dubbed "the Land of Wood and Water", but if I could tweak that a bit, I'd have to include our sunshine status! Jamaica has idyllic warm, tropical weather for most of the calendar, which makes booking a trip to enjoy it all a no-brainer! One can lay out in the sand on one of our 50 beaches, and soak up all the warmth and relaxation our island has to offer.
3. We have the BEST ice-cream in the WORLD...or at least one of the best!
---
Jamaica's Devon House ice-cream has been consistently featured as one of the BEST in the world! National Geographic has it ranked as #4 in its Food Journeys of a Lifetime: 500 Extraordinary Places to Eat Around the Globe publication. Now, who wouldn't want to experience that?! What's your favourite ice-cream flavour? Mine is Bordeaux Cherry and nowhere does it better than Devon House does!
4. We have the best Kentucky Fried Chicken (KFC) this side of the Planet
---
While this statement is based solely on empirical data, that many people cannot be wrong! I dare you to ask 100 people who have been to Jamaica and have tried KFC here and elsewhere, and see which one they prefer! There's NO contest. There's an extra secret in the seasoning for Jamaican KFC and I'm not mad about it. You'll simply have to come and try it for yourself!
5. Jamaica is home to Reggae Music
---
What do you know about skankin' sweet? The late Bob Marley posited that "one good thing about music, when it hits you, you feel no pain." There's something about the groove and unity that Reggae music brings that is incomparable anywhere else in the world. The founding father of Reggae himself was born, raised and made his stamp on the world from right here in Jamaica. The Bob Marley Museum in Kingston, Jamaica is a tourist hot spot!
Have these 5 facts piqued your interest? Were they convincing enough or do you need another 5? I'm excited to share my island paradise with everyone, so let me know in the comments and I'll be glad to publish more!