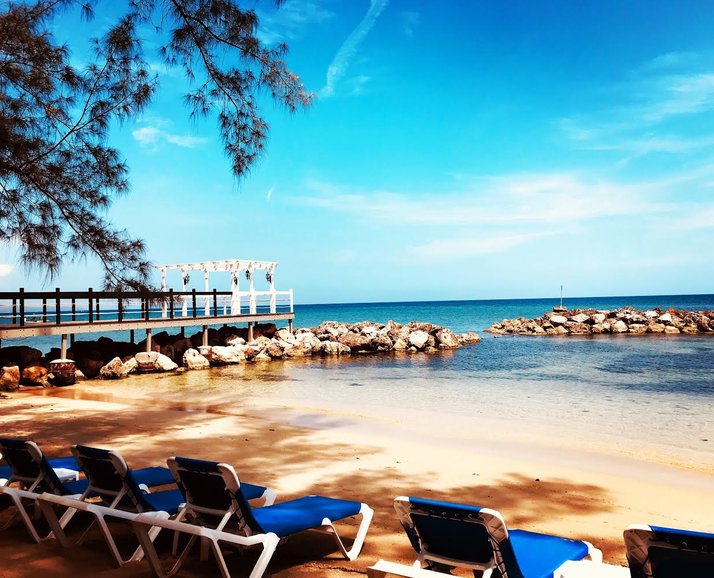 Beach at Paradise Cove
My sister and I set off for Jamaica a couple weeks ago to celebrate her 40th birthday. Neither of us had ever been to the Caribbean and we weren't sure what to expect. We were not disappointed! I am going to cover Club Mobay, Jewel Paradise Cove and what we did while in Jamaica in this post.
Airport + Club Mobay
---
We flew into Sangster International Airport in Montego Bay around 3:45pm on a Sunday. Before we left, my travel agent had booked us Club Mobay, a service that expedites you through customs and immigration and has a VIP welcome lounge in the airport while you wait for your hotel transfer. We paid $40 per person and it was SO worth the money! In addition to drinks in the lounge, they also have food at no additional cost. It was a great way to kick off and end our vacation.
The drive from Montego Bay to our resort was a little over an hour. We were staying in Runaway Bay, in St. Ann's Parish. In Jamaica, a Parish is like our states in the U.S. I knew there was a travel advisory out due to an increase in violence in the St. James Parish, just outside of St. Ann's. We did drive through a military checkpoint and the MP's had machine guns. It was a bit unnerving and our shuttle driver tried to downplay it by telling us they are just being extra safe. The truth is, Jamaica can be a scary place if you aren't careful or end up in the wrong areas. Kingston has one of the highest murder rates in the entre world. I am all about exploring, mingling with the locals and immersing myself in another culture but I stuck to the resort on this trip with the exception of an excursion. We felt completely safe and taken care of at the resort.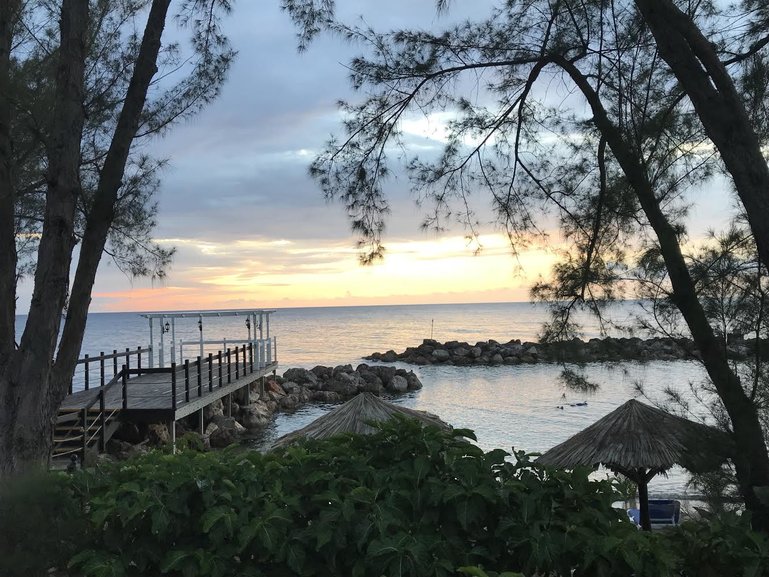 Jamaican Sunset
Jewel Paradise Cove: A Curio Collection by Hilton
---
I read the TripAdvisor reviews about Jewel Paradise Cove up until the day we left and they were all over the place. We had no idea what to expect but we we ended up loving this smaller 250 room resort. July is the off-season because it is so horrendously hot and humid in Jamaica but if you can handle the heat, it's the perfect time to visit because the resort was practically empty! We chose this resort because it looked quiet and relaxing. I would be shocked if there were more than 200 people staying there while we were visiting. We never had to look for a chair by the pool or beach-there were always plenty available in the sun or shade. The servers all knew our names and would go out of their way to say hello and ask us how our vacation was and if we needed anything. This is an all-inclusive resort but we did choose to tip. After talking to some of the staff, many of them work 80 hours a week and we never saw them without a smile on their face. They helped make our vacation amazing so we wanted to help them, too. Our housekeeper even gave us a hug on our last day!
The resort has 3 pools and swim up bars and several restaurants. We ate at the buffet, a grille near one of the pools, an Italian restaurant and a Caribbean restaurant. The buffet was great for breakfast but was lacking a bit for lunch and dinner so we chose other places. The wood-fired pizza was fantastic and my sister had honey crusted lamb that she swears was the best meal she has ever had. My favorite meal was at the Caribbean restaurant where I had pan fried chicken with a spicy mango chutney with mashed plantains and coconut milk. When we would get hungry for a late night snack, the Aquamarine Grille is open all night and has burgers, jerk chicken, wraps, grilled cheese and fries. We were so tired one night that we just ordered room service and it was only a $5 extra charge. Totally worth it!
There are 2 small beaches that are the perfect size for wading around in the ocean and snorkeling around the cove. They have water sports available like kayaking, water bikes, paddle boats and sailboat rides. The day that we wanted to try the water sports, the water was too rough so they weren't letting anyone out. We were eating lunch on a patio the next day and the wind suddenly kicked up. There was a man on a water bike and he couldn't get it turned around and was in trouble. He was just hanging from the side of the bike. We watched a lifeguard do an ocean rescue and get him back on track but it just shows you how powerful wind and water can be and how quickly conditions can change.
For an extra charge, you can go on a snorkeling excursion ($50) or a glass bottom boat tour ($30). These used to be included in your resort stay but that changed on July 20, 2018. When did we arrive? On July 22nd. The hotel also has a shopping trip that will take you to Ocho Rios and Margaritaville. We decided not to go because we were able to buy amazing handcrafted items right at our resort. They have local crafters come in everyday and set-up near the beach and at the Tuesday night beach party, they have 6 or 7 more that visit with their goods. Never pay what they tell you their price is-always bargain with them!
The entertainment that Jewel Paradise Cove provided each night was really fun. Our favorite was the steel drum band and dancers. In addition to evening shows, they have activities all day you can participate in if you want to do more than relax. They have exercise classes, beer pong on the beach, aqua groove and games. They also have a water slide if you are brave enough to go down!
Luminous Lagoon
---
We did one excursion while in Jamaica and it was at Glistening Waters: The Luminous Lagoon. It was $56 per person and we booked directly with the concierge at our resort. The excursion was supposed to be a relaxing boat ride and swim through a lagoon where microscopic organisms glow when agitated. It was anything but relaxing. When we arrived, our tour guide kept yelling at us to get our welcome drink. After waiting for about 20 minutes, our boat number was called and 60 of us piled into this small boat. The Captain was rude and kept yelling at people to move. We were all hot, sweaty and the mosquitoes were awful.
Expecting to go through an actual lagoon, we were surprised when the boat suddenly stopped not far from shore and we were told we could go swimming. I was already covered in mosquito bites and chose not to jump in but about 2/3 of our boat did. They splashed around for about 15 minutes, got back on the boat and we headed back to the dock. It was a full moon the night we went so it was difficult to see the glowing plankton. I don't blame anyone for that-I just wish I had know it would have such an effect on what we could see. When we all piled back on the bus, the tour guide got on the PA system and enthusiastically asked us if we enjoyed the lagoon. There were crickets except for the 2 brave souls who spoke up and said no. Our guide didn't know what to say so she told us we would be back at our hotels as soon as possible. We had a good laugh and about 25 mosquito bites to show for our excursion. Now we are hoping we don't have Zika!
Overall, we had a great week in Jamaica and would love to go back again. You can't beat the amazing sunsets and service. I'm not sure I would stay at Jewel Paradise Cove again though. Not because it wasn't a great experience but because I love to try new places.