Reflecting on a visit to Canada's heartland in the Manitoba province, I am struck by the diversity of experiences: bikes, bison, baseball, and beauty, to name a few. We found adventure in the wilderness and the city of Winnipeg. The vast outdoor spaces were inspiring throughout the trip. Crowds, it's not a thing here. There's room to move, space to explore, and expansive views to soak in. And the people, I am used to Midwest Nice, but I've discovered that Manitoba Nice is a notch above that.
We travel to experience amazing places, but the people make the adventure an unforgettable experience.
Northgate Trails in Dauphin
---
Mel and Alex of Northgate Trails in Dauphin guided our first day on two wheels. Their energy was infectious, so I eagerly followed them on a rip around some trails: Jersey Shore, The Finger, Crop Duster, and Auto Alley Jump Park. On the edge of RMNP (Riding Mountain National Park), Northgate Trails (26 k and counting) weave through impressive stands of Aspen, evergreens, and a gorgeous fern-laced canopy. Limestone cliffs and riverbanks provide the elevation for a great romp around dirt ribbons of single track. Northgate is Manitoba's newest multi-use trail destination featuring professionally built trails, jump lines, community gathering areas, and cozy cabins for overnights. Join them for group rides, or the littles will love being a part of KOM (Kids of Mud). Biker trip tip: Reserve rental mountain bikes from Woodcock Cycle Works in Winnipeg before the drive to Northgate.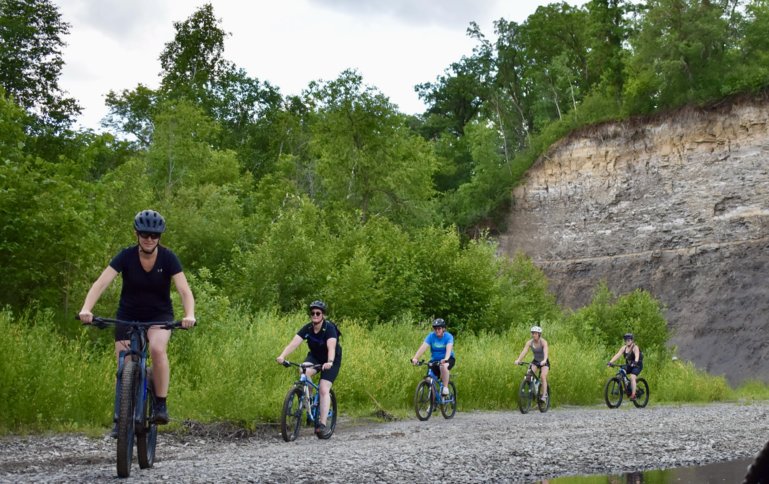 Group ride at Northgate Trails in Dauphin
Riding Mountain National Park
---
We continued into RMNP, transitioning from a pedal to a leisurely paddle on Clear Lake in the quaint resort town of Wasagaming. We found some rest at Smokey Hollow Resort's outdoor pool and tested their lounge chairs before dinner. Make stops at the Whitehouse Bakery for meals in this lovely walkable town – the maple-iced cinnamon rolls are ridiculous. TR Mckoy's for dinner will make you feel fancy, and the pasta dishes with homemade sauces pair nicely with an international wine list.
The adventures and good tastes continued. My travel mate Maureen (Mo), is a hiker, and I'm a biker. I rolled, and she strolled at Neepawa's HyLife Trails then we bellied up for fish and chips at Farmery Estate Brewery. They make their brews with local farm-grown hops and barley. The Prairie Berry paired nicely with my beer-battered pickerel. Sabrina, our guide, with an armful of beers, led us on a tour with more tastes like the Pale Ale and Localishious IPA. (I imported a few cans back to the States in my suitcase).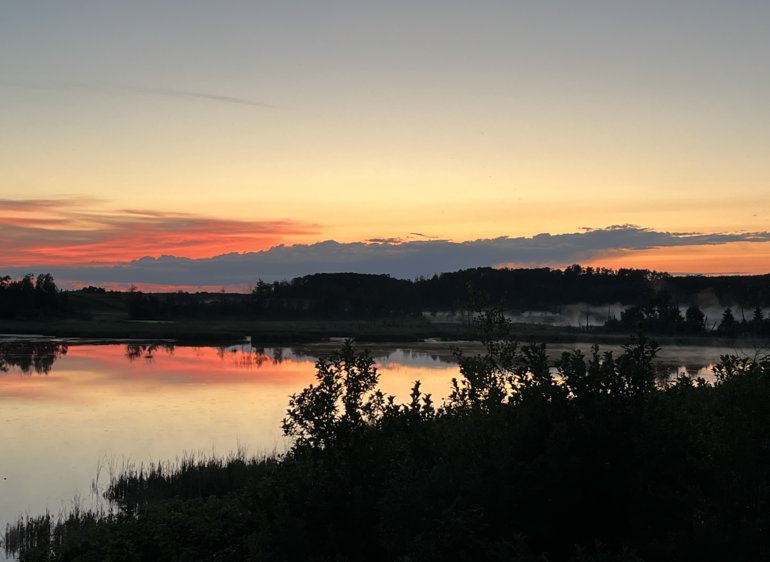 Riding Mountain National Park at dusk
FortWhyte Alive
---
We also made time to switch to city mode and explored the Peg without putting the bikes away. It turns out Manitoba Nice and bike trails extend geographically. It was bikes and bison at FortWhyte Alive's expansive lake-laced grounds, home to a resident Bison herd. There are plenty of trails to ride, conservation efforts to explore, and a world-class mountain bike course, the site of the Canada Games in 2017. My bike buddies for the Bison Butte trails were Barrett and Jeff, who were pleased to be away from their desks on a sunny summer day. Rent bikes from them and roll the trails from easy to expert lines. Coming this summer, the World Police & Fire Games will be held onsite.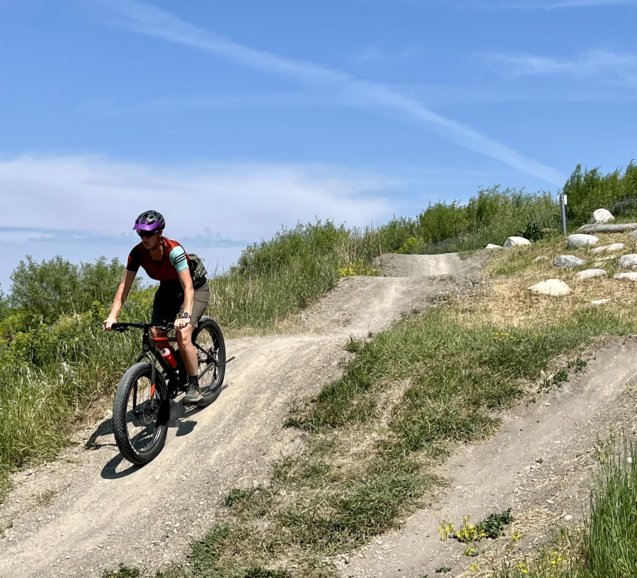 Bison Butte Trails at FortWhyte Alive
Thermea Spa
---
We found a smiling face and willing guide at every turn or trail. For adventures in relaxation at Thermea Spa, Devon and Quincy suggested we try a temperate cycle treatment: first, a hot soak, to a cold "polar bear" plunge, and last, to a temperate pool. Also, the Nordic-themed grounds were stunning and a lovely backdrop that helped me find my chill-out vibe. The Finnish Sauna ritual is also a must, followed by a gourmet lunch.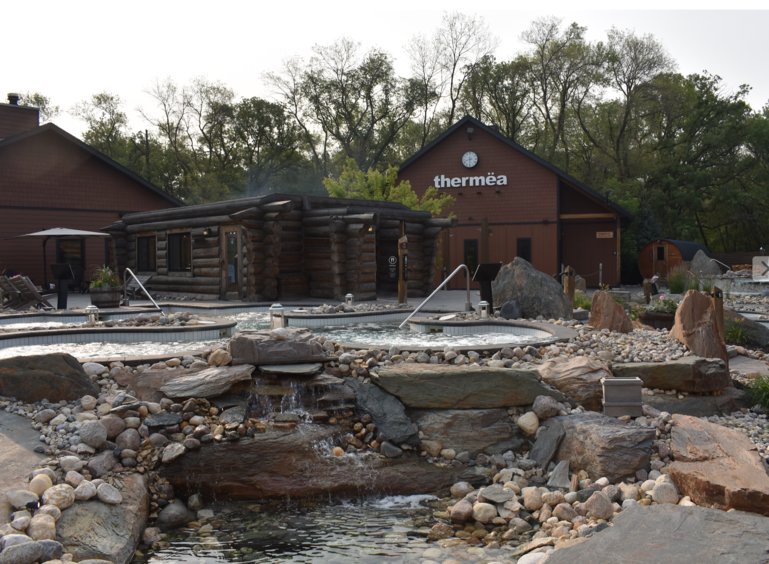 Thermea Spa Winnipeg
Canadian Museum of Human Rights
---
Thanks to Rorie, who led Mo and me on a walk around the Canadian Museum of Human Rights. This stunning architectural masterpiece holds symbolic components both inside and out. The museum takes you on a journey from dark to light, much like the journey of human rights pioneers worldwide. Each of the seven floors held captivating interactive displays with stories of survival, inclusion, escape, hope, and victory. I soaked in this message: All humans are born free and equal in dignity and rights. Fittingly the museum is situated on the historic site, the Forks, where 6000 years of history converge, and the meeting place of Indigenous cultures from the 17-19th centuries.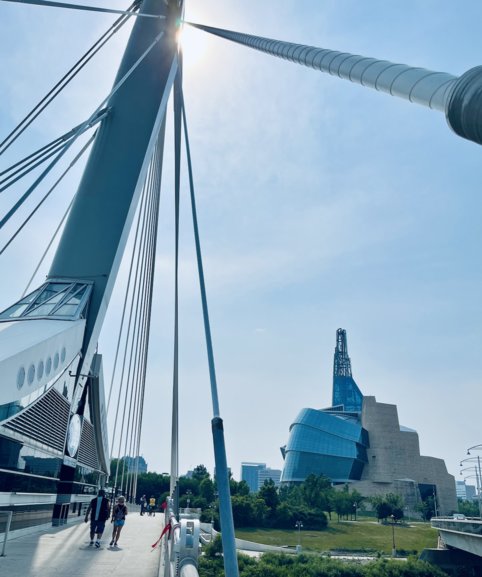 Canadian Human Rights Museum in downtown Winnipeg
Goldeyes Baseball & Shaw Park
---
The Peg continued to impress… a city with plenty of entertainment and bustle but not an overwhelming size. We walked out the revolving doors of the Fort Garry Hotel to museums, restaurants, breweries, and a Goldeyes baseball game at Shaw Park. Dan and his staff showed us around the concourse before helping us find our seats. I've been to plenty of sporting events, but the Goldeyes deliver the game action alongside a food and beverage experience like none other. Gloves down the best ballpark food ever! Why eat a hot dog when you can savor Indian cuisine like tender butter chicken or nosh on brisket nachos from Danny's Smokehouse. Add in the craft beer corner for a home run of an evening out.
The Leaf
---
More friendly faces appeared this time throughout our walk around the newly opened, The Leaf, with three giant indoor plant biomes. I really felt like I was in the tropics in this ambitious $130 million project that also houses Canada's largest indoor waterfall. Head outside and walk the outdoor gardens, all connected to Assiniboine Park and Zoo. The Zoo is home to the impressive Gateway to the Artic exhibit, where you can gape at polar bears and seals swimming below the water's surface.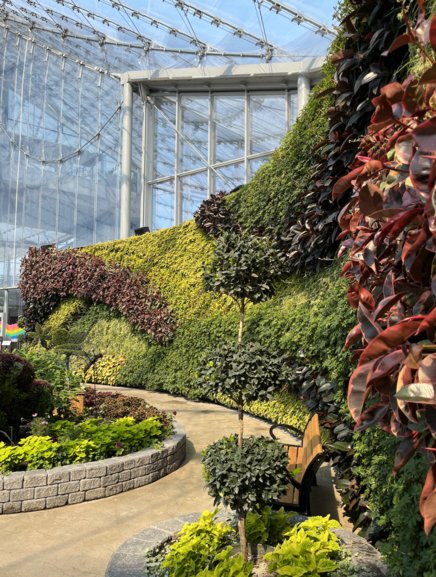 The Leaf indoor biome is connected to Assiniboine Park and Zoo
We enjoyed all of Winnipeg's attractions and got plenty of steps in, earning us some craft beer calories and a couple more notches on the Manitoba Brew Pass. We added Lake of the Woods in the Hargrave Street Market complex and Brazen Hall Brewery for a farewell dinner.
Choose your adventure, on the trails, at the spa, in the ballpark, under a waterfall, or at a table for two….my bet is Manitoba Nice will find you too.