New Zealand is renowned for having one of the most dramatic and diverse landscapes of anywhere in the world. It is without question, that one of the best ways to travel and take in this grandeur, is by air.
So, you've made the decision to avoid the long winding roads and explore the vast blue yonder – next step is to determine the mode of transport, fixed wing or helicopter? Surprisingly, this is one of the most common questions we are faced with in the scenic flight industry. In fact, some guests don't understand the difference and many just assume that a helicopter is the only way!
In the pioneering days of aviation there was no such choice, and to fly fixed wing was considered glamourous. In modern times however, helicopter's have stolen the limelight, being perceived as the superior way to explore God's own. But is that actually the truth? Here is a pilots account of what to expect from both.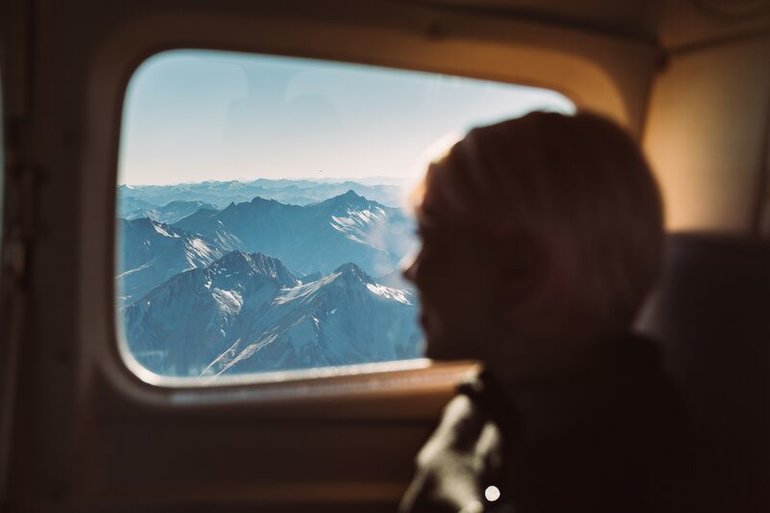 Flying on a 'fixed wing' aircraft
Pros for Fixed Wing
---
* Affordable. Compared with a helicopter you can expect to pay half the ticket price on a scenic flight.
* Speed, height & endurance. Fixed wing is the faster means of transportation. They can generally fly higher, and further on less fuel. When it comes to a scenic flight this is advantageous - for the same duration flight you get to see more countryside. A practical example of this when flying to Milford Sound on a fixed wing is they have the endurance to fly to the Sutherland Falls (580m tall), the most spectacular in New Zealand. Another benefit occurs on windy days (since New Zealand lies in the 'Roaring Forties' we can't escape it!). The major mountain ranges such as the Southern Alps, create mechanical turbulence. Often this can be avoided above heights of 9000ft (2.7km), but helicopters rarely fly at these altitudes.
* Smoothness. Helicopters have far more moving parts than fixed wing aircraft so typically vibrate more than fixed wing.
* Linear motion. The uniform flight paths of a fixed wing are more relatable to other forms of transport such as driving a motor vehicle. For those that get motion sick this typically means less chance of feeling queasy.
* Visibility. Most fixed wings are configured to have all passengers on window seats, whereas in many helicopters there are typically a bench style seat where two passengers are located centrally.
* Weight. We are all aware that average passenger weights are growing with time, in fact statistics taken from general aviation show an average weight increase from 77kg to 83kg/adult. Both fixed wing and helicopters are sensitive to the distribution of mass, so be aware that the chances of sitting in the front seat of a helicopter are less for those above average weight. Fixed wing is the opposite where heavier passengers are typically preferred toward the front of the aircraft.
* Flight time. Helicopters, with their high operating costs, will often keep flight times to a minimum, whereas most scenic fixed wing aircraft, with their lower operating costs, may offer longer flight times. An example of this is a Milford Sound Fly/Cruise/Fly from Queenstown - a helicopter may do this return flight in under an hour, while a fixed wing aircraft may fly further and complete this flight in 1hr10mins.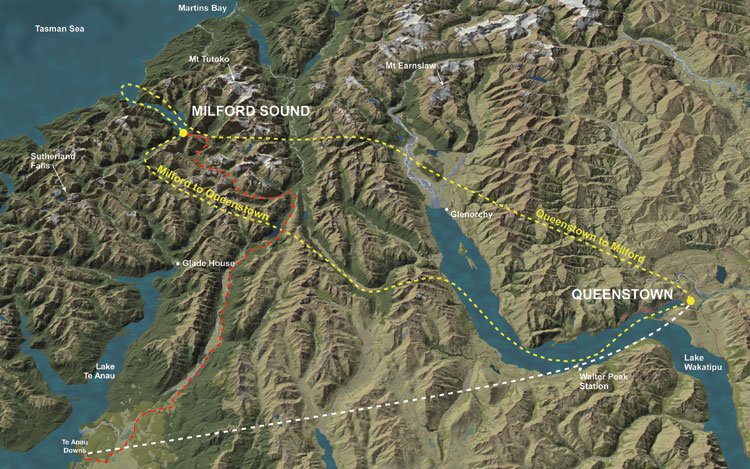 Fixed wing Milford Sound flight path
Pros for Helicopter
---
* Three dimensional. Whether it be landing on a glacier or by a secluded alpine lake, heli-skiing, heli-biking, hunting or fishing, there is no question that helicopters have opened new opportunity in adventure tourism.
* Glamour. When Tom Cruise is on a film job in Milford Sound, he doesn't fly by fixed wing! In other words, celebrities have made flying in a helicopter fashionable because they can afford this luxury.
* Weather & turbulence. With a helicopters ability to hover, their pilots are under far less time pressure to asses adverse weather compared to fixed wing. Slower penetration through turbulence will also reduce the harshness of the bump too. As a result, helicopters will often be out flying when fixed wings are grounded.
* Visibility. One can't argue that the visibility from the bubble canopy of a helicopter front row is as good as it gets.
* Technology. The advancements in rotary technology has been dramatic ever since Sikorsky first developed the design in the late 1930's. One of the major challenges has been trying to overcome excess noise and vibration generated by rotational forces. Thanks to some clever modern-day technology, such as 'Active Vibration Control Systems' (AVCS) found in the Airbus H130 helicopter, vibration is quickly becoming an issue of the past. Many of the premium operators will also offer Active Noise Reduction (ANR) headsets by Bose to help minimise background noise, clarifying the sounds you wish to hear such as the pilot commentary.
Once you've made the decision on the mode of transport, do your own research into the operator and make sure they hold a 100% safety record. Although all must abide by strict Civil Aviation laws, don't assume they're all at the same standard. As a simple rule of thumb, the more you are prepared to pay is a basic indicator into the quality of the company's equipment, pilot(s), and operational standard. Rest assured that going by air is statistically 19 times safer than travelling by motor vehicle, especially in New Zealand where winding roads and alpine conditions prevail.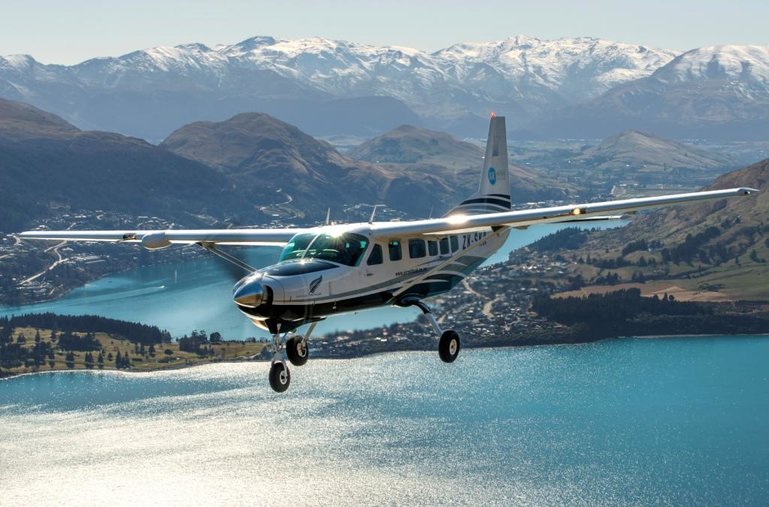 Scenic flight on the luxurious turbo-prop Cessna Caravan aircraft