Faro is the closest airport to Albufeira and you can get great flight deals from London airports to Faro in September. That time of year just follows the peak season and there are currently deals for return tickets for as little as £60pp on Sky Scanner. Transfers from Faro to Albufeira can be arranged at the airport or alternatively booked in advance at often better prices with holiday taxis.
Good deals on accommodation can also be found on Booking. Also consider renting a lovely traditional Portuguese apartment from Air BNB for a more authentic experience. Anywhere close to the Oura strip will offer great ease in getting to key sites including Oura beach, old town and range of restaurants, bars and nightlife that the strip has to offer.
The seafood at Palacete Restaurante was sumptuous, We opted for a table outside and enjoyed the tranquility; the restaurant was in a lovely secluded location away from the hustle and bustle of the strip. I opted for the grilled squid and each bite was as if i was biting into the Albufeira coastline! So fresh you could be forgiven for assuming it literally had been caught that very morning.
Libertos is a vivid hub of nightlife, complete with a live DJ playing an awesome selection of dance, house and afro house. Not to mention an impressive array of delicious cocktails, exotic dancers and an atmosphere that is truly electric, if you only check out one club on the strip it has to be Libertos.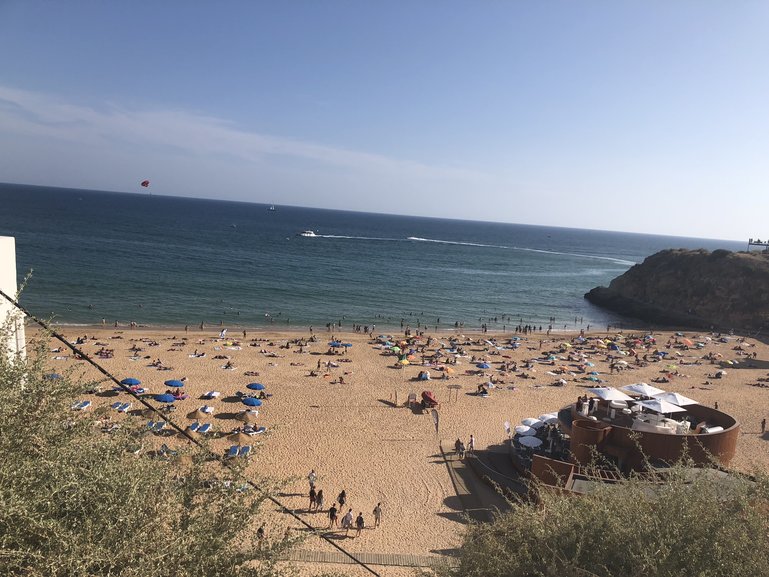 Oura Beach