The South of Portugal has a lot to offer: wide stretched beaches, beautiful lagoon caves and freshly grilled seafood. After living in Lisbon for almost a year, I finally took the leap and went on a road trip through South Portugal. Because this three day trip was more than worth it, here's my guide to you for a three day road trip through South Portugal with exclusive local recommendations, tips on where to stay, eat and go, and much more.
Day 1
---
Driving Down Beach Lane
Today's direction: beaches! Hop in your car and drive straight to the other side of the river in Lisbon. Offering a whole range of wide stretched Atlantic beaches, the Western Coast of South Portugal will keep you fulfilled for the first day of your road trip.
Some tips regarding renting a car in Lisbon: if you want to return your car the latest as possible, book it at an agency which is located at the airport – the agencies in town often close a couple of hours earlier. If you want to book a rental car without having hundreds or euros blocked on your credit card as caution, book with a company that offers a caution free rent – for example, Centauro (be sure to save time and pick up your car at the main building, you don't have to wait at the airport). If you don't have a credit card at all, you can easily use Revolut to create one.
Here you can find my map for this roadtrip with all the beaches listed and pinned on Google Maps.
Be ready to visit these pieces of paradise:
Praia de São Torpes
Praia da Ilha do Pessegueiro
Praia das Furnas
Praia do Tonel
Praia do Carvalhal
Praia do Odeceixe
Praia da Arrifana
Praia do Penedo
Praia do Camilo
Praia dos Pinheiros
After heading to the South and driving past the West coast, you can drive to your accommodation – whether it be in Portimao, Lagos, or the romantic, beautiful and cozy village of Ferragudo where we stayed.
You can spend your first evening in the vivid and dazzling centre of Portimao. Enjoy some delicious and fresh seafood at Restaurante Marisqueira Carvi, a typical, local Portuguese restaurant.
Day 2
---
Surreal Cave Kayaking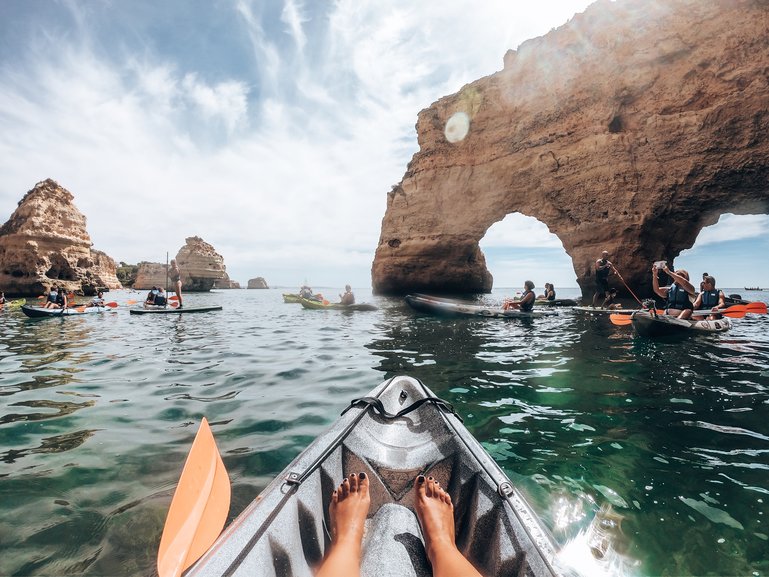 Kayaking in Benagil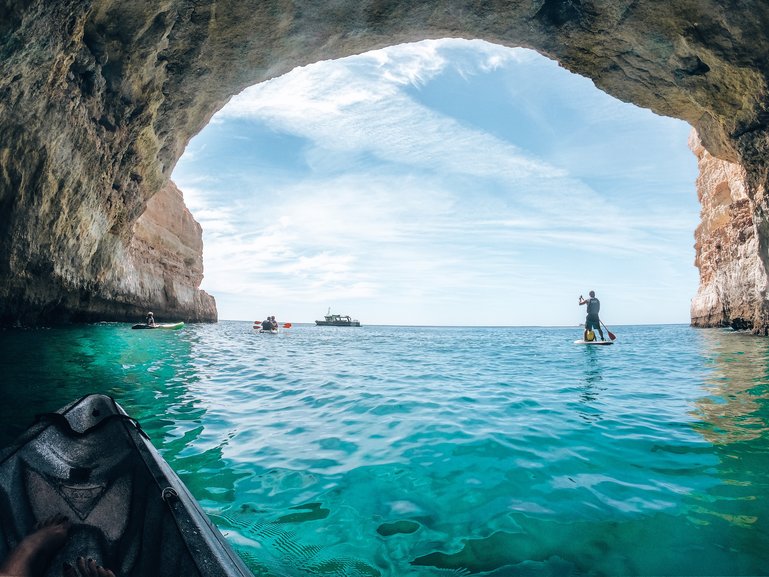 Kayaking through the Benagil caves
Today, be prepared to use those arm muscles, because you are going on a 4-hour kayak or SUP tour around and in the Benagil caves. This is the best and most authentic way to visit the different lagoon caves, as you can enter them with your kayak or SUP – in contrary to other touristic boats which cannot enter them. Book your tour on Experitour, where you are sure of a safe handling of your order and you have an overview of all the best tours available for you.
During this tour, make sure to bring a waterproof camera or a waterproof case for your phone, because it can get wet! Nevertheless, if you go during summertime (June-September), you can be sure of pleasant water temperatures and a dive in the Atlantic ocean after the tour has finished.
But please, a little tip – when attempting to ascend the boat after your legendary jump in the water, don't accept the help of the boat guide, because it will resonate in pulling him down in the water with you. So please, let us spare these guides because we all need them. Use the rope.
After the tour, energise yourself and stop for some lunch – not lanche (a Portuguese afternoon snack) at one of the many restaurants in blossoming Albufeira. Albufeira is really touristy, so make sure to keep walking through the touristic restaurants or enters small alleys, where you will find somewhat more authentic Portuguese or Italian restaurants.
¡Hola España!
Hop back in your car and prepare yourself for more vitamin sea at Praia Maria Luisa. After relaxing at seashore, the choice is up to you: either you drive to Faro and spend your evening there, or you drive through Faro and straight to the South of Spain. Crossing borders on a afternoon is really calm, there won't be any hassle or waiting in lines.
You can also combine the two: drive through Faro to visit the city sightseeing through your car. Afterwards, you can drive to Isla Cristina, a nearby Spanish marine village, and watch an enchanting sunset at the port.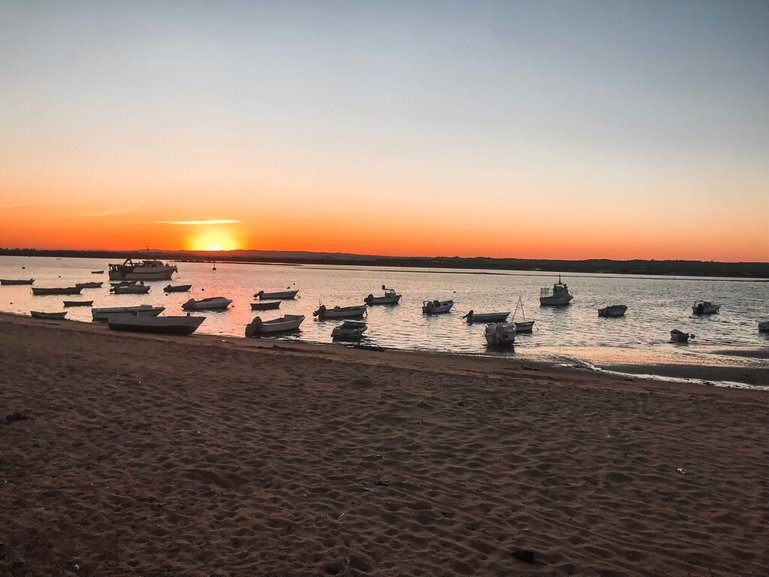 Sunset
Day 3
---
Loosen Up In Lagos
This beach might be my second favourite from the whole trip. Praia dos Três Irmãos. It earns its popularity well, since this beach has it all: beautiful clear water, warm toned caves and rock formations spread over the entire beach. It almost creates a closed up bay, and attracts huge, long waves. It is mesmerizing just to be standing at the shore, watching the waves come and go.
If you're feeling an afternoon snack or late lunch, you can always go to the local seafood restaurant Atlantida, located right at the beach. Ask for their homemade sangria, I can assure you, you will be far from disappointed.
Wonderful Wine Tasting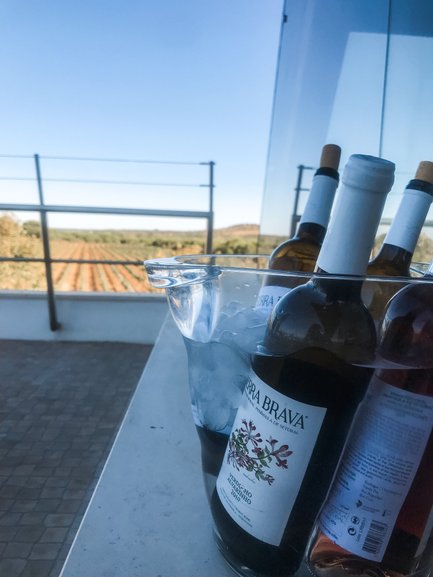 Wine tasting Herdade Canal Caveira
Next up: Wine tasting (to book yours, visit Wine Tourism Portugal, a website that gives you an overview of all the best wineries and activities that they offer throughout Portugal. We paid a visit to Herdade Canal Caveira and it was absolutely amazing. The owners gave us a whole tour of the factory and explained to us in detail the wine making processes. Then they offer you different together with bread, typical Portuguese sausage and cheese.
Praia do Vau
Praia de Carvoeira
Praia da Rocha
Setúbal
Arrábida
These are the final beaches from the winetasting location to Lisbon. You will also pass Setúbal and Sesimbra, as you can see on the map. While in Sesimbra, enjoy some local, fresh food at Lobo do Mar. Choose the fish you want made especially for you and enjoy it with some traditional Portuguese side dishes and wine. Oh and be quick for the desserts, because they may run out off soon! We just missed out on the bolo do chocolate (chocolate cake), I wouldn't wish that pain to anyone.
Afterwards, simply return your car back to the car center (if it's Centauro, bring it back at the main office building) and enjoy your last evening in Lisbon. Boa noite!