As a travel aficionado, I can honestly admit that through all of my pre-vacation excitement, I also have a bit of a nervous ping in my stomach. I am beyond thrilled for all the great sights, sounds, and tastes of the new cultural experience I am about to embark on, yet I consistently find my mind returning to the thought of "how will I maintain my desired healthy habits while on this trip?"
Health and wellness is something I place a lot of value on. I go to yoga nearly every day in addition to the gym and other workout classes a few times a week. I meditate and I'm vegetarian. I personally don't feel very well if I go a couple weeks without doing these things, even with the supplemental travel excitement.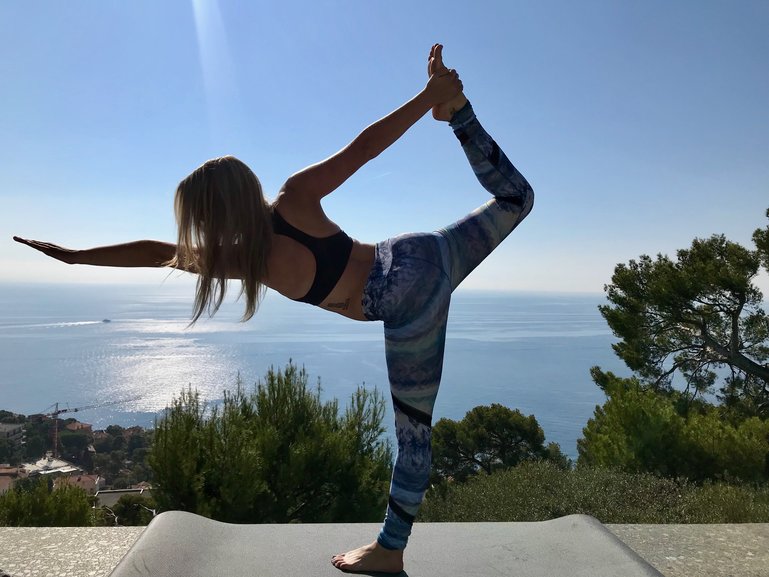 Yoga on the balcony in Cap-d'Ail, France
Time after time again I have heard people say, "I need a post-vacation diet," "I gained too much weight on my trip," and the list goes on. The good news is that you can avoid this with a few easy changes.
But Reagan, I want to fully immerse myself in the culture and try all the foods and drinks they have to offer, you say.
I hear you. I'm a culture-seeker too, but you can still do this while staying healthy and you'll feel way better during your trip. Here's how…
---
Is your hotel room on the fourth floor? Maybe instead of taking the elevator, take the stairs every time you return to your room. Thinking of getting a taxi or metro to travel half a mile? Maybe try factoring in some extra time to enjoy a walk back. All of these little things add up and really do make a difference.
Routine
---
Before you embark on your trip, choose a routine for yourself, and make it fun by including your travel partners too. "Let's promise to go to the hotel gym every morning before starting our day" or "Let's find three new yoga studios to try during this trip". Make a challenge for yourself and you'll feel accomplished because of it, too.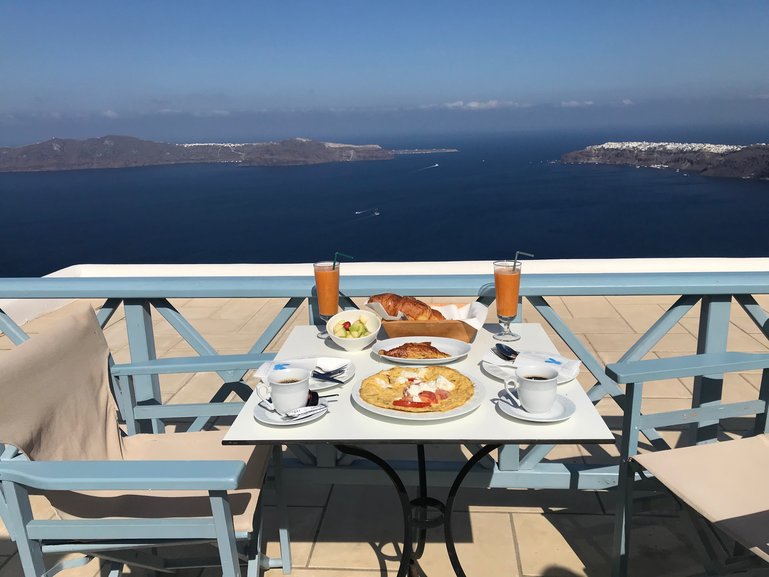 Breakfast in Santorini, Greece
---
It's totally understandable that you want to order everything on the menu and try it, and so do all your friends. Try a sampler platter, tapas/appetizers, and share, share, share. One of my biggest obstacles when eating out is thinking I have to finish the entire plate just because I ordered it. You ordered the dish to try something new and delicious, and you did just that. What does 3 more bites matter if you're already full?
Something I've suggested to friends, and they've actually thanked me for later, is don't discount a menu option solely because it says 'vegan' or sounds too healthy. Oftentimes, these options are just as delicious and flavorful, and are way better for you!
Take a Class
---
If you're traveling in the U.S., ClassPass is a lifesaver. You pay monthly for class credits and can visit various workout studios in any decently sized city. As a result, you get way better drop-in rates. This is perfect if you travel often for work and still want to easily do things like yoga or pilates, or even gym time!
Go for a Run
---
You may think that going for a run (or walk) is the last thing you want to do on vacation because who wants to spend time working out when they can explore? Well, running is actually one of the best ways to explore a new city. Get lost down winding streets, take a random turn and see where you end up. I've found some of the most authentic and neat places by going on morning runs through a new place.
Water
---
We can't say this enough, you should always drink a lot of water, and drink extra while traveling. Flying dehydrates you, so does walking all day. It'll help cure jetlag and detox your body. Coconut water is always a good option too since it's filled with rehydrating electrolytes.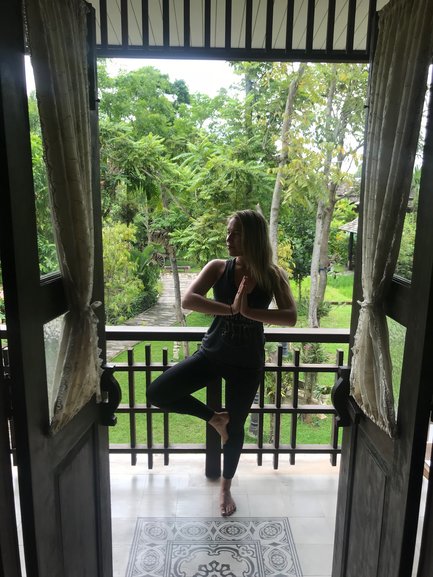 Yoga at the hotel in Chiang Mai, Thailand
Journaling
---
Healthy minds are just as important as (if not more than) healthy bodies. Bring along a travel journal. Enjoy some time in the park as you reflect on your life-changing travel experiences, and maybe even meditate there. Reading back on old travel journals and reminiscing years later is so fulfilling. You will be glad you did it, in the present and future.
Transformational Travel
---
Reset, relax, and expand your consciousness. Let your next vacation be all about you and gift yourself the healing and growth that you deserve.
I sincerely hope these travel tips help you to stay happier, healthier, and feel more yourself during your next trip!