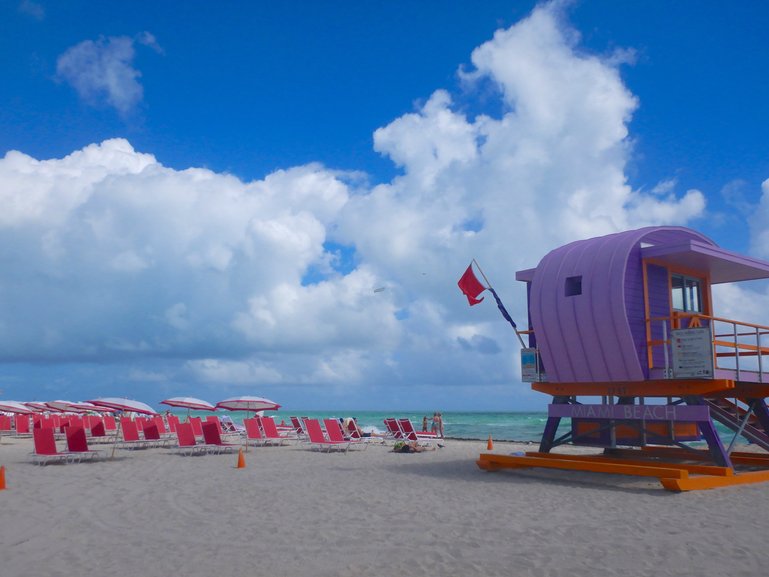 Miami South Beach
Ever want to go….. just go, and you aren't sure where that should be? Surf and sun are always among our top choices, but it took the lure of entertainment and food to get us to Miami South Beach in January 2017. We had so much fun on that in 2017 we went back in February 2018. We loved it so much, it has now become an annual destination for us.
Which, thats really a huge thing. There are so many places to go in this amazing world, and not enough time to see them all. So to say this is the ONE place we return to over and over again. That says a lot about South Beach.
We first looked at Miami South Beach in 2009
---
At that time, it was just too expensive for our blood. But the destination kept calling us. So when we were trying to figure out where to go for a long weekend January 2017, and had access to economical flights, we started looking at Miami South Beach again– or SOBE as it's called by the locals.
And boy, are we glad we did
I did say surf and sun, right?
---
Ah, the beach. White, powdery sand – of course. To my mind, the beach is separated out in sections. There are the hotel sections, and the public beach sections. In the hotel sections, each hotel generally provides umbrellas and chairs for hotel guests, and some offer food and beverage service on the beach. That was a great perk.
In the public beach sections, it was like sitting in the middle of an international city. Different languages floated through the air - much like the city itself. Kids ran and played - just like they should at the beach. We even had elderly calisthenics. Not sure what that was about, but hey the good thing is this. In the public beach sections there is something for everyone!
What else is there to do besides beach?
---
Take a tour to the Everglades, speak to a local guide, watch a gator wrestling show (or just pin one). There are lots of ways to enjoy surf and sun without being in the water. This one was a little outside our "normal" list of activities, but a visit to the Everglades just felt like a thing to do. So does a trip to the Keys, and a day-trip to the Bahamas. All are really easy to line up, and add flavor to your Miami South Beach vacation.
Other surf and sun activities
---
Visit Little Havana - our last trip included a food tour in Little Havana. THAT is a must-do.
Check out the art museums or Jungle Island, and as weird as it sounds, Central Station with the shopping and entertainment center nearby is a must see. With live evening entertainment and watching the boats on the water, Central Station was a really nice surprise.
Wynwood Walls is a great afternoon stroll to check out local street art. I can guarantee you will find plenty to do!
Last, but definitely not least, visiting Miami's Art Deco jewels is a must-do.
I have to admit, art deco isn't my favorite building style, but these historic buildings, renovated to display their original glory, was a very pleasant surprise. The style is definitely growing on me.
What about the people we meet in South Beach?
---
The most memorable thing for me about SOBE was the people. The only other place in the US where the population was more diverse has been New York City. Believe me, I will keep checking other US cities to see if that holds true. Insert smiley face here…..
The day starts late, noonish or so, and lasts until the wee hours of the morning. There is always something to see and somebody to talk to. Tourism is big business, and most places were very accommodating.
Ocean Drive - a must-do for surf and sun
---
Lucky for us, and very unexpected, Papa Joe met up with a friend from the area who showed us the SOBE ropes. We probably would have not found Ocean Drive as early as we did without his help. Ocean Drive is a "find" in itself, with the Versace Mansion, numerous live entertainment venues, and a wide variety of excellent food. I'm not sure which we enjoyed more, the people-watching, or the exotic cars driving past.
Papa Joe probably thought it was the people – for me it was the cars! Beyond cool. Adult beverages were reasonably priced, and meals averaged the same as most other places. On average, with adult beverages, an appetizer, 2 entrees and a shared dessert, we usually spent between $100-125. Hosts/hostesses for restaurants are happy to answer your questions if you are interested in the restaurant.
People watching on Ocean Drive- absolutely free. Watching the cars - better than free! And to make Ocean Drive even more attractive, Lummus Park features a great bike/walk path that parallels the park and Ocean Drive. What a way to combine the best of both worlds!
SOBE was a great place to visit, but definitely not the least expensive destination.
---
We found ways to cut corners - here's the run down.
While doing our prep research, we also found, as expected, that parking in the area was difficult and VERY expensive (public parking averaged $35-45 per day). So, very unusual for us, we used Uber for almost all our transportation. There are other modes of transportation, such as using the Hop-on Hop-off tour to get to attractions like shopping and Little Havana.
There is also a local tram that runs up and down the SOBE strip that is very inexpensive. And we don't have a problem with walking short distances.
Parking – $45 per day, IF you can find parking, which is doubtful. The parking ramps were full at 10am, when much of the city is still in bed. We used Uber.
Bicycle rentals are very common and very easy to find.
Hotels on SOBE range $200 per night on up. Less expensive rooms are available if you want to stay in Miami proper and visit SOBE instead of staying there.
Meals and evening entertainment – comparable to other tourist destinations.
Make sure to visit local venues – Miami is renouned for its art museums, and those are free
Wear comfortable shoes and lightweight clothes, and don't forget your bathing suit.
In summary - give it a shot. Stylish and glitzy SOBE isn't for everyone, but the city in general has something for everyone!