You don't have to be a millionaire.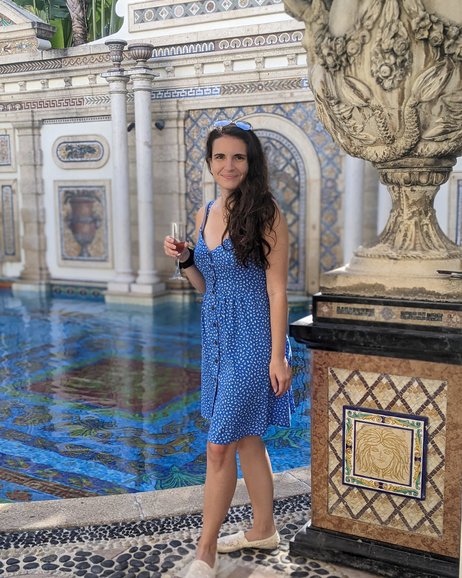 Miami Beach: Art Deco, beautiful people, golden sand – and Versace.
If you're an American Crime story nerd you've probably watched the excellent Netflix show (featuring Darren Criss) that was filmed inside this lavish personal palace.
Luckily, the Versace mansion folks learned that not everyone can afford a $1,000 a night (minimum) hotel stay. So they've opened up a magnificent restaurant on the mansion's patio: Gianni's At The Former Versace Mansion.
$29 Lunch Special
---
If you're going for dinner, plan to spend at least $200. However, the mansion offers a $29 dollar lunch special that includes a three-course meal. This was my ticket in!
Book in Advance, and Book Early.
---
My travel partner and I booked our reservation right when they open their doors at 12:00 PM. We arrived about 15 minutes early and were the second ones there. Because we were early, we were seated on the iconic patio. Folks who arrived on time for their reservation ended up being seated inside of the mansion.
Just because you make a reservation does not guarantee you will be seated on the patio – and that's why we all go.
3-Course Meal
---
I'll be honest with you – the food is overrated and overpriced. My $29 lunch plus one glass of wine and tip quickly became $60.
The menu rotates, but you have your choice of salads, meat lovers and vegetarian-friendly entrees, and desserts.
The food is not worth it. But the patio seating is. The outdoor pool is so beautiful that the one hour I spent for lunch at the Versace Mansion was sincerely my favorite moment of my entire Miami and Miami Beach trip.
There is something completely stunning about the beauty of the mansion that transports you to a different world. Did I mention that Versace had this pool deconstructed and brought over from his home in Italy? I'd say this was a "bit extra" if it wasn't for his 24-karat-gold-encrusted mosaic windows.
Plan to overspend on your lunch, but the ambiance is worth a stop on your Miami Beach getaway.
Quick Stats:
---
Food: 3/5
Service: 4/5
Location: 5/5
Dress code: Business Casual
Overall Experience: 4/5