Miami Beach is one of the most famous tourist destinations all over the world. Eating the Best food, exploring the beach, broad walking, museums, gardens, shopping centers, water activities, and having an amazing nightlife are some of the many things that Miami Beach offers. Miami has lots to offer for every type of traveler, aside from staying in your hotel room and soaking up in the sun.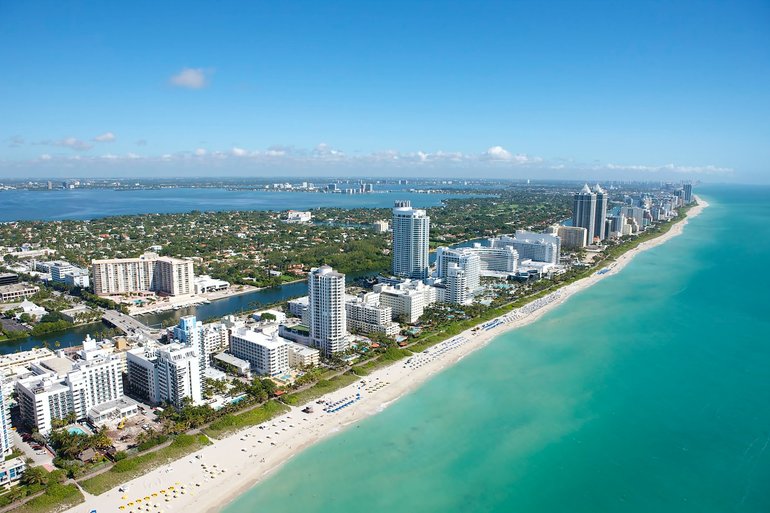 Miami Beach, Florida
Whether you are planning a romantic break, meeting up with friends, traveling solo, trip to Miami will be unforgettable. The Beach is also visited by celebrities, so there's a chance you may spot some.
For most of you, Miami beach would mean fun for the youngsters and solo tourists, but it must be surprising for most of the people that Miami Beach is also fun for the kids and is a family-friendly holiday destination.
Booking a hotel in Miami Beach
---
You should book in advance for hotel accommodation from March to May. Because Miami is busiest to visit during these months. Miami beach is warm and sunny throughout the year, but the weather during the spring is the best during these months to enjoy.
Discover the beaches
---
The best way to kick start your trip is to discover the beaches. Miami beaches offer fun activities to do. Every year a large number of visitors go to the South beach. It is the most famous in Miami. You can enjoy South Beach's gorgeous white sand under the Miami sun, historic Art Deco architecture, and the fine Oceanside seafood restaurants. You can also enjoy Jet ski and head out into the ocean.
The Miami Beach Boardwalk is a pedestrian-friendly boardwalk. And also one of the highlights of Miami beach. It has a great view. You can see many people working out, including joggers, walkers, and cyclists. It also has plenty of places to eat or drink as you walk while enjoying the superb view of the beach.
Lincoln Mall
---
Want to go shopping? Lincoln Mall is located just a few blocks off the beach. Lincoln road mall, a popular shopping area, is a must-see when in South beach. You will find trendy shops, boutiques, amazing restaurants, coffee shops, art galleries, jewelry stores in the area.
Want to party? Then, many hotels in the south beach hold excellent pool parties. Miami's famous Nikki beach holds a beach club at night, which is perfect for drinking and dancing.
Going with you family
---
If you have come with your family and want to visit some family-friendly beach with lots of fun, then Crandon park beach is the best choice for you. It is one of the best beaches in Miami for families, which is located on the northern tip of Key Biscayne. There's a Family Amusement Center, a Nature Center too, where you can discover exotic plants and wildlife which is perfect for a picnic. You can also rent cabanas and enjoy the beach. Golf, volleyball nets, and hiking are also present in other areas of the park.
Traveling with Kids
---
If you are traveling with kids, then you must visit the Miami Children's Museum. It offers many interactive and educational activities in an entertaining way for children. You will discover Many facilities with pools, water slides, kids clubs, day camps, and beachfront access in Miami. There are a lot of playful areas for your kids to enjoy.
Miami has also plenty of museums to offer. Some of which you must explore are the Bass, the Art Deco Museum, Wolfsonian IFU, and the Jewish Museum of Florida. Apart from this, you can also visit the Miami Science Museum, which offers various interactive scientific exhibits.
You can also spend your day at Miami Seaquarium. It is the oldest marine life park in the country. You can watch enjoy incredible water shows, marine-life entertainment park, and swim and interact with dolphins.
Want to see incredible views of the city?
---
Miami has speedboat tours too. The views are incredible, and speedboat tours are highly recommended by the locals and visitors.
If you are a nature lover, then you can't skip visiting Fairchild Tropical Botanical Garden. There you can see varieties of flowers, plants, and trees. This place is worth visiting. It is a beautiful and peaceful garden. Its best attraction is the stunning Butterfly House, which is a delight to the eyes.
There is no way that you can get bored in Miami. Miami offers many water sports activities. You can go for Parasail or Jet Ski, South Beach Sail Splash aboard the Caribbean Spirit, Jetpack flight, Jet Ski Ride adventure, Manatee Photo Safari - Miami Kayak & Paddleboard Tour, Coral Reef Snorkeling in the key west, Half Day Deep Sea Fishing Trip, and much more.
Are you an art lover?
---
Then, you can not miss the Artwork at Wynwood Walls. It is a collection of bright and graphic murals that were painted by international artists from around the world. With kids, this is a fun place to visit and pose for pictures. Wynwood is open and free to visit all year round.
Calle Ocho 8th street, also known as Little Havana, is a neighborhood of Miami. It has a great Cuban atmosphere with lots of Cuban style restaurants, bars, and art to see. If you are visiting Miami, then take out time to visit this little Havana. You will enjoy excellent food and live music there. It is very vibrant and is known for its Caribbean inspired music, culture, and cuisine. You can also find salsa dancing clubs and classes with many Cuban DJs and live bands playing there. To have a truly unique experience of food, try the Cuban sandwich and espresso.
The Jungle Island which is an eco-adventure park on Watson Island Miami is also a must-visit. There are many fun activities and sights for kids. This is a must-go-to place for kids. There are over 600 exotic animals, including tropical birds, orangutans, and lions. There you can enjoy engaging animal shows, informative exhibits, and get up close to animals such as sloths, flamingos, and lemurs. It is home to some world's most rare and exotic animals. You can meet Jungle Island's birds through traditional wildlife shows and exhibits to individual animal encounters.
Miami is an excellent place to travel for all ages and is highly recommended if you ever visit states.