When it comes to choosing a hike in the Canadian Rockies, everyone has an opinion on where you should go. Some trails are so well-travelled, everyone who owns a pair of hiking boots seems to have a photo at the summit posted on Instagram. While a good recommendation can go a long way, sometimes you want that summit all to yourself. Here are 7 hikes in the Canadian Rockies that haven't quite hit the mainstream but are absolutely worth your hard-earned miles.
King Creek Ridge - Kananaskis Country
---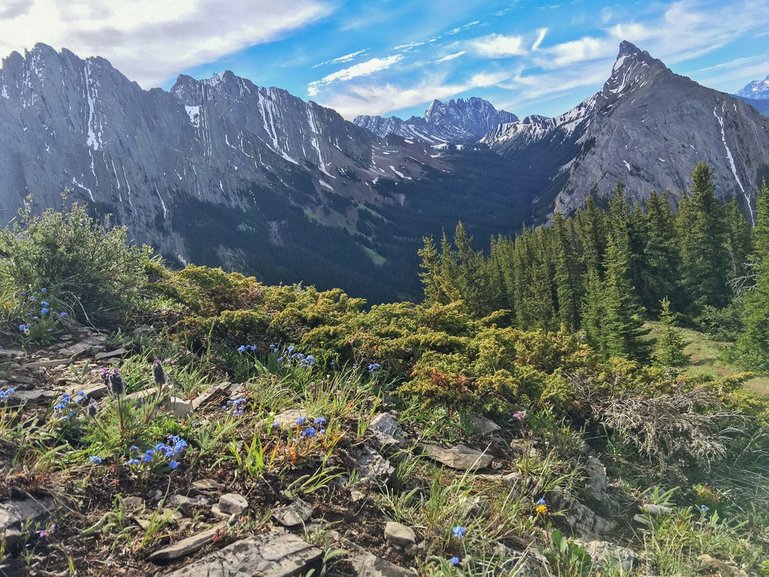 King's Creek Ridge
You'll drive past a trailhead seemingly every kilometre in Alberta's Kananaskis Country. Packed with so many great hikes, it's no small task to find that hidden gem! In this case, the gem is King Creek Ridge. This trail is short, but oh baby is she steep! If you're willing to grind through 2.5km of unrelenting vertical that gains you 600m of elevation, you'll be rewarded with views over the Opal range and a hidden valley that's reminiscent of the Alps. It's lush, green, and each jagged peak begs for your attention.
Length: 7.1km
Elevation gain: 797m
Windtower Mountain - Canmore
---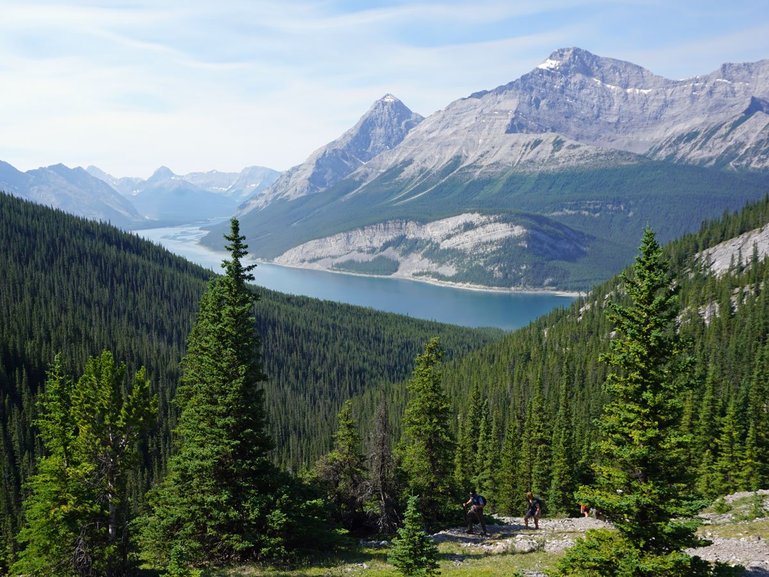 Wind Tower
This mountain gets forgotten in the shadow of Mount Lougheed- literally, the peaks are right next to each other. However, it's well worth the trip up, because you'll be within spitting distance of one of the most iconic summits on this stretch of Highway 1. It's a fabulous view of Mount Lougheed, Three Sisters, and Mount Lady MacDonald, and you can take a restful break at West Wind Pass before slogging on up to the top.
Length: 10km
Elevation gain: 922m
Mount St. Piran - Banff National Park
---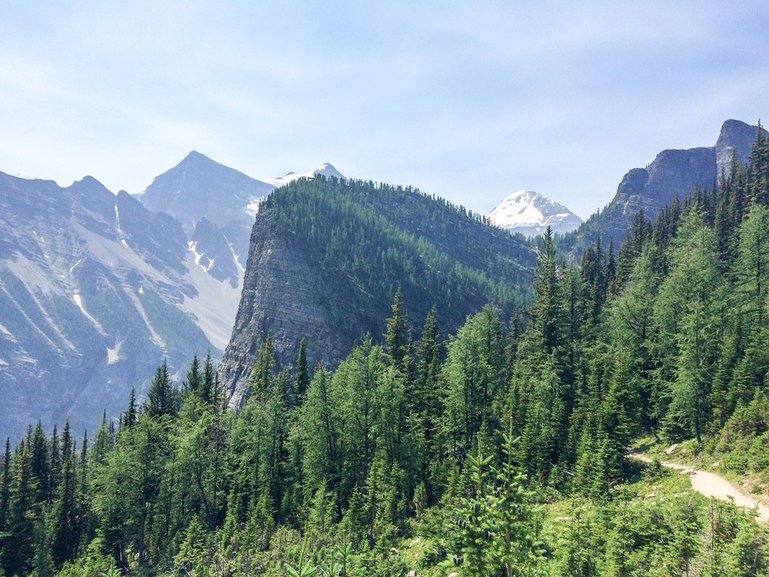 Mt. St. Piran
It might seem impossible to call anything near Lake Louise underrated because every trail seems to have more than enough traffic on any given day. Mount St. Piran might be the last best-kept secret of the area! This hike gets less attention than nearby Big Beehive, Fairview Mountain, or Sentinel Pass, but not for any good reason. The trail splits off from Lake Agnes, which means you can linger at the stunning lake and teahouse before heading up to the peak. It's easy to follow, non-technical, and almost eerily quiet compared to the crowds you'll leave behind at the lake. From the peak, enjoy breathtaking views of Lake Louise, Fairview Mountain, Mount Lefroy, Mount Niblock, Sheol Mountain, Mount Aberdeen… the list goes on and on.
Length: 12.5km
Elevation gain: 918m
Kindersley Pass - Kootenay National Park
---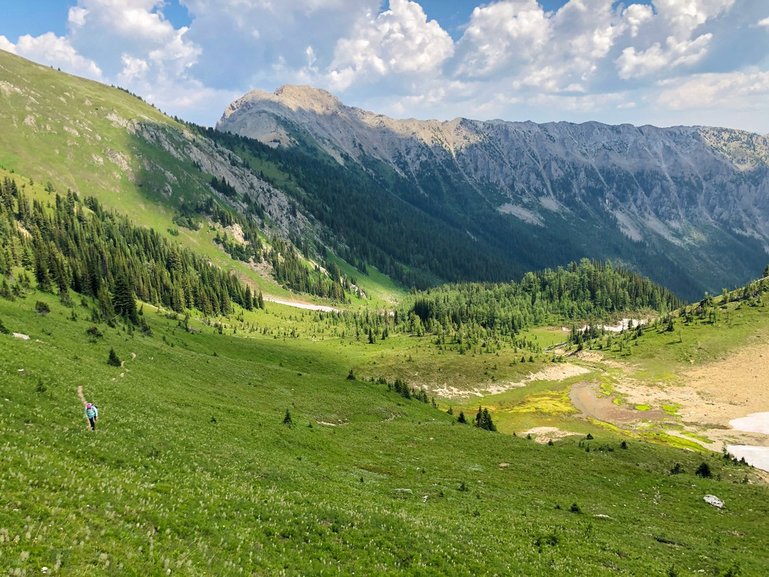 Kinderslay Pass
Kootenay National Park doesn't get nearly the attention that nearby Banff National Park might, but that just means there are fantastic less-travelled trails waiting for you. The hike to Kindersley Pass isn't as popular as some others because it's recommended that you hike it in a group of four. Yeah, bears in the area and minimum group requirements can both easily dissuade solo hikers or pairs. Round up your three best friends and take it on, because this might be one of the most scenic day trips in all of Kootenay National Park. It's a tiring trek, but the views from the top of Kindersley Summit are more than worthwhile.
Length: 19.6km
Elevation gain: 1055m
Crypt Lake - Waterton National Park
---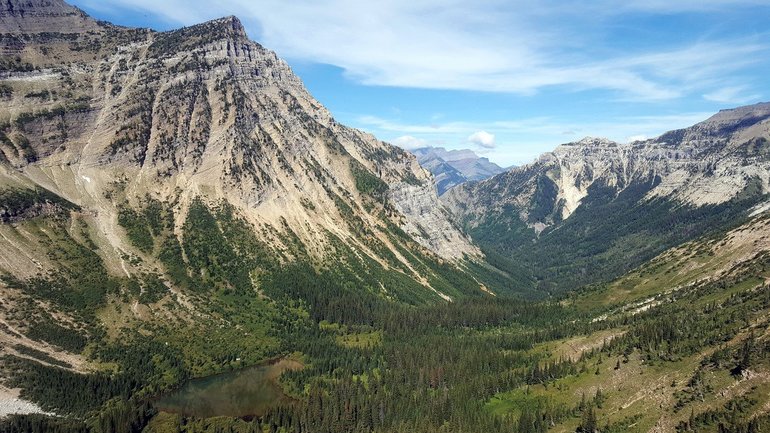 Crypt Lake Hike
Those who know Waterton love Waterton. The problem is, not many people know Waterton! This national park nestled in a corner of far-southern Alberta has some seriously unforgettable hiking, but the location of the park makes it far less popular than it should be. Crypt Lake is one of the first hikes you should try in Waterton. Some people are dissuaded by the logistics, but just make sure you book your spot on the Upper Waterton Lake ferry in advance, as it's the only way to the trailhead. Once you're there, a hike with more tricks up its sleeve than any other awaits. Waterfalls, windy lakes, a staircase of waterfalls, cable clings, and a toe into Montana await as you hike to the most beautiful cirque lake in the Rockies.
Length: 17.4km
Elevation gain: 665m
Black Prince Cirque - Kananaskis Country
---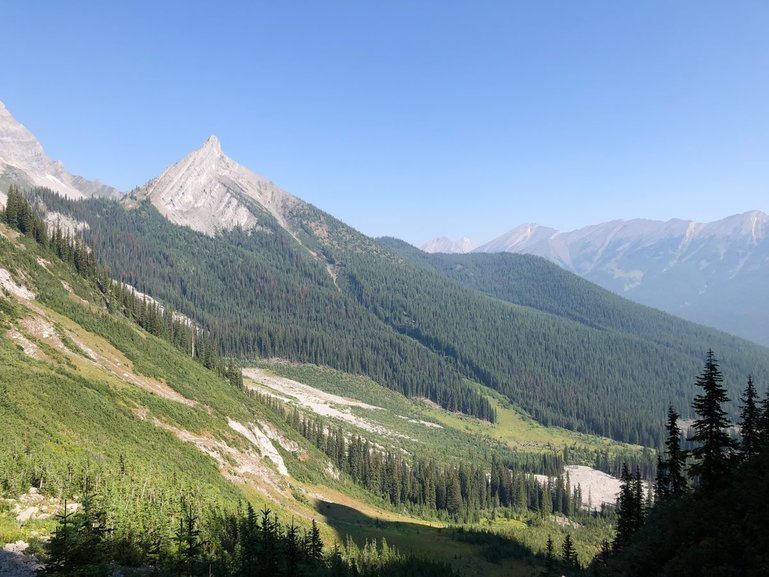 Black Prince
Black Prince? Never heard of him. This hike gets minimal attention, but it should be at the top of your list for days when you only have a couple of hours to spare. It's easy, family-friendly, and only takes about an hour or an hour and a half to complete. You'll head up an easy trail with little elevation gain to the stunning Warspite Lake with Black Prince Cirque in the background. It's quite the reward for only minimal effort!
Length: 4.8km
Elevation gain: 178m
Linda Lake and Cathedral Basin - Yoho National Park
---
If you're hiking in Yoho, you're probably hiking around Lake O'Hara. That's fine, Lake O'Hara is stunning. But this is all about those lesser-known, lesser-travelled trails. Linda Lake and Cathedral Basin is the least crowded hike from Lake O'Hara, but with fabulous alpine lakes and a knockout view of the O'Hara basin to reward you, it's worth the trip. No other viewpoint gives such a complete look at the Lake O'Hara region than the Cathedral Platform Prospect, which is exactly where you'll be heading.
Length: 14.8km
Elevation gain: 305m
So, where to first? Enjoy those quiet trails and standout views! There's just no place quite like the Canadian Rockies.