If you plan on visiting Democratic Republic of Congo, you have probably heard that the country is not fully politically stable like its neighbors - Rwanda and Uganda are. That's true, for some parts of DR Congo have experienced conflict since the 1990's.
But, do you know that tourism has been ongoing in the eastern part of the country despite the fact that it relatively does experience security hiccups. And being on the border with Uganda and Rwanda, getting to eastern DR Congo isn't difficult. Even by motorcycle.
So obscure destination, Eastern DR Congo should be on your bucket list for great travels pastcovid19. Because it's home to Virunga National Park, a park with full wonders, Africa's oldest and most biologically diverse protected areas. Though most popular for mountain gorillas, the park is also home to lowland gorillas and chimpanzees, 218 mammal species, 706 species of bird among reptiles and amphibians.
This park combines two adventure activities, mountain gorilla trekking and the hike to Mount Nyiragongo at 11,358 ft which is Africa's most active volcano with a lava lake that's one of the largest in the world.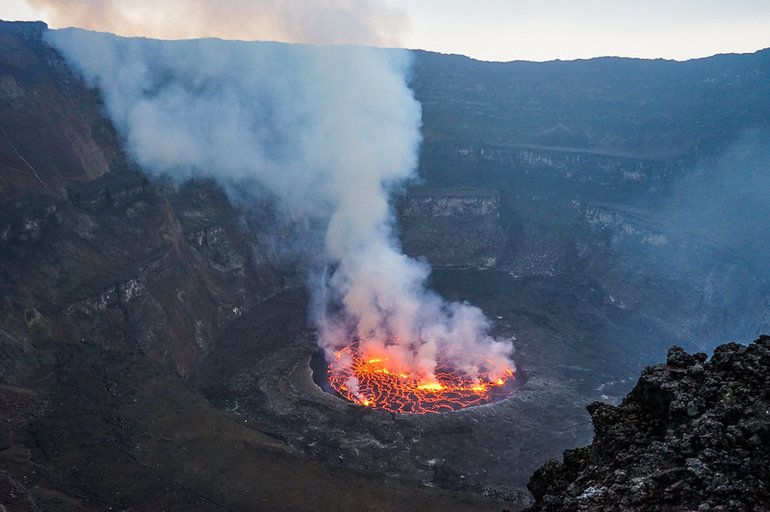 Active Volcano-Nyoragongo, Picture by Nina R. (CC BY 2.0)
So, Mount Nyiragongo volcano should definitely be on your to do list of travel, but consider yourself cautioned. The view at the top 3,470 meters is spectacular, but achieving that comes at a price. The Nyiragongo trek takes about 6-8 hours plus spending overnight at the summit overlooking the lava lake.
So, if you want to climb Mount. Nyiragongo, you can book through the official Virunga website or your trusted operator.
Hiking Nyiragongo Volcano
---
Situated in the south of Virunga National Park, a UNESCO world heritage site, Nyiragongo volcano is an active volcano that erupted more than 30 times since 1882. It's one of the 8 virunga volcanic mountains that span the borders of DR Congo, Rwanda and Uganda.
Rising at 3470 meters above sea level, getting to the summit of Mount Nyiragongo is a moderate hike and anybody with some physical fitness can do it. You hike to the summit and spend overnight in huts and descend to the starting point the next morning.
The hike begins at Bukima, a ranger station south of Virunga National Park. it starts early morning at 08am, so one should be there before that to attend a briefing.
The trail to the summit takes you through forests, you have views of the Virunga ranges and will go through volcanic rocky areas to the top. This can take 6-8 hours depending on the pace of the slowest person in case there's one in your group.
Things to consider for a successful Nyiragongo hike
---
You need DR Congo visa which can be booked through the official Virunga website
Security is key, so make sure to check with park authorities to give you what's happening
on ground before you book.
Bring your yellow fever card.
Have covid19 negative certificate or a vaccinated certificate
Best time to hike Nyiragongo Volcano
---
There are two seasons; the dry and wet season so consider avoiding the rainy months of April to May and October to November. Plan to hike Nyiragongo in the dry season December to February and June to September.
Mikeno Volcano
---
Rising at 4447 meters above sea level, Mount Mikeno volcano rises higher than Nyiragongo. Mikeno is a dormant volcano and part of the Virunga mountains ranges. At its base is Mikeno Lodge, providing medium and luxury accommodation. They also provide hikes around Mikeno. Though, most of the hikes start at Bukima patrol post. The hiking trails to the summit of Mikeno are not maintained as those at Nyiragongo thus offer an off the beaten path. It takes about 6-7 hours to reach the summit and camp on its slopes. However, there are several shorter trails for
laid back nature walks. The forest around is home to chimpanzees, colobus monkeys, birds and you get to explore beautiful surroundings.
What to pack
---
On the summit of Mount Nyiragongo, night tends to get cold with high speed winds. So, you need to bring warm clothing, a good sleeping bag, gardening gloves and headsets.
You also need to bring food and drinking water at least 5 liters each person. Unless you're considering hiring a cook and a porter, you should pack snacks, fruits and your favorite meals for breakfast and dinner.
Getting there
---
The starting point for Nyiragongo hike is about a 30-minute drive from Goma city, the tourism hub of eastern DR Congo. Goma city has so many options for accommodation and you will not worry about the distance to park. Avoid staying far from the border outside Goma.