No African Safari is complete without seeing the Mountain Gorillas! There are only 700 - 880 Mountain gorillas remaining on earth. The majority live in the Virunga Mountains that straddle Rwanda, Uganda and the Democratic Republic of Congo. Most of the gorillas live a wild existence, far from human reach. However, a handful of groups have been habituated and can be tracked and observed by small numbers of visitors under the watchful eyes of park rangers.
Going on gorilla trekking safari takes more effort, both time and money. It's more expensive than a traditional safari but ranked highly by travelers around the world. Every year, thousands of travelers go for Gorilla trekking safaris in Uganda, Rwanda and Democratic Republic of Congo.
The first thing to know is that visiting mountain gorillas on a group tour can be quite expensive (going solo is often even more so). Gorillas exist in extremely remote mountainous locations, which means the logistics of a gorillas safari are a challenge. In fact, the cost of a Gorilla Trekking permit can cover a wildlife-viewing safari in a top wilderness park in many parts of the world. The good news is, the gorilla trekking experience is completely worth it, it lasts a lifetime. Are you planning to go trekking? Here's everything you need to know about gorilla trekking in Rwanda and Uganda.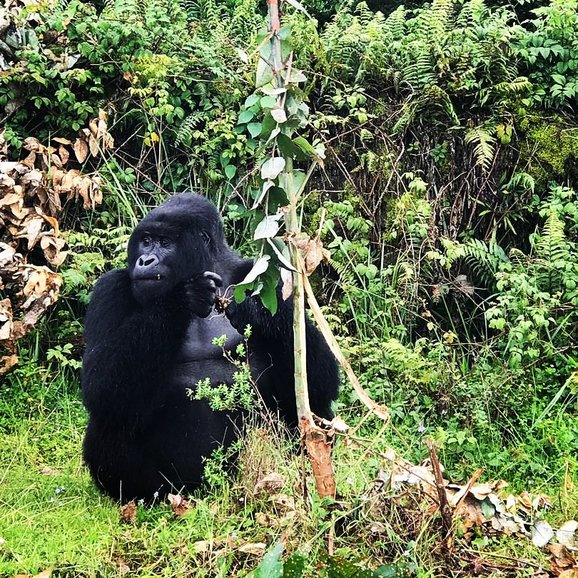 Gorilla trekking in Uganda
WHERE TO SEE GORILLAS IN UGANDA
---
Uganda is a larger country to explore than Rwanda, and it takes one day of driving to reach the Bwindi Impenetrable Forest from Entebbe. You can break this road trip with an overnight stay halfway at Lake Mburo National Park for a wildlife viewing tour.
Bwindi Impenetrable Forest National Park is best known for its Mountain Gorilla populations and gorilla trekking although, it also offers some of the finest montane forest birding in Africa and is a key destination for any birder doing a Safari to Uganda. Bwindi is one of the few in Africa to have flourished throughout the last Ice Age and it is home to roughly half of the world's mountain gorillas.
Bwindi Impenetrable Forest National Park is best known for its outstanding gorilla trekking safari, but it also provides refuge to elephant, chimpanzee, monkeys and various small antelope and bird species. There are four habituated Gorilla groups in Bwindi. The groups are called the Mubare, Habinyanja, Rushegura and Nkuringo and range in size from 10 to 20 individuals, each with one or two Silverbacks.
GORILLA TREKKING IN RWANDA
---
Gorilla trekking in Rwanda is often described as "life changing". It's pretty costly though! Gorillas make their homes in and amongst the bamboo-covered slopes of the Virunga Mountains in the Volcanoes National Park in northern Rwanda. You'll be introduced by expert trackers and guides to one of the fully-habituated families of mountain gorillas and you can stay with them for an hour as they go about their daily lives.
Hikes in the mountains can last anywhere from 30 minutes to 4 hours + depending on the family allocated to your group and their location. The journey back can take just as long, but you are often carried along by the euphoria you feel at seeing the gorillas! There are ten Gorilla families living in the Volcanoes National Park that are fully habituated and available for visits by the public (whilst others are habituated for scientific research purposes only) . Each family consists of at least one Silverback (but sometimes as many and four), along with several females and a group of youngsters.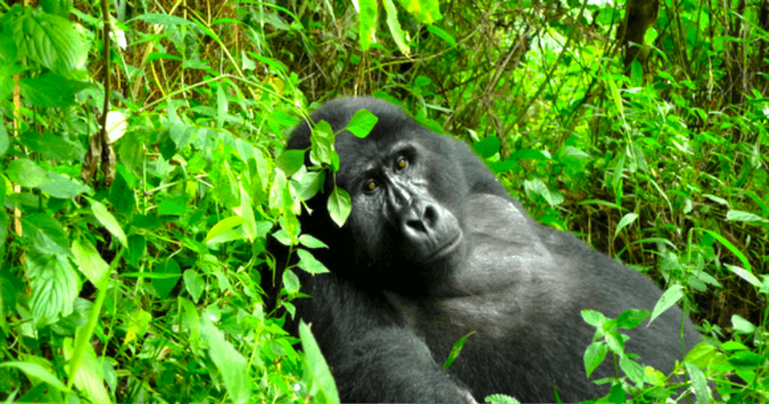 Gorilla in Bwindi
WHAT TO EXPECT
---
Gorilla trekking is an active expedition with moderate to strenuous hikes. Participants must be at least 15 years old, and should be physically fit. While tracking primates, guests will trek through thick jungle at elevations ranging up to 10,000 feet, for as many as four to eight hours, depending on the location of the primates. Treks can be arduous; and the terrain can be steep, uneven, wet, and muddy. This trip is not suitable for those who suffer from a cardiac, respiratory, or circulatory disorder or a disability that limits mobility.
COST OF GORILLA TREKKING SAFARI IN UGANDA AND RWANDA
---
A Gorilla trekking permit in Uganda is cheaper compared to Rwanda. You need $600 for a Gorilla trekking permit in Uganda.
Rwanda recently announced an increase from $750 to $1500 per person for all visitors. Rwanda also offers "Exclusive Visits" which cost $15,000, for personalized mountain gorilla visits for a targeted Gorilla family and $30000 for a minimum of 3 visitors for 3 consecutive days (Behind the scenes).
WHAT TO PACK FOR GORILLA TREKKING
---
Boots - A good quality pair of hiking boots will serve you well. A cheap pair of sneakers can't work.
Gloves - During the trek you might be grabbing trees, branches and vines, and your hands can get a bit scratched and generally beaten up if you're not careful. Gloves a must-carry item.
Light rain jacket - Bwindi and Virunga are both tropical rainforests, and there's a good chance of rain almost the year-round. Pack a light-weight rain jacket that you can roll up in your bag and bring out if necessary.
Energy snacks - The trek to the mountain gorillas isn't impossible, but it is tough. Energy snacks like nuts, dried fruit, chocolate or power bars are a great idea. Just remember to take any rubbish with you as you go.
Long pants and shirts – It's best not to expose too much skin during the jungle trek. Long pants, shirts and your rain jacket will cover you up.