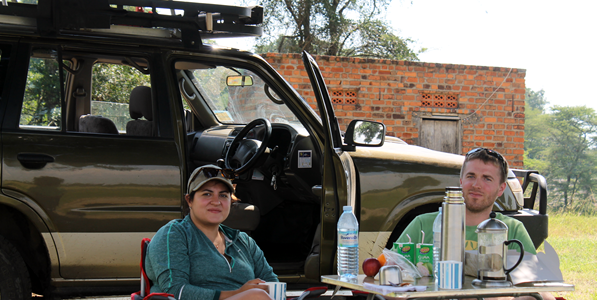 Self-drive picnic in Uganda
Self drive Uganda is one of the most recommendable travel options while on a tour through the beautiful Uganda, nicknamed, the Pearl of Africa. Self drive kicks off with hiring a car with a reputable Car Rental Uganda Agency that offers you a car in good condition and many other services like quality camping gear, insightful driver guides, excellent customer care, to mention but a few. Self Drive Uganda can be very refreshing and exciting but it is quite necessary to prepare and take caution for unexpected occurrences such as accidents and car break downs. Cars, the primary means of a self drive, are machines which are prone to failure and breaking down as we cannot predict what is bound to happen in the future. However, it is rather wise and important to take precautionary and preventive measures prior travel and on board for a safe and enjoyable safari. Shared below are some hints on how to maintain your rental car while on a self-drive Uganda.
Check it before you rent it
---
Before you rent a car with a car rental Uganda agency, it is vital to check the vehicle's condition with a representative from the agency in order for you to ascertain if the vehicle has an initial fault prior the intended travel. Some establishments can be ignorant of the state in which their rental cars were before your set off and on return there is a likely misunderstanding as the two parties can't figure out who is responsible for the faults. In the same spirit, make it a point to test drive the car you intend to use on your travel through the magnificent Pearl of Africa simply to avoid the earlier mentioned unfortunate event of a misunderstanding.
Check when last serviced
---
Unless you are a certified mechanic, it is highly unlikely that you'll be able to notice every fault with the car. For you to ensure that the car is in tiptop shape, spare a few minutes at a garage and let a mechanic confirm if it is in condition to travel the distance you intend it to avoid any mishaps once you've already set out to adventure and unmask the treasures buried in these beautiful lands of Uganda.
Check fluid levels
---
Aboard self drive Uganda, consider it important to check the levels of: brake fluid, engine oil, power steering fluid and transmission fluid frequently to avoid heating up of the car that might result into rather risky car conditions hence putting not only your exciting tour on a halt but also your precious life at stake.
Check tire pressure
---
Tyre's are the vehicle's contact patch with the ground while on a self drive Uganda hence must be maintained in good condition with proper inflation for the safe operation of your vehicle as you travel around the beautiful terrains of the Pearl of Africa. Simple visual inspection on a regular is ideal to avoid any inconveniences midway your exciting trip in one of the perfectly nature molded soils of Uganda.
Check and flash the air cleaner
---
It is absolutely important to ensure that the air cleaner is kept dust and foreign body free since it guarantees a fresh out pour of air through your car while on self drive Uganda. This definitely tantamount s to extra comfort as you enjoy a magical travel experience thought the beautiful lands of Uganda, a home to many of the endangered unique wildlife species like the mountain gorilla.
Keep check of the fuel tank
---
While on a self drive Uganda, it is paramount to ensure that your car fuel tank has a reasonable amount of fuel to avoid inconveniences in the game parks or even in the rather deep end of the magical tropics where it might turn out a hard nut to crack to find a fuel station nearby. You don't want to have fuel worries mess up your would be breathtaking tour in the Pearl of Africa.
All the above quite well thought about and tried out tips will sure guarantee you a peaceful travel with no worries of potential car breakdown hence allowing you a heavenly and extremely rewarding trip on a self drive Uganda safari as you enjoy the warm tropical weather backed up by fresh breezes from the biggest fresh water basin in Africa, Lake Victoria.
Enjoy the comfort of a breathtaking and adventurous self-drive travel through the Pearl of Africa with the knowledge of well thought out car maintenance tips given by our expert travel consultants.