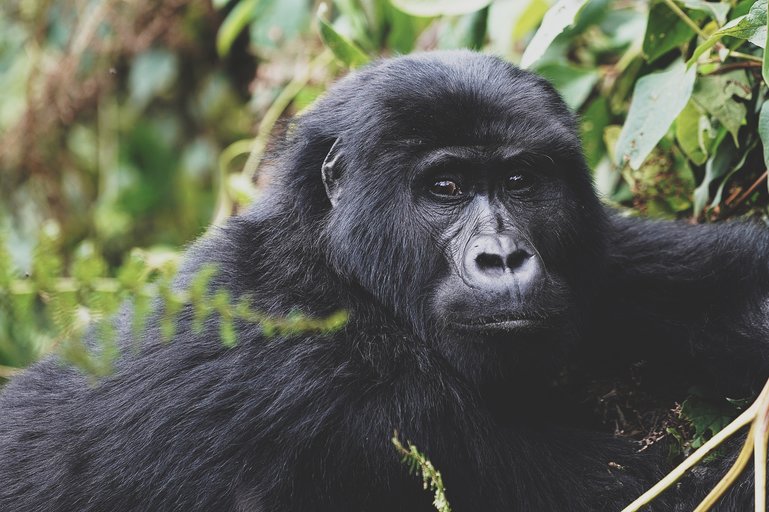 Gorilla
Mountain gorillas in Rwanda are found in Volcanoes National Park which has 10 gorilla families habituated for trekking while Uganda has two gorilla parks which are Bwindi Impenetrable Forest National Park (a UNESCO world heritage site) with 19 families to track and Mgahinga Gorilla National Park with 1 gorilla group.
Mgahinga and volcanoes national park are both located in the same area - Virunga conservation area and thus have a lot of similarities in terms of tropical and bamboo vegetation and terrain made up of towering dormant volcanoes ranging at 2200 to 4400 m. On the other hand, Bwindi impenetrable forest national park is a montane tropical forest between 1160 m to 2650 meters above sea level.
Having in mind the image of vegetation and terrain expected during your trek, it's easier to decide either the dry season or wet season that's best for you to visit gorillas. The dry / peak season occurs between December to February and June to September (longer) and the wet /low season in April to May and then October to November. Because this will be important to guide you on which month exactly you should book and pay for your gorilla trekking permit.
Also, you should prioritize the activities to begin with on your itinerary. As Safaris Expert advisers, we always recommend you to make gorilla trekking number one choice on your safari. The reason is to avoid worrying that you may catch flu or cough in the course of the trip which can compromise your gorilla trekking. In fact, if you ever get some serious flu infection, you cannot be allowed to visit gorillas as per the gorilla trekking rules and regulations.
Dry Season
---
So, regardless of the season, you're always guaranteed, of course after confirming your gorilla permit, to see gorillas. The chances are 95% leaving the 5% for other conditions like your hiking ability.
The dry season is the most preferred for gorilla trekking because of less or little rainfalls. This means that there's hot sunshine and the forest trails are fairly dry thus hiking on foot when searching for gorillas you may not encounter a lot of nagging muddy conditions. However, the gorilla treks can still be challenging depending on how long it shall take you to walk from the gorilla park visitor center let's say Kinigi in volcanoes national park to locate the gorillas.
because the dry season coincides with the winter months in Europe and North America, the number of visitors received for gorilla trekking is high. And so is the demand for gorilla permits during this time, our visitors are advised to purchase gorilla permits and make bookings for their gorilla safaris at least 3-6 months in advance. Why book in advance? You will always have first choice of accommodation and gorilla sector to visit as in the matter of Bwindi which has four gorilla visitor center namely; Buhoma, Rushaga, Rushaga and Nkuringo.
Wet Season
---
On the other hand, the rainy / low season means that Bwindi or volcanoes national park receive high amounts of rainfall especially in April to May and then shorter rains in October to November. You will also have equal chance of seeing gorillas just like in the dry season and so that's not something to worry. What you should mind about is to pack gaiters, waterproof pant and bag to protect your camera, rain jacket and gardening gloves to protect your body from lots of mud in valleys, stinging plants and ultimately don't wet your camera.