Indeed, a very long time has passed since a travel blog was added to my list.
Well, the reason behind the lag is obvious. Yes, you guessed it right... The Grand Arrival of Novel Coronavirus from Wuhan which brought a total halt in our physical movement outside our abode but not our cherished memories.
Friends, have you ever thought that humans possess the power to travel back and delve into the echoes of their adorable times?
In spite of my current location in The Philippines which has the best beaches and bays in the world, I am not being able to share my experiences on new destinations due to travel restrictions.
This post will dive deep into my best collection of my home city, Kolkata (formerly called Calcutta) where I have lived most of the best days of my life- my childhood and adolescence. It was my pending desire to bring forth the liveliness, religious sentiments and 'joyous' element of Kolkata to the world through my write-up some day. Though this post will comprise less pictures, it will be overwhelmed by the deep-rooted emotions with the city.
Today is the day and it feels so overwhelming to pen down the heritage city through my lens and pen.
Digging Less Into History
---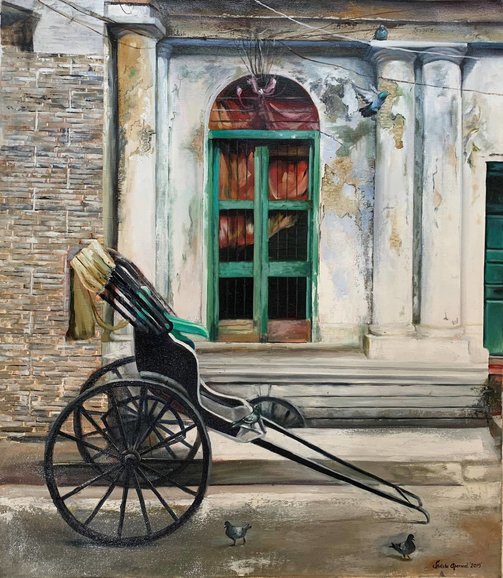 Hand-pulled rickshaw in the streets of old Kolkata
Dominated by the British Empire and the East India Company before Independence, the city has footprints in the form of old architectural buildings and culture. The street names had English inclination (most of them has been renamed now). Kolkata was the capital of India until 1911 when the power got transferred to Delhi (the current capital). Also renowned for its leftist Naxalite and trade-union movement, it was also called the 'Cultural Capital' of India. One article will not suffice the content of this history-studded city.
As mentioned in the subject (digging less into the past), we will not dive into the inner framework as these are already much spoken on digital encyclopedia like Wikipedia, britannica etc.This post is solely dedicated to my 26-year old inventory of memories of the city.
Zones of The City Through My Eyes
---
Since childhood, I am well acquainted with the fact that Kolkata is popularly divided into four zones namely Central Kolkata, North Kolkata, South Kolkata and East Kolkata. To be honest, if anyone asks me about another most obvious zone, West Kolkata, I do not have an answer. Sounds funny though!
Each and every zone is characterized by its own attributes. Lets have a look.
Taking the inhabitants into consideration, Central and North are somehow similar while the South and East resemble each other. The dominating community in the city is the Bengali community (or the Bongs).
North And Central
The first and foremost trait which comes to my mind is that the residents are orthodox and traditional.Their outlook is a close match with their cuisine which is more traditional as compared to the rest of the Kolkatans. This part of the city beholds most of the legendary structures like Sovabazar Rajbari, Star Theatre, Victoria Memorial and The Indian Museum.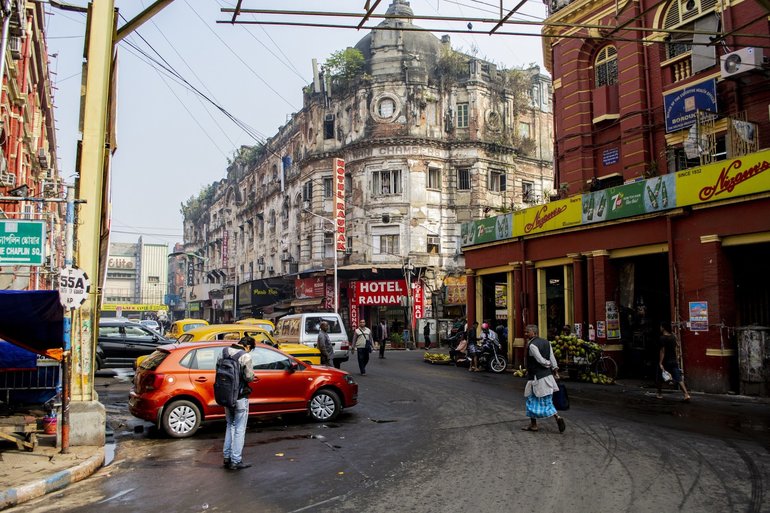 Street in North and Central Kolkata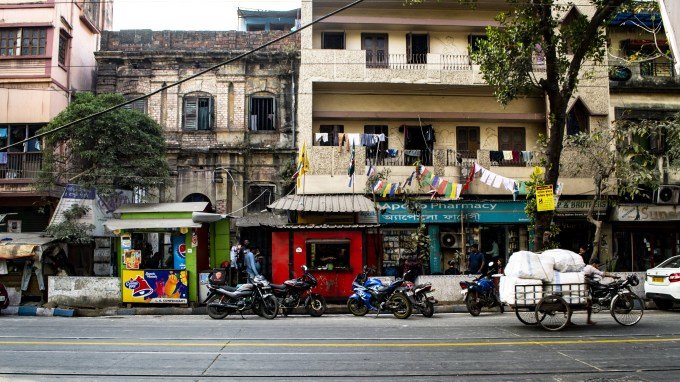 The usual norm being a single family having more family members occupying the whole house. My birthplace being the northern part of the city, I have tasted the actual form of dogmatism to its core. This part of Kolkata is always under the pressure of an extra dose of societal myths and beliefs. Parents are always very possessive and extra-cautious of the whereabouts of their children irrespective of their ages. For instance, a mother of a 26 year old will be equally worried like that of a 6 year old if her son/daughter does not reach home on time. This is an inexplicable fact which has a firm hold of nearly all parents.
*Now, another interesting and integral part of the community is '*adda'.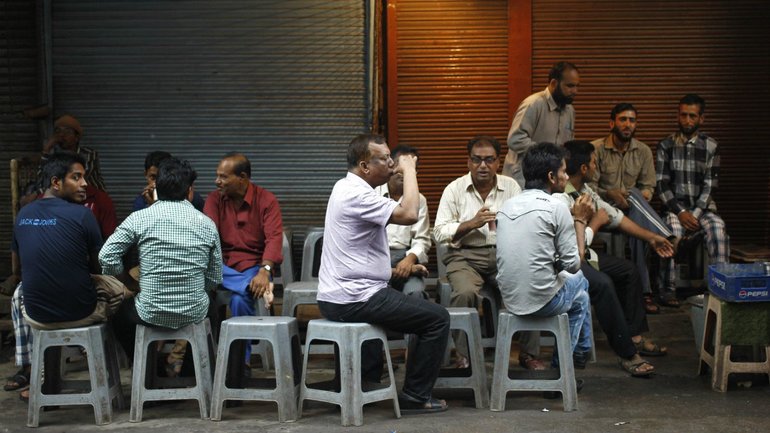 'Adda' among friends on the streets of Kolkata at tea-stalls
We all have heard of various forms of casual conversation like chitchat, table talk, gossip which has a totally different name in Kolkata called 'adda'.This encompasses a group of friends or relatives chatting and gossiping endlessly on any random or trending topics (especially politics) over cups of hot beverage mostly tea and snacks. It is such an addiction for every individual of the bengali community that it takes place at anytime and anywhere. Families have their meals over small or prolonged 'adda' sessions in their homes, friends can start adda in roadside tea stalls, etc. This explains the craziness of the word in this joyous city and the essence of the Bengali community.
Another notable feature is that an individual has two different names, one is 'good name' and the other is 'nickname'. 'Good name' (Valo name in Bengali language) is the official name used in all formal paperwork and documents, in signatures, in schools and offices etc. Nickname (Daak name in Bengali language) is a name given by family and relatives out of love because they feel that it will sound formal if their dear ones are addressed by 'good' names. So, all Kolkatans feel proud to be doubly tagged. Typical nicknames are Bablu, Poltu, Raja, Babai, Babu, Mana,Shonai,to name a few. Almost all household will have one Bablu (name of a male) or Shonai (name of a female) or both.
The street side 'addas' are everyday affairs in the North and Central parts but are rare when it comes to South and East. Although the predominant community is Bengali, there exists a mixed bag of other communities too.
South And East
This part belongs to the modern and liberal genes. There are exceptions, of course, not all carry a contemporary mindset. Mostly settled as nuclear families in condominiums/flats, 'adda' is found less often, at least not in ample quantities like the North Kolkata residents. High-rise buildings form the facet of the modern segment of Kolkata (shown below).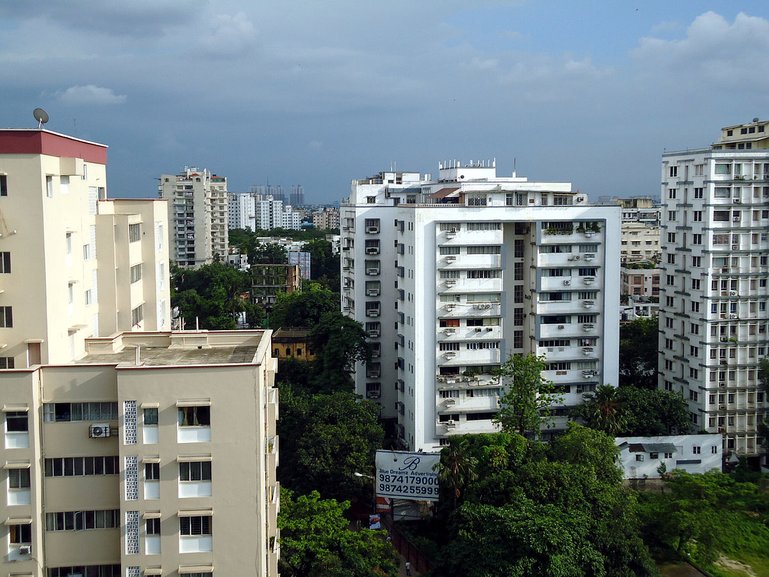 Ballygunge- A place in South Kolkata
The roadside tea stalls which are the breeding spots of the 'adda sessions are sparingly found in this part of the big city. Shopping takes place in large shopping malls housing big brands.
From Tea to 'cha' With Love
---
For Bengalis, tea is an emotion and they like it fresh, whether it is mixed with milk and sugar or not. A day of a Bengali starts with a cup of simmering tea with a biscuit and a newspaper. A typical Bong and a cup of tea is inseparable. One cannot imagine a morning without the presence of the other. Tea is renamed as 'Cha' to denote the strength of the bond shared between them.
By now, you have developed a rough idea on the variations in culture, outlook and lifestyle in Kolkata. Now lets jump straight into the 'soulful' element of my hometown.
A Soulful Touch
---
Eminent among the Indians as the 'City of Joy', it has earned this title on account of its rich culture, warmth, love, respect and tradition. Just like its residents possess a good name and nickname, the good name of the city is Kolkata while it its nickname being 'city of joy'. The city has given immense love to its own people and visitors. It represents the Bong love of culture, intellectualism, politicism and the transparency of emotions.
This is totally an unbiased view of mine and not because of the fact that it is my hometown.
One notable reality which has caught my attention all the time is that guests are treated like God in almost every household, a belief coined as 'Atithi Devo Bhava'. It signifies the respect that ties the bond between them. Serving guests with a smile and lot of love is what makes them feel at home. This holds true for all families irrespective of their status and wellbeing.
A city where the underprivileged class gets a generous quantity of food with a minimum of Rs.20 to 25 INR. A family with a not-so-good income will be able to feed themselves and not go hungry. A wide spectrum of eateries ranging from the luxurious ones, the mediocre and cheaper options are available throughout the city. The city is meant for both the filthy rich and extreme poor.
Kolkata is more about the sentiments rather than the hardware (brick and mortar buildings). A popular saying,
'You may take a resident of Kolkata out of Kolkata, but you cannot take Kolkata out of that individual'.
So true.
I have spent seven years in Mumbai on account of professional reasons but my intense love for 'cha', 'adda', love for guests are very much present in me, deep down in my blood. No exaggeration.