So travelling or getting to any of these towns are logistically hard and tricky and come with there own question when booking a means to get to hem. Firstly they are both in troubled regions of each country where the people of the towns have experienced their own issues over time and are still are to an extent. Which seem to be improving for a time and then they go back to the issues. Which has a lot of reasons why they do so, In Jurado, it is the closest town to the Panama border respectively Jaque is the closest town in Panama to the border on the pacific coast. Both towns are tiny with a mix of indigenous communities from Embera to wounaan also a lot of afro Colombians with the roots of the communities originating from slaves which had escaped and set up their communities away from the reaches of the rich people of the time which could have and began the lives on the west coast of Africa. The heritage on both sides of the border is different but share many cultural similarities.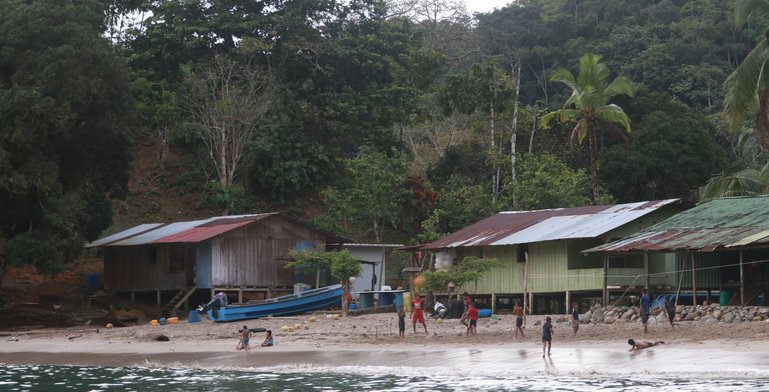 So the logistical nightmare of travelling north from Colombia to Panama is a tricky one, there is one boat and one captain to my knowledge that the migracion Colombia trust and advise to use. His name is Freiser Santos. The authorities deem him the best person especially for foreigners as he is known to the authorities. Once I was introduced to him I realised I had met him the previous night in the bar there are a few bars in Jurado but the central one in the centre of town near the pool hall was his favoured spot. Where I had met him where he seemed pleasant and wanted to help where ever he could by also asking local people if they would guide me, he did not mention he was a captain and travelled back and forward to Panama once a week. So having now been strong armed in getting the boat for the safety of the region and myself in their professional opinion. I had secured transit on a boat that was primarily used for transporting goods.
On the boat and on the way to Panama was an early start 6 am I was up and there, for 5:45 a few more boats where preparing going to other parts of Colombia coast further down south and potentially to other countries on the coast. Myself and a lot of luggage and supplies for people in Jaque. I was 1 of 5 people on board so it was a comfortable journey other than the rickety old boat more time in their air than on the surface of the ocean also we set off in the pitch black and where sailing in the dark for at least half an hour which makes you feel uncomfortable. But we, mainly me began to settle down when the captain navigated through a mangrove forest in the dark until the ocean which lit up a bit more due to the sun rising overland to the right of our boat. We also stopped off at Punta Ardita and dropped some items off and picked more stuff up. The journey was bumpy and lasted around 3 4 hours on the sea which I did enjoy.
So as I arrive in Jaque the atmosphere changes it is a bit more serious due to my way of transport is coming from Colombia it is not a common means of transport.
A foreigner amongst the locals I was escorted to a small room with them asking me several questions about my reasoning of travelling from Colombia on a boat and why not fly. Questions even asked about my family from parents mothers fathers name and surnames as well as do I have any siblings and if so what were their names. I had to write all the answers down also for them to check their computer system my luggage was searched I had to say what was in my bag which was a machete, straight away they asked why I had a machete I explained when I was in Colombia I was spending time in the jungles for work purposes they asked what was the work I explained again it was photography and that is why I had all the photographic equipment with me. So after I had seemingly satisfied the SENAFRONT (border guards) I was taken to another room and machete was confiscated but I had to get a visa stamp an entry to Panama so now I was officially in Panama in the small border town of Jaque.
Jaque this is my second time in Jaque and a space of 4 years in between it has not changed one bit the same people still there the same empty beach although this time there seem to be a few more children taking advantage of the paradise, that is empty beaches. The culture of Jaque is very diverse I see it as two areas with an imaginary line of separation over a small bridge, in the southern part of the town. Where the airport is located but also the majority of the Embera community and the other side seem to be the rest of the community. So I spent the first day which was Thursday looking for a flight out on Saturday as there are only flights 2 days of the week Mondays and Saturdays. With Jaque, there is one person or family that manage the flights in and out so all red tape, visa and immigration have been done. So I tried to dig deep in my knowledge of my past stay here and where their house was. I found a hotel first in which I only stayed for one night before and then I spent the rest of my stay with a local named Beatriz.
So when I found the hotel after a whole lot of walking and getting lost but I asked for 2 nights to begin as I intend to leave on Saturday. I found Melva the one who runs the flights in and out of the town..... all flights were full until next week so four days from when I arrived this was a panicking moment as I had in Colombia withdrew $300 with the expectation of arriving and leaving but paying for transport from Colombia to Panama not as cheap as I had hoped which was agreed originally, with immigration and Freiser. To be a lot cheaper than what Freiser then charged I was in a situation already so I fronted the funds which then took me to a little over 200. Then it was a hotel fee which was $10 a night not bad but 4 or 5 nights and then $100 for the flight out of Jaque which is paid to Melva in Jaque, not the airline. And food and a bag what I needed to buy for electronics on the small aircraft A serious panic. So all these being weighed up I just about had enough.
Jaque is a town with a story it is a travel point for small sea crafts which a lot are involved in the illegal shipment of drugs. True Panamanian style, they enjoyed a party. There was music playing throughout the day which intense as the night goes on no matter what day it is they enjoy a party. Expecting to now stay for longer than expected I wanted to try and find a way out in the past I had stayed in La Palma the capital of the Darien district of Panama I returned to the SENAFRONT office to ask about this they had explained there is a boat leaving the following day so on a Friday morning I quickly accepted it they gave me the details and name of the captain of the boat. With a new plan, I went back to the hotel owner Melva and her sister explained I will be leaving tomorrow on a boat to La Palma. They responded with the boat the aeroplane now has a place for me I agreed on that now and Saturday there was a flight booked for me from Jaque to Panama city. I headed back explained to the SENAFRONT that I have now been booked onto the aeroplane they laughed and continued with there conversation they were having before my interruption.
So a day and a half left now it was already pretty late in the afternoon so a walk around town where I could get food, the best place in town was where all the soldiers would go, a small house with an outside area and the lady cooked from within her house and served it to the customers. The food was home-cooked Panamanian specials with a distinct afro-Colombia twist as they did in Colombia's Choco region.
The people of Colombia's Choco and Panamas Darien have a similar story, with a majority of the communities have been here for generations of escaped slaves so their folklore, traditions and their culture were very similar. The next day was an early start as the heat picks up and the sun begins early I had got to fill this day with something and check my luggage for the following day. But as I was looking around I was approached by the SENAFRONT asking what I was doing I had my camera and my drone bag attached to me before I could answer they asked if I liked taking pictures and explained they were going to travel to a small village called Cocalito it was an indigenous village which was totally isolated and rarely seen anyone apart from medical supplies being dropped off by SENAFRONT on there patrols whenever they had to go in that direction. I of course bit the hand of as soon as it was offered and the next day and I was given the time which was 1500 on Friday. I was looking forward to this as I feel that they are trying to increase tourism in the region but they also have to maintain full control of the area without helping tourists as that is what I was to them.
So the journey to Cocalito was arranged I got to where I had to and at the right time. I was greeted by a full battalion of soldiers armed to there teeth with machine guns and mounted guns on the boat. I was fully restricted from taking any images of the soldiers and their equipment as it must have been a security risk. But I was shocked the soldier who had invited me was not with them. So I was confused were they going to let me join in on the patrol. I asked are you travelling to Cocalito they all said yes and gave me kevlar to put on although, they had to take the magazines out of the pouches of the vest I laughed to myself sat down waiting for them to arrange the boat and then another lady approached as American as you can get lived in the rural parts of her home state in a trailer park. She was with the turtle conservation project a very new project for the regions conservation effort. I asked what is she doing around here she laughed and asked me the same, it turned out she was learning Spanish so she committed to a 3-month immersion project by asking to volunteer in Jaque as they will only speak Spanish and that is, of course, the best and most efficient way to learn a new language.
I was greeted by the turtle project leader who I had met the first time around some years ago. He stated he vaguely remembered me and asked if I had volunteered in the past I explained no I am a friend of Beatriz it registered then and he greeted me much more emphatically.
The boat trip was an experience it was very much a military operation where they had felt comfortable enough in the current situation in Panamas Darien it was a possibility which is a huge step in the right direction for all of Panama which is what I like to see but to keep the region as wild as possible is also a priority of the government. I enjoyed this part of the journey a lot as it was typical if a day in the footsteps of the SENAFRONT whose only priority is to protect the border region of Panama which they are doing as best as they can with the resources they have.