Two of the most famous safari lodges, The Ark and Treetops, are near each other in the Aberdare Forest. Animal spotting in the dense forests on the slopes of 17,000 ft. Mt Kenya is very different than on the savanna, where you can see for miles. In the forest, trees are always in the way except at these two unique hotels built beside water holes. Nevertheless, it is worth a visit as the forest dwellers cannot be seen on the savanna.
Black and white Colobus monkeys swinging overhead are most likely forest animals to be seen outside the water holes. Watching these was a treat. Do not to stand directly underneath monkeys-- no bladder control. Our guides told us that, in the Aberdares, we might see the Bongo, the most beautiful of the antelopes, and one of the least likely of all African wildlife to be seen by the visitor. Seeing a Bongo is so rare that the guides invariably called them "the elusive Bongo." We came to believe "Elusive" was the Bongo's first name. Finally, we did see the elusive Bongo, three or four of them, at the National Zoo in Washington, D.C.
At night, the water holes are illuminated by spot light. Both The Arc and Treetops had a buzzer system in the rooms that worked like this. A staff member sat up all night, watching the water hole. Before going to our room for the night after tembos in the lounge, we signed up for the night time animal watch for the "Big 7" animals, including leopard, lion, elephant, Bongo. Each animal was assigned a certain number of buzzes. Let's say leopards were three buzzes. If a leopard showed up, the game watcher would buzz the rooms of all the guests signed up for leopards three times, waking us up and telling us there was a leopard at the water hole. If nothing more, you should sign up for leopards and the elusive Bongo. You won't see many leopards on safari, and you will never see the Bongo except here. Take advantage.
After our night at the Ark, we traveled though the forest to the Mt Kenya Safari Club, higher up on the slopes of Mt Kenya. The Mt Kenya Safari Club was the most luxurious place we stayed, but it is not too good for game watching, being mainly devoted to creature comforts and golf. Still, there were pheasants, Crowned Cranes, and other birds roaming the grounds, quite unafraid of people. Any good safari should include either The Ark or Treetops, but they are Tweedledee and Tweedledum. Visiting both isn't necessary. As for the Mt Kenya Safari Club, the only reason to stop here is if 1] it's included in your tour package and you are stuck with it, or 2] you want a day of rest and pampered relaxation instead of game viewing, or 3] you want to play golf on the Equator in an African forest.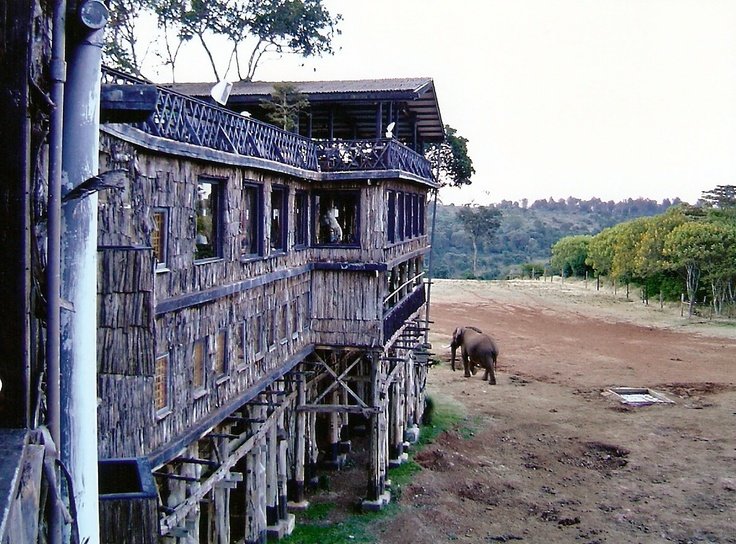 Treetops Lodge