In Nairobi for a few hours and don't know what to do? and where to visit. Below is a list of attractions in Nairobi with a mix of cultural experiences, wildlife, and historical insights. You can explore these places by yourself or have a tour operator arrange it for you.
1. Nairobi City which happens to be busy and bustling with various activities happens to be the capital city of Kenya. Kenya is one of the very many countries found in Africa particularly the eastern part of Africa. Other East African countries include Tanzania, Uganda, Rwanda, and Burundi. Nairobi as a capital city plays host to a variety of diplomatic activities as well as tourist activities some of which are as below, 9 recommended sites to visit while in Nairobi;
2. Nairobi National Park: This park boasts as being the only park to be found in the city across the world, indeed it's one of its own kind. Just near it is the Nairobi safari walk where you are able to learn about Kenya's diverse wildlife and ecosystem in a controlled environment. A visit to the Nairobi National Park is thereafter accompanied by a visit to the Nairobi Safari Walk. A game drive at the park can typically fall under the two timeframes allocated 7 am or 2 pm.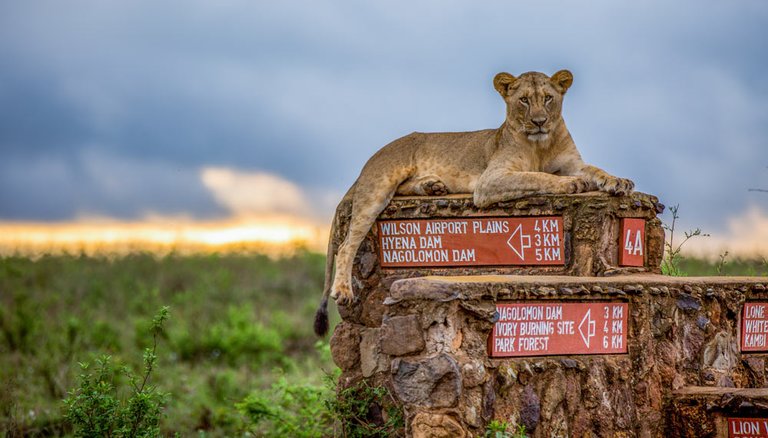 Lion sitting at Nairobi National Park
3. David Sheldrick Wildlife Trust: This is commonly referred to as the elephant orphanage, It is one of the most exciting experiences where you get to see and learn about the nurturing of the baby elephants which are later released into the wild. To schedule a visit you need to book online and the visit starts at 11 am and lasts for an hour only.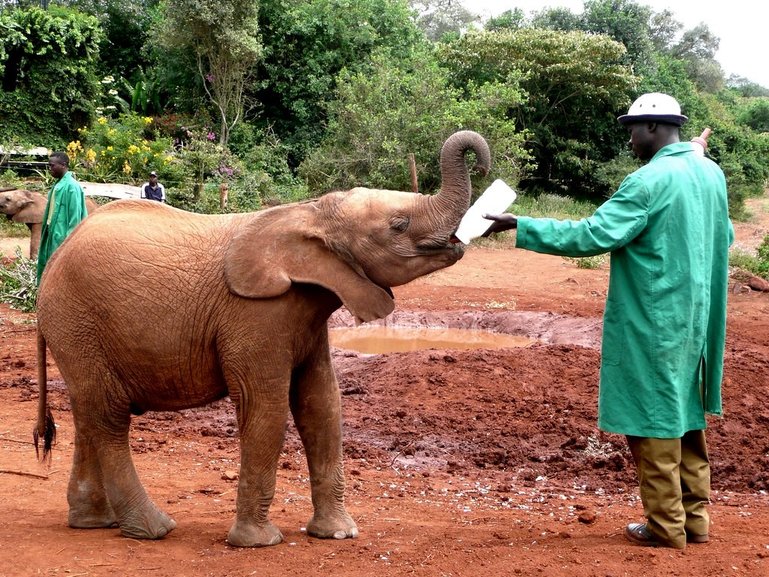 Baby Elephant at the elephant orphanage
4. Karen Blixen Museum: This museum is where the former Danish author Karen Blixen(Isak Dinesen) resided. It is one of the few places in Nairobi where you get a glimpse into the Kenyan colonial era as well as Blixen's life as captured in her book "Out of Africa" which was later produced into a movie.
5. Giraffe Centre: The Giraffe Center is probably one of the most iconic places to visit in Nairobi, The feeding of the giraffes from the palm of one's hand as well as having the towering giraffes so close and within your reach makes for wonderful photographic moments. There are two viewing options; You can view the giraffes from the ground level where the giraffes bend down to meet you the other is on the raised tree house level where you can look them right in the eye.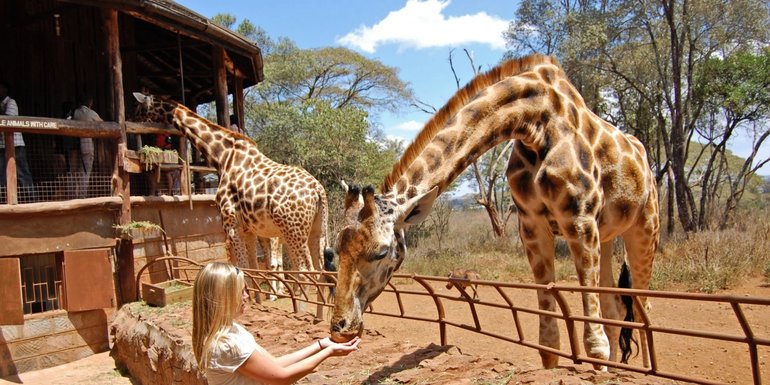 A girl feeding a giraffe from her palm at the giraffe centre
6. Nairobi National Museum: Just found within nearby the city centre is the Nairobi National Museum which features exhibits of archaeology, paleontology, art, and much more. It is a great place to see Kenya's natural heritage and rich culture.
7. Bomas of Kenya: This is one of the few places in Nairobi where you can get a showcase of dance performances, traditional music, and art representation of the various ethnic groups in Kenya. You will be able to learn about the country's diverse culture.
8. Kazuri Beads: A visit to the Kazuri Beads workshop gives one an opportunity to purchase handcrafted jewelry made by local women. The workshop is a social initiative that has been able to provide employment to the local women and hence help them generate a livelihood from the sale of their beaded products.
9. Maasai Market: Get an experience where you purchase traditional jewelry, fabrics, and crafts in an open-air market setup. This Masai market opens in the town center every Sunday.