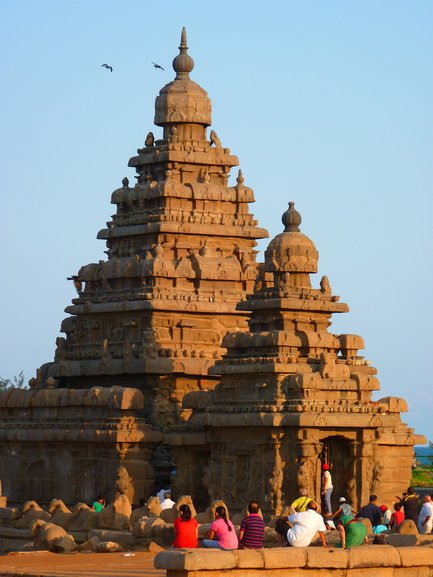 Mahabalipuram
Kanchipuram
---
Kanchipuram the city of Thousand Temples. Visit Kailasanathar 8th century temple dedicated to Lord Shiva, noted for its architecture and sculptures. There are 58 small shrines situated around the main shrine compound wall. Ekambareswarar temple another ancient temple dedicated to Siva. The 2500-year-old mango tree inside the temple has 4 branches each yields different varieties of mangoes. Varadharaja temple dedicated to Lord Vishnu, noted for its wonderful sculptures. Vaikundhaperumal temple dedicated to lord Vishnu, it is also one of the 108 Divyadesams. Kamakshiamman temple dedicated to Goddess Kamakshi the presiding deity, one of the holy Sakthi worship places in India.
Mahabalipuram Temples
---
In Mahabalipuram visit Monolithic Temples locally known as Rathas. They were executed by chiseling out the exterior face of the boulder. Shore Temple built with blocks of granitein in 7th century the temple complex consisting of two Siva temples and a carving of Anantasayana Vishnu. It is one of the oldest structural stone temples of South India and a UNESCO World Heritage Site since 1984. Cave Temples cut and decorated with panels in the Mamalla style of the Pallava period in the 7th century. Remnants seen in the caves also indicate that they were plastered and painted when built. Krishna's Butterball a gigantic granite boulder resting on a short incline.