Kyiv is the capital of Ukraine with population of over 3,7 million people. The city was founded as a fortress in the 5th century AD. In Middle Ages, it was a capital of great state Kyivan Rus which occupied almost all Eastern Europe. Now we say that Kiyv is an ancient city and a very new one. You can see many newly constructed buildings, active modern life. Here are top 10 places to see in Kyiv.
1. Maidan and Khreshcatyk Street
---
First of all, tourists go to see the main square Maidan (Independence Square) and the main street Khreshatyk. This is downtown that keeps the city's lively spirit of freedom and youth. There are numerous shops, restaurants, live music, and street musicians. Maidan is known for three revolutions that took place here in 1990, 2004, and 2014. Memorial sites are reminiscent of people who were killed during the Revolution of Dignity (EuroMaidan) in 2014. There are many places to observe nice panoramic views and take a picture of the square.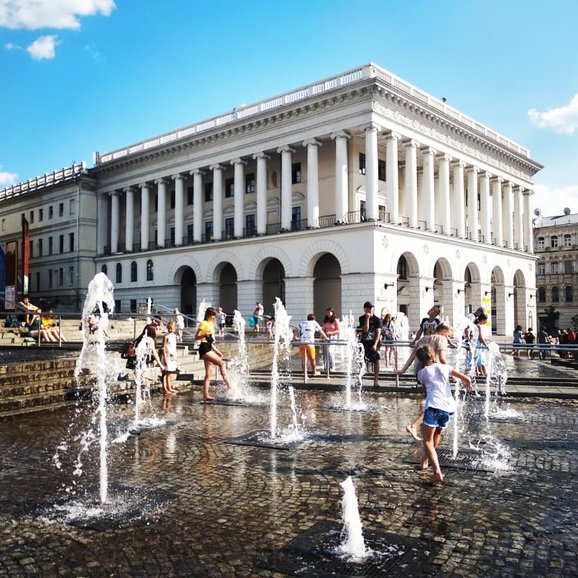 Maidan (Independence Square), Kyiv
2. St. Sophia Cathedral
---
This is 1000-year-old cathedral included in the UNESCO World Heritage List. It keeps a unique collection of 11th-century mosaics and frescoes. The cathedral represents a magical world of Medieval architecture, history, and art. Since 1934 the cathedral works as a museum. Its working hours: 10.00 am – 6.00 pm.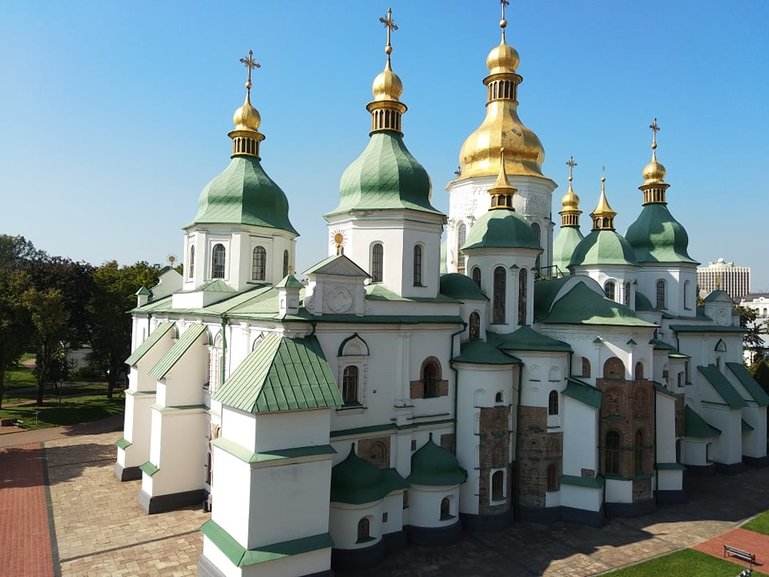 St. Sopia Cathedral, Kyiv
3. St. Michael Monastery
---
This monastery was founded in the 12th century but now we can see its replica. It was ruined by the Soviet atheist regime in 1935 and rebuild again in 2000. On the right side to the entrance you can see a long wall with the pictures of Ukrainian soldiers who died in the hybrid Russian-Ukrainian war which is still going on. The monastery is active. It is open for visitor from 7.00 am till 8.00 pm.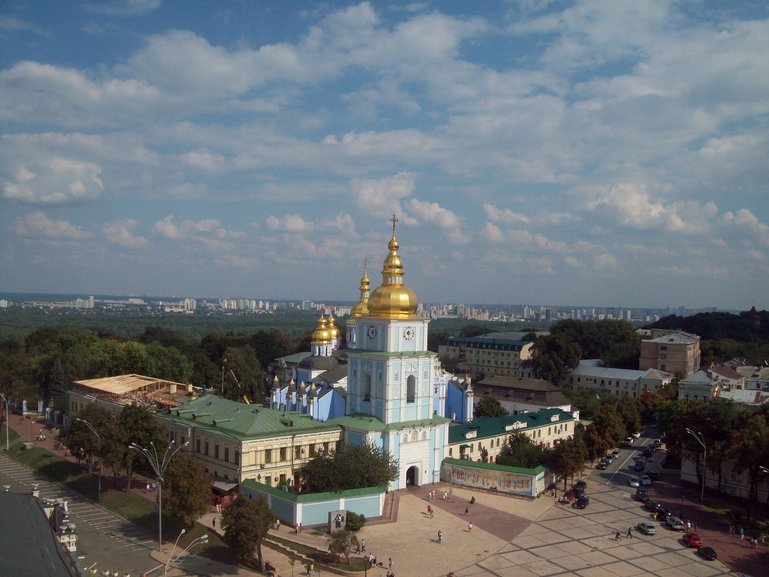 St. Michael Monastery, Kyiv
4. St. Andrew's church
---
The Italian Baroque style church stands on a top hill over the Dnipro River. This beautiful church was built in the 18th century by Italian architect Bartholomew Rastrelli who was the court architect of St. Petersburg. Russian Empress Elizabeth was secretly married to Ukrainian peasant Olexiy Razumovskiy. The Empress ordered to build this church but she never saw it. You can buy a ticket and go upstairs to admire a great panoramic view.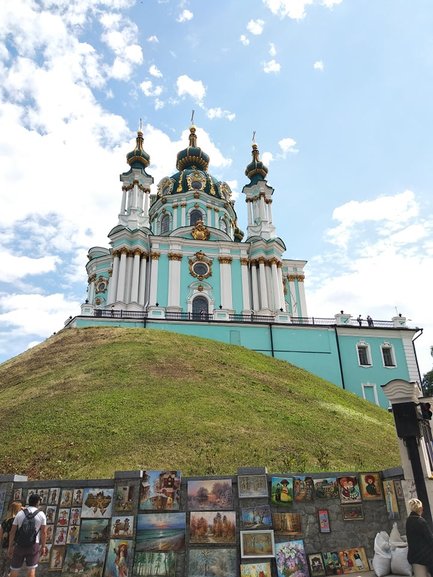 St. Andrew's Church, Kyiv
5. Andrew's Descent
---
One of the oldest streets has beautiful architecture and charm of the old city. This is a very big souvenir market and an art gallery on the open air. Here you can visit Michail Bulgakov Museum or the One Street Museum and feel the historical atmosphere.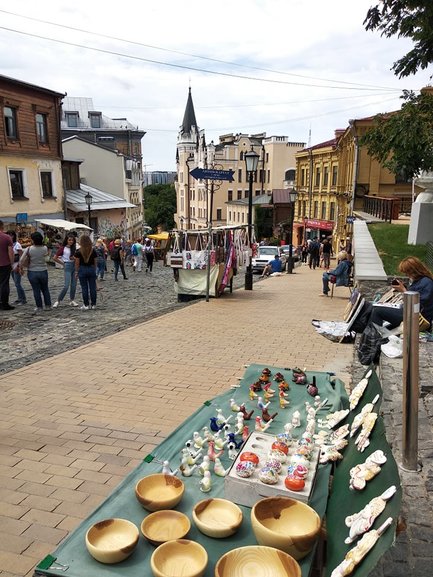 Andrew's Descent, Kyiv
6. Kyiv Pechersk Lavra Monastery
---
Founded in the 11th century, Lavra was a place of pilgrimages for Orthodox believers. Now it is included in the UNESCO World Heritage Site List. People visit the catacombs and bow the relics of saint monks. You can also visit the Museum of micro-miniatures and the Museum of Historical Treasures. Big Lavra Belfry is a highly recommended place to see a city panoramic view.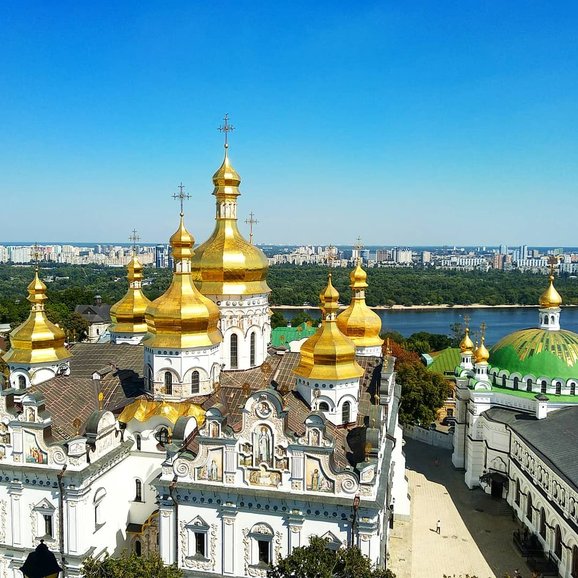 Kyiv Pechersk Lavra Monastery, Kyiv
7. Motherland Statue
---
A big Soviet-style statue 96 meters high is located at the territory of the Museum of History of Ukraine in WWII. There are two observation decks on the statue – 36 meters and 91 meters high. The museum exhibitions are devoted to WWII (1939-1945), Afghanistan war (1979-1989) and hybrid Russian-Ukrainian war (2014 – now).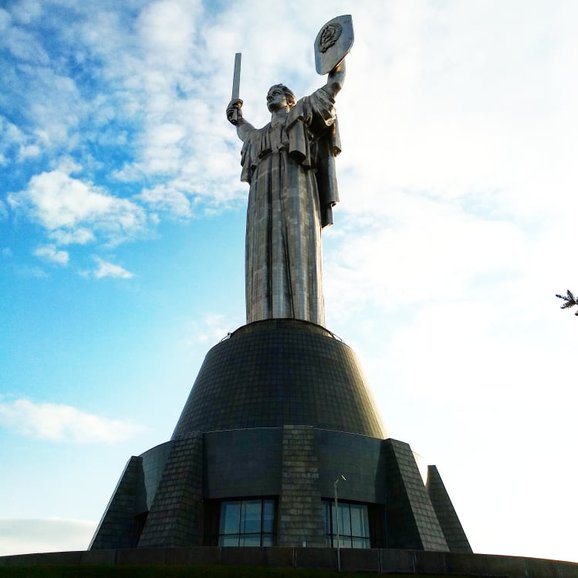 Motherland Statue, Kyiv
8. Poshtova Square (Post Square)
---
A river port is a popular place to spend a weekend among the locals, drink beverages, eat some food. This is a start point for boat river trips along the Dnipro River. Enter the river port, look at some modern art drawings, and enjoy a panoramic view of the river.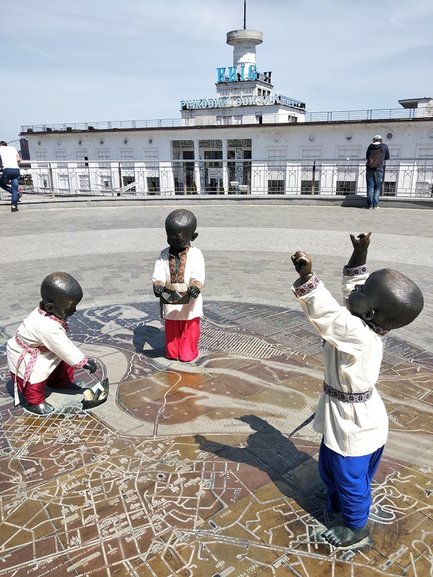 The statue of the founders of Kyiv, Post Square
9. Kontraktova Square (Contract Square)
---
It's a lovely place to walk around, visit Kyiv Mohyla Academy University, sit at an open terrace and have some fun. Chornobyl museum is located nearby.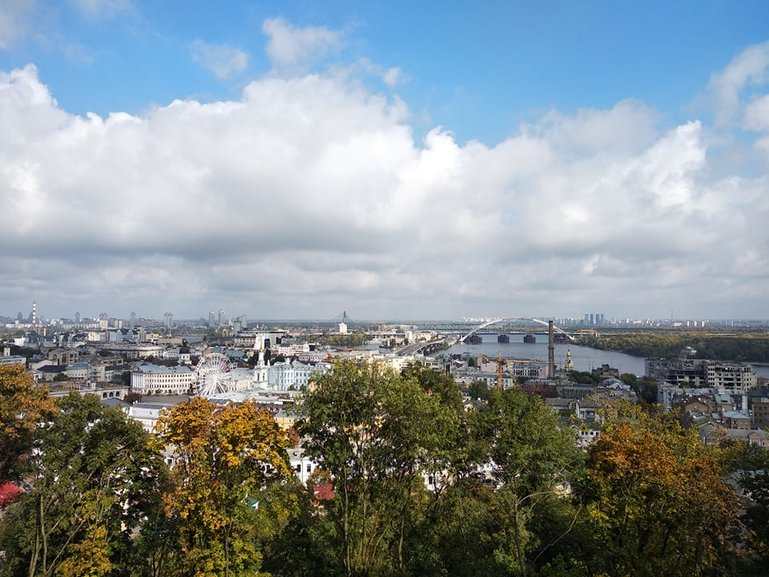 View of Contract Square, Kyiv
10. House with Chimeras
---
This unusual house stands opposite the President's Office. It was built by architect Vladyslav Gorodetskiy in 1905. It's known by unusual sculptures made with cement which are called chimeras. You can find a crocodile there, think about your wish and it will make it true.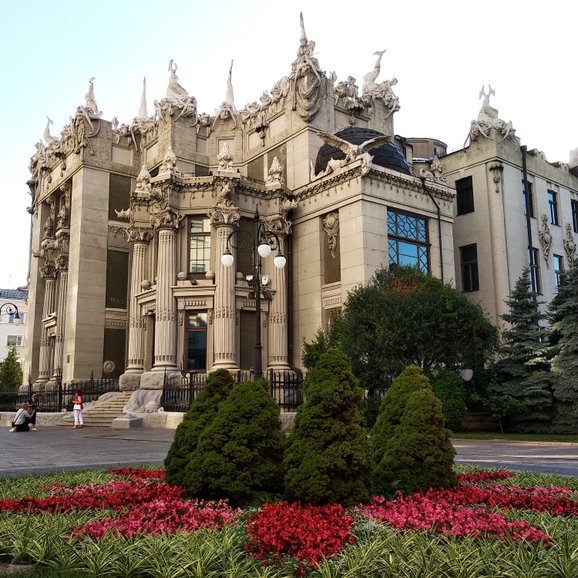 House with Chimeras, Kyiv