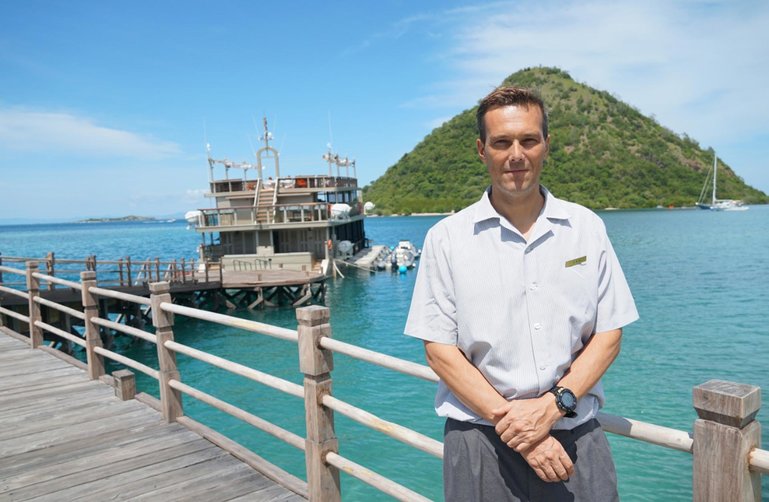 Komodo Cruise
Komodo National Park in East Nusa, the home to the endangered Komodo dragons, offers plenty of exciting activities for outdoor lovers. The Indonesian National Park is a UNESCO World Heritage with three main islands, Komodo, Padar, Rinca, and 26 islets. Komodo dragons inhabited the three islands, but they are now extinct on Padar Island.
Getting to Komodo National Park
---
Labuan Bajo on Western Flores Island is the closest gateway to Komodo National Park. You can pick a flight from Bali to Labuan Bajo. It's a short flight of about 1 hour and 15 minutes. An alternative to flying to Labuan Bajo is taking a boat ride. There are a dozen boat rides from Lombok to Labuan Bajo, which can take up to four days and three nights to move around the Komodo National Park.
Getting Around Komodo National Park
---
Many travel agencies organize sea and land transportation around Komodo. An easy way to get around the Komodo National Park is by booking a sailing trip. Sailing is possible in Ayana's venue near Komodo and it allows you to get a complete package for an all-round adventure, from seeing the Komodo dragons and the exotic corals to the lush hills and the idyllic beaches. To get the best out of your Komodo experience, here some fun activities you can add to your itinerary.
Visit Komodo Island
---
A sailing trip to Komodo National park can't be complete without stopping over at Komodo island, the home to the giant lizards in the world. You can take the various walks through the bush to see if you will be lucky to come across the giant lizards. Usually, Komodo island is extremely hot. So, remember to pack your hat and sunscreen to protect your skin from sunburn.
Stop-over at the Pink Beach
---
Pink beach is a real paradise. It's a pristine stretch of beach with fantastic clear waters that provide the perfect spot for snorkeling and diving. Besides, if you are not into any of these activities, you can soak up in the sun and enjoy the beauty of Mother Nature.
The pink beach isn't as large as you would imagine, but it doesn't have to be. The water is crystal clear and a perfect temperature. The sand has a pink tinge due to the degradation of red corals. The pink beach is considered among the best beaches, not only in Indonesia but also around the world. There's a walk just behind the pink beach that takes you uphill where you can have a fantastic view of the beach and the surrounding mountains.
Stop-over at Bat Island for Sunset with Bats
---
Yes, you got it right! Enjoy the magical sunset with bats at Kalong island (Bat island). But you don't need to worry because bats are harmless. There are thousands of bats in the mangrove forest on Pulau Kalong. These fruit bats spend their days sleeping, and they only come from their hiding places at dusk to hunt for food. These bats produce a magnificent picture as they fly over the Flores sea, backlit by orange rays, golden glow, and purple hues.
Snorkeling at Kanawa Island
---
If you love snorkeling, there's no other better place to do than on Kanawa island. In the early mornings, there's usually a low-tide with the waters at mid-calf level. You don't have to go deep into the sea to see fish, corals, sea urchins, starfish, and seagrass as you can easily see them through the clear waters. There are abundant fish and colorful corals, more than you will ever see in any other part of the world. Kanawa Island has never disappointed snorkeling enthusiasts.
A stop-over at Mesa Village
---
Your Komodo National Park trip can't be complete without visiting Mesa village. The fishing village is the home to the descendants of sea gypsies. While at the town, you will get a chance to experience the islander's daily lives. Being a fishing village, residents' activities revolve around drying cucumbers, processing shellfish, and fishing.