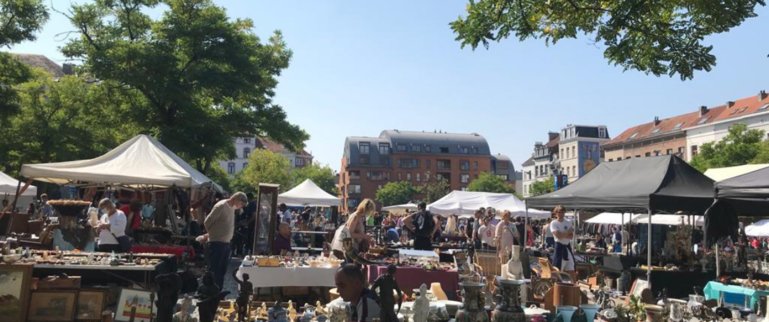 Marolles Flea Market
If you pass by Brussels, you cannot miss the Marolles flea market that takes place in Jeu de Balle square. You can find a lot of second-hand objects that you can give a new life to. Find the best unique pieces!
When?
---
The Marolles Flea Market takes place from Monday to Friday from 6 am to 2 pm and on weekends from 6 am to 3 pm.
History of the Market
---
It is surely the most famous flea market in Belgium's capital city. The square owes its Dutch name 'Vossenplein' to the adjoining Vossenstraat, perhaps the most authentic street in the Marolles neighbourhood. Its French name 'place du Jeu de Balle' refers to the ball games that took place there in the 19th century. The Place du Jeu de Balle was established in 1854, at the same time as the rue Blaes. It went by the name Renard (fox), because it was situated near Renard Street and it was originally intended to serve as a playing field for jeu de balle (Frisian handball).
In 1873, the 'old market' (literally a market selling old things) moved from place Anneessens to place du Jeu de Balle. Scrap dealers, activists and traders from all sorts of backgrounds earned their living in all weather conditions and that tradition lives on today. No food is sold at the flea market but you can find all kinds of trinkets, old photographs, vintage furniture, second-hand clothing, you name it. The atmosphere is unique and extremely welcoming. The square itself is beautiful. It houses a refurbished fire station and one of the most beautiful swimming pools in Brussels. All around you will find numerous cosy eateries and typical Brussels cafés.
The Jeu de Balle Flea Market is located in the heart of the Marolles district, which has a long history when it comes to its location and its function. In the 17th century, it was intended for the sale of rags (second-hand clothes) and was located south of the city, on the left side of the river Seine. This had a negative impact on the development of the central boulevards, so, the town council decided to create the Place Anneessens in place of this market and to move the old market towards the Marolles.
Objects that you can find in the Market
---
The Jeu de Balle Flea Market is a sociological representation of the area. It gathers antique lovers, collectors, occasional visitors and people who are simply headed out for a stroll. Here you can find almost everything and anything you've ever wanted in a lively and entertaining atmosphere.
The market is composed of dealers selling pieces strewn out on blankets and sheets or off the back of their trucks and cars. There are also stands crammed with objects, from antique porcelain and pictures to 19th-century crossbows and tiny tin objects made from the 20th century, parchment, fabric, vintage clothes, etc. Most of these stands offer a variety of different objects.
For music and book lovers, there are boxes full of old vinyl records and rare books, so dig in – you may find some good old stuff. While you are passing through the aisles of antiquarians, pay close attention, as each object could hide an interesting story.
Tips on How to make the most of your market experience
---
This is a place full of everything, from junk to some rare pieces, so be patient. If you want to find real gems, dig in — don't just scratch the surface. When you find your treasure, don't hesitate to bargain for a good price.
The best days to visit the market as regulars are Thursdays and Fridays, but on Saturdays and Sundays, you might discover some more specific or rare items that are usually available only on the weekends.
In the surrounding streets (Rue Haute, Rue Blaes and Place du Grand Sablon) you can also discover antique dealers and second-hand shops, and if you want a break from treasure hunting, don't hesitate to visit some of the cafes and restaurants in the area.
What are you waiting for? Discover the art of upcycling!