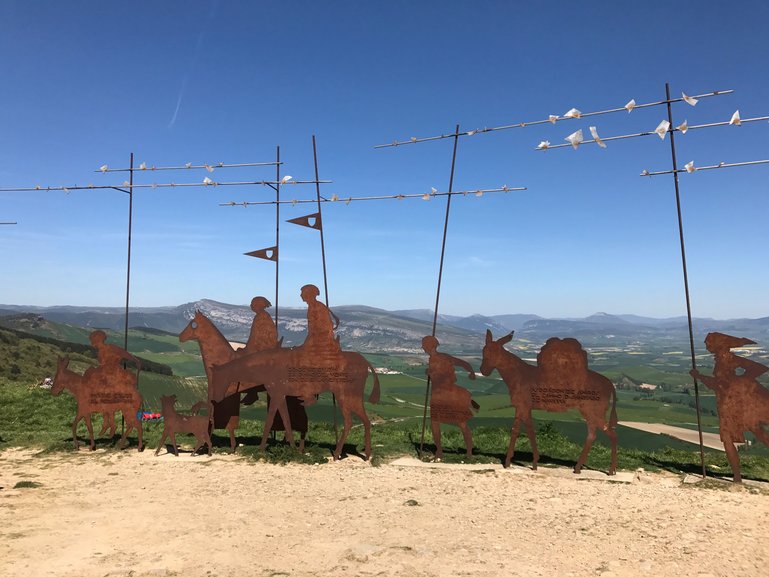 Camino de Santiago - Alto de Perdon
Blisters. It's a word that strikes fear in the heart of many pilgrims setting out on the Camino de Santiago. If you are walking the full 800 kms of the French Way, or just the last 100 kms to get your Compostela, you still want to be walking in comfort, not with searing pain in each step.
These are our top tips to move blister free over any distance.
No 1. Keep your feet dry
---
If you have sweaty feet – wear a breathable moisture wicking sock liner. I always wear Injinji toe sock liners and they have changed my hiking life! Yes, they are toe socks, and initially I was so dubious, but they really work and the fabric between your toes is really not noticeable after the first few seconds. The performance fabric wisks moisture away from your feet to your hiking sock, keeping your feet dry. And the fact that your toes are separated means they can't rub together - further avoiding blisters.
If you are walking over extended periods in the rain – use waterproof overpants and/or gators to stop the water running down your legs and into your boots. Keep your feet dry.
No 2. Wear good quality performance shoes
---
You always hear how hiking shoes need to be well worn in, but its not true. Old fashioned hiking shoes were made of leather and needed time to soften but modern technology means your hiking shoes should be potentially the most comfortable shoes you own. If they fit well, you'll only need to wear them once to know it.
No 3. Practice self care
---
If you feel a blister starting, that hot patch – stop and deal with it – don't put it off hoping it will go away, it won't and an ounce of prevention is worth a pound of cure. You might feel like the Camino is sponsored by Compeed, its available everywhere on The Way – they even have 24hour vending machines in some areas. Compeed is a good quality product for friction related blisters but it needs to go on completely dry feet and its expensive. Just as good for pre blister hot spots are sports tape like Rock tape. If you tape a hot spot, be generous – give good coverage all around the affected area. In our experience standard band-aids are useless, they never stay put and just rub off. The tape will stop the rubbing on the blister surface and in our experience if used in time, will stop a blister from forming.
No 4. Give your feet a breather
---
Having a break? Take the time to remove your boots and socks and give your feet some air. A brief foot rub will do wonders and you can replace your outer socks if they are wet before you continue on with the rest of your day. Camino is not a race and you will enjoy it more if you take care of your feet.