1. Visa and money exchange
---
When travelling to Ethiopia, you can apply for a tourist visa online. This electronic visas are available for tourists from most of European countries as well as USA, Canada, Mexico, Brazil, Argentina, Australia, New Zealand, South Africa, Kenya, Japan, Korea,India, China and Russia. All you need to do is go to the website www.evisa.gov.et (watch out because there are other websites that are not official and may charge you more), enter your arrival information and personal details, upload a passport size photo and a copy of your scanned passport, pay the corresponding fee and you will receive an e-mail confirming your application. Please note that the e-Visa application fee (50 USD for 30 days and 70 USD for 90 days) is not refundable and your passport must be validad for at least 6 months from the date you intend to travel to Ethiopia.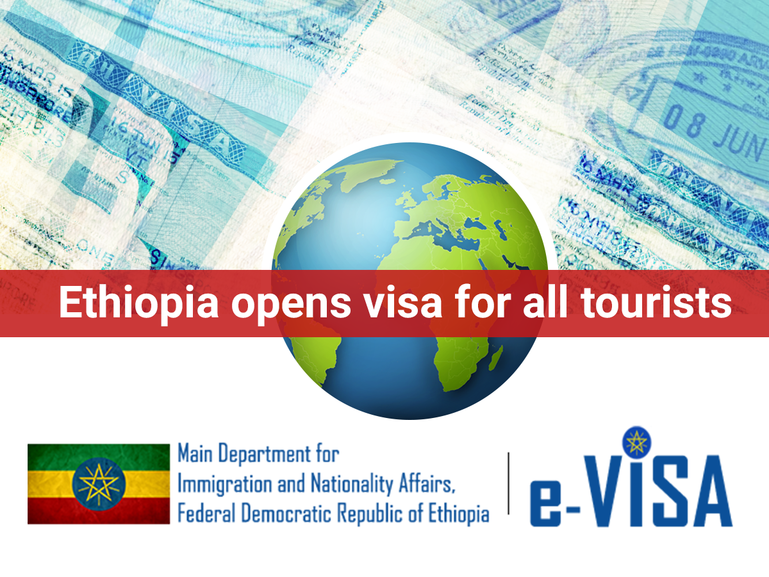 Ethiopian visa
However, you can also get a visa upon arrival. Once you get to Bole International Airport, you should go directly to Immigration and Customs in order to pay the visa fee. Tourist visas are available for one or three months (single entry) upon arrival and it is possible to pay in US dollars or EURO. In case you are coming for business to Ethiopia, you need to make the prior arrangements with your sponsoring organisation before your trip to Ethiopia.
Many people normally asks what currency is better to bring to Ethiopia: euros or dollars. It is actually easy to exchange both into Ethopian Birr (ETB) in any Ethiopian bank. However, you should have in mind that if you want to exchange ETB back to your currency before leaving Ethiopia, the bank may ask you for a receipt proving your currency exchange. Nowadays it is also possible to find ATM machines in Addis Ababa and in other main cities. You should check the transaction fees of your bank before using an ATM and note that 4,000 ETB is normally the maximum amount that can be withdrawn per day. Paying with credit cards is still not very common in Ethiopia but some hotels and restaurants may accept it so it is better you check before.
2. Health immunisation and high altitude
---
Before coming to Ethiopia, you should visit your doctor in order to know the procedure to get immunisation. You may need to bring a yellow fever vaccination certificate since Ethiopia is listed in the endemic zone and travellers coming from non-endemic areas should get the vaccine. Also, your doctor will probably advice you to be immunised for Hepatitis A and B, Typhoid and Polio.
One thing you should keep in mind in Ethiopia is the altitude. The main reason is the Malaria because it affects to those living in lowland areas (below 1,600 meters). Fortunately, most of the main destinations are located in the highlands, including Addis Ababa, Lalibela, Axum, Mekele, Gondar or Harar so Malaria does not pose a risk. On the other hand, visiting some of the western and southern areas can be a bit dangerous specially during the rainy season (July to September). The other problem with high altitude for travellers coming from lower locations is the risks for health when the change of altitude is sudden: fatigue, headaches, dizziness, nausea and shortness of breath are some of the symptoms.
Consequently, we advise you to include a first-aid kit including:
Mosquito repellent and sprays
High SFP sunscreen and sunglasses
Antihistamine
Antiseptic cream for insect bites
Plasters
Anti diarrhea pills
Saline solutions in case of severe dehydration
Contact lens liquid
3. Safety
---
This is one of the top questions from our travellers: "is Ethiopia a safe country?" Well, we will say that the same rules apply for Ethiopia as for any country in the world nowadays, there are always risks and though security controls are widely spread, it is always good to take some precautions:
Wear your money in a safe place (e.g. in a money belt under your clothes)
Have a photocopy of your passport to take with you
Do not carry too much cash or valuable stuff like jewelry
Be aware of the pickpockets, specially in some areas like Merkato in Addis Ababa or during religious festivals and other crowded events
Try to use the safe-deposit boxes of your hotels whenever is possible
Avoid walking alone during the night time in isolated places
4. What you need to pack
---
Besides the first-aid kit mentioned above, it is advisable to include in your bag the following items:
Light and clothes during daytime and a good sweater or pullover for the evening
Sandals and a good pair of shoes (specially during the rainy season to deal with muddy pathways)
A discrete wallet or money belt and a small bag to carry your camera and phone
A rainy jacket and umbrella if travelling during the rainy season (June to September)
A warm sleeping bag if you are thinking of sleeping in campsites
A hat and sunglasses to avoid long sun exposure
If you are thinking of donating your personal stuff we kindly advice to do it at your discretion and avoid uncomfortable situations on the street, specially with children. We recommend you to contact a local NGO in advance so they can relocate your things in a wise and useful way.
5. Enjoy the culture and feel at home
---
Ethiopia is the country of smiles. Upon your arrival, you will probably be welcomed by many strangers on the street (and that will continue during your stay and even if you live there for many years). Ethiopians are proud of their culture and they will always try to make you feel comfortable. Even if they do not have many resources, they are kind and welcome feranji (the word for "foreigners) so if you get offered to share some injera or a cup of coffee, feel welcomed and help yourself because they will really appreciate it.
We hope this tips are useful and please do not hesitate to contact us for any question related to your visit to Ethiopia.
Is there any other tip you would like to share? Please feel free to share it with us :)